Everything Else
Introducing, the Lollipop Guild
8:00 AM EDT on March 17, 2010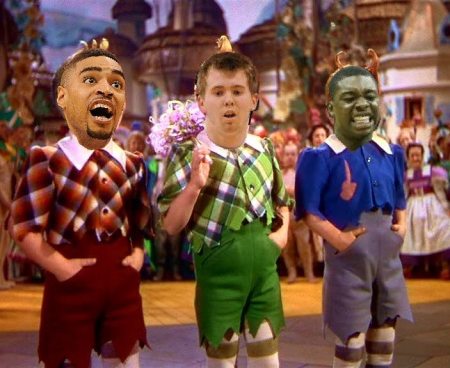 In the weeks leading up to the NCAA tournament, seeds are the primary focus of attention.  Would Oklahoma State's bubble be strong enough to get them in the dance?  Could the Cowboys win over Kansas propel them into the upper half of seeds?  Did OU fans realize that basketball season was going on?  Once the tournament brackets were announced on Sunday, discussion of how teams matched up against one another was the obvious next topic.
Of course, matching up is not a topic that many Cowboy fans want to talk about.  While the CBS analysts were wondering what OSU would do if they survived round one in order to face Ohio State and their 6'7" point guard, people who follow the Cowboys were already wondering how Oklahoma State would match up against Georgia Tech's normal sized floor general.
I don't have the statistics at my fingertips, but I'm going to wager that Travis Ford's Cowboys have the shortest team in the NCAA tournament.  Basically, with the exception of whomever the under-appreciated James Anderson is guarding (Anderson is a typical height for his position), the guy from the opposition is likely going to have a serious height advantage.  The lollipop guild didn't give up as many inches to Dorothy and the Tin Man as the Cowboys do to whatever team laces up against them.
It probably starts with OSU's coach.  Travis Ford was listed at 5'9" when he played for Rick Pitino at Kentucky.  Since that is "basketball height" he's probably closer to 5'7", and even back in Ford's day before Magic Johnson convinced every guy who should have been a power forward that they could run the team, that was tiny.  Ford ate up his underdog status, and apparently has transitioned his belief about dogs and size and fight into a philosophy of winning basketball.
No one is too short to play for Travis Ford, which makes me wish he'd been the Cowboy basketball coach back when I wanted to be a 6' 1/2" center.  He might have let me have a shot.  Early in the season, the Cowboy line up boasted (remember these are "basketball heights") 5'9" point guard Ray Penn, 5'9" shooting guard Keiton Page, 6'6" small forward James Anderson, 6'4" power forward Obi Muonelo, and 6'6" center Marshall Moses.
Considering that Ohio State's shortest starter is 6'7", Oklahoma State couldn't have matched that with their tallest starter.  Yet somehow, this Lollipop Guild of college basketball actually made some waves.  The top team in the country, Kansas, lost only two games, and their formidable front line looked lost against the agile munchkins in their loss against the Cowboys.  Future NBA lottery goliath, Cole Aldrich, played a season low in minutes for the Jayhawks because he was absolutely ineffective when in the game.
Prior to that, the Cowboys also shocked the number two seed (and trendy Final Four pick) Kansas State Wildcats in their own arena.  The Wildcats, who thought they could annihilate OSU by pounding it inside to their trio of skilled big men, but were flustered when those big guys were unable to take advantage of their height, then couldn't guard Muonelo on the defensive end.
So, can the Pokes make a Cinderella run in the tournament?  Perhaps.  Ford's style of shifting defenses and pressuring the ball tends to be a recipe for tournament success.  And any team with Napoleonic confidence these Cowboys has could make a splash.
On my bracket, though, I have them losing to Ohio State.
Clark Matthews is a world-class checkers champion, co-founder, and basketball editor-emeritus of The Lost Ogle
Read More:
Stay in touch
Sign up for our free newsletter