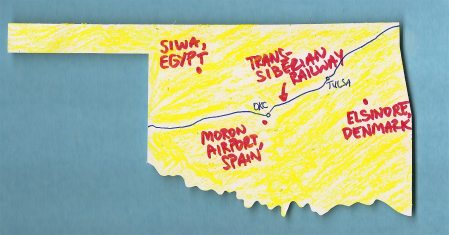 (Editor's Note: Get this.  We have a real article written by a real writer.  His name is Robert Reid and is the US Travel Editor for "Lonely Planet".  A real writer writing for The Lost Ogle??? Scary! 
Anyway, we kind of want this guy to write more Oklahoma-centric travel articles for us in the future...so be nice.)
As an Okie ex-pat since the 1990s, I always tell people that growing up in Oklahoma lends itself to good travel. In all directions, there's something interesting to see (west to the Rockies, south "" past Texas, please "" to Mexico, southwest to New Orleans, northeast to Chicago, straight north to South Dakota's Badlands).
After going a bit farther in recent years "" while living abroad and writing a couple dozen Lonely Planet guidebooks to places like Transylvania, Siberia, Burma and Colombia "" I've learned there's some Oklahoma anywhere you go.
Here's a few nominees for Oklahoma's stand-out worldly cousins.
HISTORIC ROUTES
Route 66 "" fairly or not "" is the USA's most legendary drive, and no state has more surviving miles of the "˜Mother Road' than Oklahoma. A Tulsan helped get the link between Chicago and LA off the ground (never mind that Oklahoma took the first swing at 66's inevitable downfall by building the parallel Turner Turnpike in 1953). Today the route's most underrated stretch is the green, curvy ride between Oklahoma City and Tulsa that saves you that $3.50 (and rising?) toll.
The other most legendary route "" apologies to the Silk Road "" is Russia's Trans Siberian railway. Built by the Tsars in the late 19th century to people and protect the country's "˜Wild East,' the ride from Moscow to Vladivostok takes seven days, passing 5,771 miles, seven time zones and endless seas of Siberian taiga forest. As classic trips go, it deserves the claim. Russians are never more welcoming than in shared spaces like a train cabin, and unlike Soviet times, you can travel without propuska (permit) and hop on/off as you like at sites like the sea-sized, mountain-rimmed, mile-deep Lake Baikal.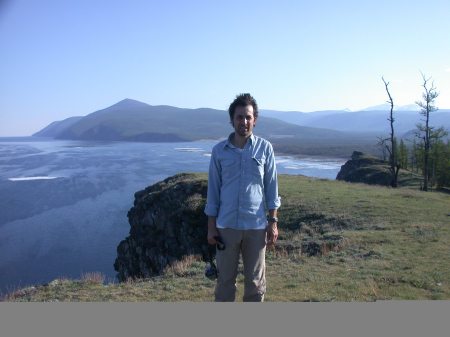 WEIRD OUTDOOR ADVENTURES
Little Sahara State Park's dune buggy rides in northwestern Oklahoma are part of a growing appeal in the area "" centered at Waynoka's Harvey House museum/restaurant, an old hub for trains and flyers like Charles Lindbergh for cross-country fuel stops. Stewart's Buggy Shop (tel 580-824-2021) rents four-wheeler buggies for $125 for five hours, or takes two out for a two-hour tour for $80 "" on a stretch of the plains that's more desert than plain. Count me in.
Egypt's Siwa oasis, meanwhile, smacks of a setting from a Bugs Bunny cartoon: an emerald mirage rimmed by palm groves in an endless desert. Visitors go to "˜sandboard' down dunes, take an invigorating "˜sand baths' on the slopes of nearby Gebel Dakrur mountain, or take guided sand safaris to the rim of the Great Sand Sea, a dune the size of South Carolina.
OUTDOOR PLAYS
Don't roll your eyes, and just admit that Discoveryland"" the outdoor venue outside Tulsa that stages a certain Oklahoma-themed musical made by a couple New Yorkers who never visited "" is kinda cool. Particularly whenever out-of-state visitors come by.
Still, Oklahoma's best, most powerful outdoor event has to be at Tahlequah's Cherokee Heritage Center, which on summer weekends stages "˜Under the Cherokee Moon' "" the replacement of the "˜Trail of Tears' since 2007 "" where the audience move between open-air settings after intermission.
Another event that matches setting with history, literary history, is the summer staging of Mel Gibson's, I mean Shakespeare's, "˜Hamlet' at the Hamlet's actual castle Kronborg Slot at Denmark's Elsinore. If you make it to Copenhagen, an hour south, there is no question to go.
Will Rogers World Airport is my favorite airport of all time for a few reasons: it's the only airport I've found with "˜world' not "˜international' in its nomenclature, and it's stubbornly named for a local hero who died in a plane crash. Plus I like its let-love-rule welcoming it gives visitors with sandstone walls, entry gardens and the non-exclusive "˜Big 12 Conference' shop selling all that Cyclone gear for OKC visitors from Ames, Iowa.
It's not the most unusually named airport though. For that, book a round-the-world ticket that leaves Will Rogers for Spain's Moron Airport in Spain to Western Australia's Useless Loop, with a stop at Wagga Wagga or Woodie Woodie on the way, before finishing at Turkey's Batman Airport or Tanzania's Mafia Airport. See ruder airport names here.
BEST SECRET
The travel world is full of "˜secrets' of various sizes and scopes.
In Mexico's Yucatán, one simply must break out from Cancún. Mérida inland is a much more "˜real' Mexican city, with lively weekend markets with open-air tacos and Spanish-colonial cathedrals made from broken Mayan pyramids.
In Europe, skip Spanish beaches with neck-to-neck Europeans in Speedos, and race to the Black Sea beach in Bulgaria "" where there are busy resorts, but still miles of untouched golden-sand beaches at far cheaper prices (try Karadere near Byala, or less tranquil Sinomorets near the Turkish border).
In Asia, Vietnam's Con Dao Island, once a site for French and American prisons during back-to-back wars, has the country's best diving "" plus a new high-end bungalow hotelwith personal pools "" and no one knows about it. Yet.
What's Oklahoma's best secret? Many choices. I vote Boley's amazing rodeo, but curious what others lurk. Submit yours, and whoever has the best gets a copy of Lonely Planet's new 1000 Ultimate Experiences, a color guide of 100 "˜top 10' lists detailing worldwide dream trips.
____________________________________________
Based in New York City, Robert Reid is the US Travel Editor for Lonely Planet, a travel company that just published its 100 millionth guidebook. Robert's weekly '76-Second Travel Show' appears on Tuesdays at www.lonelyplanet.com and his blog www.reidontravel.blogspot.com.
Clark Matthews is a world-class checkers champion, co-founder, and basketball editor-emeritus of The Lost Ogle
Stay in touch
Sign up for our free newsletter