Everything Else
Stuff Oklahomans Like: Upside Down Longhorn Stickers
12:19 AM EST on February 2, 2010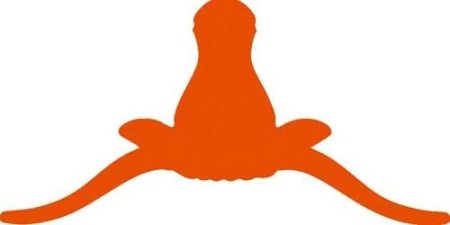 Hate is a strong word, but when it comes to the rivalry between the University of Oklahoma and the University of Texas, it is the only word that fits.
Most Oklahomans would like for everyone to believe that it is the entire state of Texas they hate.  Nothing comes from Texas but "steers and queers" (and God knows Oklahomans hate those things), they might say.  But total disdain for our neighbors to the South is a myth.
For instance, a quick rundown of the apple of Oklahoma's eye, the OU Football roster, shows that Oklahomans actually have quite an affinity for Texans"¦just so long as they can tackle and are willing to don the Crimson and Cream.
Take Minnesota Vikings superstar and Sooner legend Adrian Peterson as an example.  "A.D.", as he affectionately referred to by the apparently illiterate Sooner Nation, grew up in Palestine, TX and is a god in Oklahoma to this day.  An Oklahoma high school star that would leave the state to play for the Longhorns (or "Longwhores" or "Shorthorns" in these parts), on the other hand, would be dead to this state.
The reason for all the hatred is simple.  UT is the most consistent rival to OU's dominance of the Big XII South, and the most likely team to trip them up in their yearly quest for a mythical national championship.  This is despite what all Oklahomans agree is a superior program in Norman.  So, why does Texas even have a chance?
Recruiting.
It is that simple.  The University of Texas is the alpha dog of college choices in their state:  A state that happens to have one of the largest and most competitive high school football associations in the nation.  Longhorn coach Mack Brown seemingly gets his pick of all the blue chip recruits the state has to offer, and the castoffs are then fought for like bridesmaids over the wedding bouquet by the rest of the nation (including the Sooners).  While most programs are starting to get a few verbal commitments from fringe prospects who fear another offer might not come, UT usually has completed their recruiting for the year and boasting a class of five-star rated football players.
How do the Longhorns dominate so much?  Some of it is the luck of their location, but most of it is money.  The school has so much wealth that it can create facilities that wow young men and if that is not enough, they have money left over to wow them in other ways.
And Oklahomans hate them for that so much that we donate money to the cause.
There are two things that every Sooner fan must have on their car to prove their allegiance to the school (despite most of them never having attended a class in Norman):  An OU flag and a Longhorn sticker attached to the car upside down.  Oh, snap, does that tick off Texas fans.  In fact, every time they see that sign of disrespect they see green.
I know what most readers are thinking:  "Didn't I mean red?  You flash red when you're angry, right?"  While that is true, I meant green, because every one of those emblems sold grosses a fresh George Washington dollar to the university in Austin.  It is part of the trademark agreement for just about all NCAA schools.
What happens is that the Sooner fans get angry because the Longhorns dominate their school in head-to-head recruiting because of the monetary advantage.  To vent their anger, they purchase a trademarked UT icon and display it in a disrespectful fashion, in essence making a donation to their hated rival.  The University of Texas then takes that money, improves their facilities and impresses the next kid that OU wanted.  It's a vicious cycle.
A cycle so vicious that I, as a fan of Oklahoma State University, wishes that Sooner fans hated my school enough to purchase more Pistol Pete stickers.
Clark Matthews is a world-class checkers champion, co-founder, and basketball editor-emeritus of The Lost Ogle
Read More:
Stay in touch
Sign up for our free newsletter