Everything Else
Top 10 Oklahoma Law Enforcement Sex Scandals of the Aughts
12:00 PM EST on December 29, 2009
Editor's Note:  A few weeks back, we asked the Ogle Mole network if they would like to contribute any "end of the decade" lists.  Because the Ogle Mole Network is lazy, we only got one response...but it's a good one.  In fact, it's so good it may be the only one we post.  It was written by Bob, who was the genius behind Yardbird: The Unauthorized Autobiography of Jim Traber.
What a decade! With so many choices to pick from, it's hard to list only 10 of the biggest Oklahoma law enforcement sex scandals. Like an ESPN all time greatest list of running backs, we have a wealth of sleazy pervs to choose from. Emotion and notoriety have to be thrown out like a pair of soiled tan pants.
Remember, the suspects in the following stories are innocent until proven guilty. That being said, these alleged crimes are despicable and the law states no inmate can ever willingly consent to sex with a law enforcement official. Cheers go to bubbaworld.com for archiving many of these stories and for The Lost Ogle for publishing this.  Jeers to the Oklahoman for making me try to subscribe to their shitrag to access these case files.
The scandals are ranked by four items of criteria: Crime, Nickname, Catchphrase, Sentence.
The first one is below, the rest are after the jump.
Crimes: Committed "Forcible Sodomy" on a male inmate
Nickname "The Greatest Jailer Ever"
Catchphrase "Take mah hand boss"
Sentence: Case Pending
On New Year's Day, 2008 Pelley allegedly entered the cell of inmate Bobby Mann and began to kiss him. She then began to perform oral sex on him before "coming to her senses" and being discovered sitting with him in his cell. Security tapes captured the event for what was sure to be one of the more awkward performance reviews in history.
-
Crimes: Inappropriate Behavior
Nickname: "Judge Dredd"
Catchphrase: "I want to see your legal briefs."
Sentence: Resigned
Judge Chionopoulos was accused of inappropriate behavior with female attorneys, female law students and women with cases before him. Oklahoma County Judges voted to remove him after the ladies reported his shenanigans, so he promptly resigned. In one case, he asked a stripper to personally deliver the results of her drug tests to him personally every Friday and even found the time to hold a two hour private conference with her in his chambers.
Some female attorneys who tried cases before him complained to the District Judges that he was either flirty or combative with them in court because of their sex. One male lawyer who witnessed the behavior even complained to them that his client's ex wife's lawyer was being treated unfairly. The Judge eventually started calling female attorneys at home late into the night.
This would be a perfect early nineties Steven Segal movie. I'd title it "Judgment Day." In it Segal is a former Navy Seal who is forced to become a janitor after a mission gone wrong. After discovering Chionopoulos' harassment and the murder of a trustee who knew too much, Segal would beat up the bailiffs and then mumble "You think you're a big tough man, callin' ladies at home and making em' dance to stay out of jail? I'm gonna call you"¦ a hearse." Then he pushes one of those bookcases over on him and says "Case closed."
-
Crimes: Soliciting a prostitute
Nickname: "John No. 1"
Catchphrase: "I brake for brunettes"
Sentence: One-year deferred
On November 11, 2004 Oklahoma County's Assistant District Attorney Lou Keel was busted for picking up an undercover female officer posing as a prostitute. Offering only $50 for her services, Keel apparently is more budget conscious than Jim Rice.
If I were in his shoes, I might have tried the old "I'm undercover trying to track down a killer pimp! I'm paying for information!" routine, or maybe the "I was just giving her a ride" defense.  Kell was one of the prosecutors who tried Terry Nichols, so maybe he had to a lot of steam to blow off. With that kind of steam though, you need to blow it off at the strip club, not on the mean streets you defend every day.
I bet the guy who runs that JohnTV show was kicking his self after missing out on this story. This would have been his "Roots."  Why hasn't he had his ass beat yet? I mean it's not like pimps or johns are the most gentile people. The expression on their faces is like an old friend played a practical joke on them at the golf course. "Hey, what's going on? Aww, you got me!"
-
7. Chief Coke Douglas Makerney
Crimes: Rape
Nickname: "Pigpen"
Catchphrase: "Where's the fire?"
Sentence: 70 "" 87 months in federal prison.
In a cunning gambit, on May 2007, the 1st Police Chief of Sawyer, OK, a town of about 700 square feet, molested a female motorist after pulling her over. This wasn't like a "Super Trooper" case of a sassy flirt and a saucy officer. This was rape.
Note to visiting motorists who see the cops trying to pull them over: Get in a high speed chase until you reach the next state line. Once you cross the line, tell that state's officers that state you were being chased by an Oklahoma police officer.  They will understand. If your plates are from New York or California, "Run for yo' mother f***in life." Those plates are grounds to be automatically pulled over. If you have these plates and are travelling across the state, take my advice and pay someone to follow you in a cop car and pretend to pull you over every five miles.
-
Crimes: Exposure
Nickname "The Gavel"
Catchphrase "Is that your final verdict?"
Sentence: Case pending
Dammit, Redford you're probably 54 in this picture. We know your real hair color isn't "Dirty Blonde" anymore. Give it up, man. Those girls are your daughter's age. Don't make me get your high school yearbook where you're sitting on a flagpole and growing a victory garden. Anyway, onto the case of Tulsa Judge Jessie Harris.
On March 9, 2008, the judge was arrested after allegedly exposing himself to his ex-girlfriend and her friend while suggesting a 3 way in a motel parking lot. He was released after 17 harrowing minutes in police custody without posting his $5,000 bond. It's possible that they could be making this up. Stranger things have happened, but it's likely she ended the relationship and brought her friend along to finish some business they had because she was worried.  It's just hard to believe that two kids like this couldn't make it happen. They had a fairy book romance, meeting when she was a process server during a 2002 lewd molestation trial.
-
Crimes: Coerced gas station clerk into having sex
Nickname: "The Big Red Machine"
Catchphrase: "Refills are free"
Sentence: Ruling of "Boys will be boys"
In June 2005, at a Yukon Conoco, a customer walked in on a clerk performing oral sex on a police officer in uniform. After the store owner asked the clerk what was going on, she admitted to servicing several officers from the Yukon police force while they were on duty, because she felt threatened. In the resulting fallout:
Corporal Phong Dang Nguyen, 34, resigned after allegedly admitting to an affair with the store clerk.
Corporal David R. Darter, 45, resigned but denied having sex with the clerk.
Officer Darrel J. Williams, 33, resigned but denied having sex with the clerk.
Corporal Chad Mayberry, 29, was fired after refusing to resign.
Sergeant Buddy Guth, 44, received a two-week, unpaid suspension. He was put on probation for a year and will not receive pay increases.
I'm sure some women dig men in uniform, but this isn't "Police Academy" guys. Seriously, you are not Mahoney seducing Debbie Callahan. You are basically raping a woman because one of your buddies told you to. I'm sure they got on at another department somewhere, harassing women with their lewd, lascivious looks.
-
Crimes: Neglecting his duty as a public official
Nickname "Chief Power Bottom"
Catchphrase "Spread Em"
Sentence: Dismissed
Okay Police Chief Lee turned himself in at his police station on January 31, 2008. After being booked at the Wagoner County Jail, Lee was released on $2,500 bond. The charge? Harboring his boyfriend Dustin Ray Chancellor after he had an arrest warrant issued because of 2005 domestic assault charges. The victim? Chief Lee. Like an episode of COPS set on Fire Island, this case isn't really perverted as much as it is hilarious.
On January 9, 2008 deputies arrived at the station to find the Chief sitting in his cruiser screaming at another man in a dark Mercedes. The Chief's uniform was torn and he told the deputies that the man "didn't belong here." While talking to Chancellor, they were informed that he had just caught Lee with another man at the station. Lee then told them that Chancellor was wanted in another county for domestic abuse against Lee. An incorrect spelling on the warrant led officers to release him before they realized their mistake.
Months before, a reserve deputy saw an Okay police car with its emergency lights on being pursued by a honking, dark colored vehicle (The Mercedes.) He lost the cars by the Fort Gibson Dam, but the stage adaption of "Les Miserables" was on NPR, so it's possible that they pulled off the road, overcome with emotion.
Chancellor was also wanted in Tulsa County for an incident where a man who was driving while talking on the phone was assaulted by Chancellor because he thought he was having an affair. That man? You guessed it, Chief Lee.  He is also a person on interest in an OKC beat down of Lee.
It sounds like he should have deputized him. Imagine having this Chief beating bad ass protecting your town.
-
Crimes: Rape
Nickname: "Howling Mad Holly"
Catchphrase: "It's hell bein' Mel"
Sentence: 25 Years
In one of the standout careers of perversion, Holly cemented his place as one of the all time single season offenders, racking up dozens of assaults on a tear heretofore un-thought of in the modern era. Racked with injures and self doubt, Holly embarked on a performance enhanced comeback after a main street shootout that left him sexually crippled.
In 2005 Holly faced a total of 15 counts, including nine counts of sexual activity involving female inmates, unwanted sexual contact with three female employees and a staff member's 16-year-old daughter, lying to the FBI and threatening to kill an inmate if she disclosed their relationship to investigators.
He even got to the point where he was taking inmates as dates to Sheriffs' meetings to discuss business. For some reason none of the other Sheriffs' thought that was weird. During the he trial, things got stranger. Explaining that he couldn't get it up anymore after the shootout, Holly's defense contended that all of the women (including the employees) were involved in a conspiracy to run him out of office.  His wife testified that he had become irrational and had in fact purchased two new .357-caliber handguns earlier in the month and that he would "give law enforcement a reason to arrest him" because he wanted "to go out in a blaze of glory."  She did not say whether he also "gave love a bad name" or if he was crazy because of "bad medicine."
-
Crimes: Masturbating during trials, Indecent Exposure
Nickname: "Flash"
Catchphrase: "I'm going to allow it."
Sentence: One Year
Over a period of years, jurors and court workers noticed strange noises coming from the Judge Donald Thompson's bench. These noises resembled something coming from a 15 year old boy's room during "Cinemax after Dark." Thompson was masturbating during trials. Not just during sexy stripper trials, but murder and felony cases.  He was also peeing into a trash can and shaving his ball sack while court was in session.
During the trial, dozens of jurors testified that they witnessed Thompson's robe going up and down while strange hydraulic noises emanated from the bench. A forensic specialist from the OSBI testified that she found seamen on the carpet, robe and chair of Thompson that matched his DNA and that it did not contain sperm. Thompson had a vasectomy in 1988.
In a desperate Hail Mary, the defense claimed that the Judge had penis calcification (!) resulting in a bent erection that couldn't fit in the pump. They also claimed that the pump was broken, but not from overuse. During a tense closing argument, Prosecutor Pattye High put the pump on her arm and began furiously squeezing. She removed her hand and let the pump dangle to the astonishment of the jury.  Game over, man. Game over.
-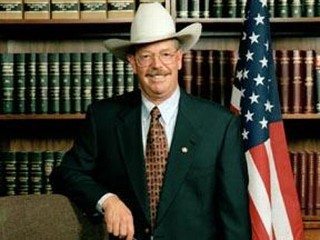 Crimes: Rape, Blackmail, Bribery, More Rape
Nickname:"The Machine"
Catchphrase: "Whatchoo talkin' 'bout, Burgess?"
Sentence: 79 Years
Custer Count Sheriff Michael Burgess turned his jail into his own personal sex cauldron where he turned inmates into his sex slaves, possibly in an attempt to become a modern day Caligula. The only way this could be any more skeezy is if he piped in some Tom Jones music on the P.A. Some of his jailers also joined in on the action, refusing to provide medication or food to women if they didn't flash their boobs or wear the skimpy gowns they were provided in lieu of clothing.
12 former jail inmates alleged Burgess and his employees had them engage in wet T-shirt contests and offered cigarettes to those who would flash their breasts. When friends of jailers or Burgess visited the jail, they were given the "Custer County Welcome" where the women were forced to flash their breasts in unison.
Burgess was finally brought down by his own hubris, like our own Icarus flying too close to the horn dog sun.  The resulting fallout spilled onto The Lost Ogle comments section, turning brother against brother, husband against uncle, shank against ho.
-
Well, those were your top 10 Oklahoma Law Enforcement Sex Scandals of the decade. In the field of perversion, Oklahoma is second to none. Home grown and trained, we stand at the forefront of perverted lawmen.  Who knows what bizarre stories the 2010s will bring us.
Stay in touch
Sign up for our free newsletter