Everything Else
Yardbird: The Unauthorized Autobiography of Jim Traber
2:30 AM EDT on August 13, 2009
First we published the Jim Traber Drinking Game.  Then we introduced everyone to the world's greatest cardboard cutout.  Now we have something that may top them all.  Introducing...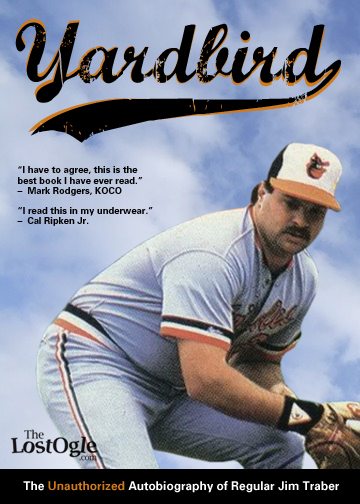 Yes, we've got our hands on "Yardbird: The Unauthorized Autobiography of Jim Traber."   Over the next few weeks, we will publish excerpts from this never before published book for the enjoyment of our readers.  We're not sure why the original publisher rejected the book, but after reading some of it, maybe you'll figure it out.  Check out some excerpts after the jump.
(Editor's Note:  Okay, so this may not be real.  But who cares, knowing the size of Jim's ego, I wouldn't be surprised if this book really exists.  Also, we would like to thank a new Lost Ogle contributor, Bob, for coming up with this idea.  Let's hope it works!)
Yardbird   -   Chapter 5: The Long Years   -   Page 48
As you listeners know, I refuse to say my ex wife's name in this book. She is like a Steven King monster that should be referred to like "IT" or "CUJO" with all caps on. I'm just going to call her SHE. Here is a list of things SHE threw at me in the course of arguments in our marriage.
"¢ A lamp
"¢ My baby bulldog "Cal Jr." (R.I.P.)
"¢ The Cars "Greatest Hits" album
"¢ An ashtray
"¢ My autographed and framed picture of Billy Ripken
"¢ Scalding hot coffee
During the divorce SHE used the preemptive strikes I would launch on her as evidence that I was a bad husband. Is Israel bad for striking first? Is the U.S. bad? I think not. You strike when you have the upper hand and the enemy is asleep or momentarily stunned.  That's how I attack my Jersey Mike's Subs® that I eat when I'm kicking it at Lucky Star Casino® and Hudiburg Nissan®.
I think the judge was a Yankee fan. SHE got all my money and I was left with the furniture and a '74 Le Baron. It was hard to concentrate at practice, but Cal and the boys gave me the space I needed and more. They never mentioned it or talked to me about it and I have to give it up to them.
Eddie was traded to the Dodgers so now it was my time to shine. I proceeded to hit poorly and commit several errors. I think one of Eddie's relatives was from the Caribbean and did voodoo on me. They probably used the Traber dolls that were selling like hotcakes when I became the starter.
-
Yardbird   -   Chapter 9: Hollywood City   -   Page 107
I was hanging with Mickey's "˜Hollywood' crowd. Because of my looks, I was actually cast in Jesse Ventura's part in "Predator." They liked my toughness and thought I would draw lots of ladies.
They had based the character on me in the script and asked if I would use my wisdom to make it better. I wrote all the lines he said I the movie, as well as some of Predator's. I even had a monologue where I talk about my mama feedin' me some chicken (To give the character a rich back story.) The director though, didn't like my political views and the liberal sissy boys in the film like Arnold and Carl Weathers didn't back me up, so I got fired.
That wasn't my only brush with Hollywood, though. They wanted me in "Rocky 4" as Rocky's Polish challenger "Fabian Kowalski." I gave them that line "I must break you." And "He's not human. He's like a dadgum piece of iron." In pre-production though, Stallone thought that I might hit him so hard that I could mess up his pretty boy face, so he asked me if I would quit the film and never call him again.
I have had some projects that I've been kickin' around lately, like maybe a movie of my life story, starring Zac Effron. I also want to work with Kirk Cameron. Did you see "Left Behind?" What a great movie! I would like to record a follow up my 1986 album "Return of The Whammer" that had hits like "Under The Boardwalk" and "Secret Agent Man." Jim Beluchi wants me to sing at "The House of Blues" sometime, so I gotta keep my pipes working good. I should have made this an audio book, so my fans won't have to learn how to read. Don't worry, I'll probably read the whole thing on the radio.
-
Yardbird   -   Chapter 3: Becoming a Sports Radio Legend   -   Page 47
After Marcus and I went to lunch at Terra Luna Grille, we went back to my house so he could clean my pool, mow my yard and organize my autographed baseball cards.  While he was looking over my 87 Topps, Marcus told me that he was doing some yardwork for Dean, and that Dean offered him the weekend gig at Channel 9.  After some thought, I gave Marcus permission to take the job.
Eventually, Dean started big leaguing Marcus, so I got my homeboys at Channel 5 to get rid of Ron Terrill so Marcus could move over there.  And boy did that work.  After awhile, Marcus and I had our own show opposite of Dean and the fat kid at Channel 4.  Marcus even let me wear shorts!  They don't let me do that on Canadian television.
-
Yardbird   -   Chapter 7: The Ultimate Oriole   -   Page 83
The groupies handing around the team were unreal. I partied with starlets like Rue McClanahan and "Trudy" from "The Facts of Life." That Trudy really liked the way I prepared a Turkey.  Who doesn't like a cheesecloth.  And what about those Johnsonville Brats?  Delicicous.
Things took a turn for the worse at the ballpark, as my batting average was a respectable (but low for the bigs) .142. I was hitting some solid ground balls and I had 32 fly outs midway through the season, but I think there was a conspiracy among American League pitchers and umpires to run me out of the game, maybe it had something to do with Pete Rose's gambling. They were all in on it. One day, the manager stepped into the clubhouse and said he had some bad news. Even though I was saving them a ton of money with my human garbage disposal trick, they would have to let me go. I was being traded to Japan for a washing machine and an appliance to be named later. Cal was doing his best to hold it together. He was pretending to read the paper and not cry. Based on our time I spent with him, I think he could have had a great career as an actor or maybe an underwear model.
I know he was being strong for the team, but he never mentioned me during his speech when he broke"¦Dadgummit"¦what's his name? Played for the Yankees"¦LOU GEHRIG! That's it! When he broke his record, I thought he would talk about me, but he couldn't because of the dang owners. When we see each other now days, we have this little routine where he pretends not to remember me. In 20 years, he has never broken character. It's beautiful.
Stay in touch
Sign up for our free newsletter