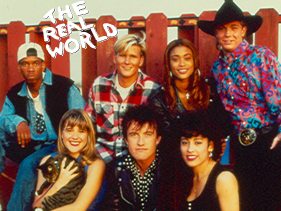 Some time around 1996, Saturday Night Live did a spoof of MTV's The Real World in which two of the house residents were from Oklahoma.  Mike Myers played a bumpkin dressed in cowboy attire from Tulsa while David Spade was a cowboy clad bumpkin from Oklahoma City.  Norm McDonald played Bob Dole.
This was one of my favorite sketches from that era of the show.  Not only did McDonald's Dole get booted from the house after getting into a fight over someone sitting in his chair, but the Myers/Spade argument was classic.  Everyone in the house was in a spat over something but when the two bumpkins went at each other the "mediator-type" character asked how two people from Oklahoma couldn't find common ground.  To which, Spade replied, "Whoa, I'm from Oklahoma City!  He's just po' white trash from Tulsa!"
Apparently I'm the only one who is surprised this never made one of the "Best of SNL" videos.
I was reminded of this when one of our readers brought it to our attention that Oklahoma City was one of 58 U.S. cities that MTV is currently recruiting cast members for The Real World 22.  Here are the deets:
REAL WORLD IS RECRUITING VIA EMAIL IN THE FOLLOWING CITIES:

Anchorage, Austin, Baltimore, Berkeley, Billings MT, Birmingham AL, Boston, Boise, Burlington VT, Casper WY, Charleston WV, Charlotte, Chicago Cleveland, Columbia SC, Columbus OH, Dallas, Denver, Des Moines, Detroit, Fargo ND, Fayetteville AR, Fresno, Gainesville FL, Houston, Indianapolis, Jackson MS, Kansas City, Las Cruces, Las Vegas, Little Rock AR, Los Angeles, Louisville, Lubbock, Miami, Minneapolis, Milwaukee, Nashville, New Orleans, New York City, Oklahoma City, Omaha, Philadelphia, Phoenix, Pittsburgh, Portland OR, Providence, Raleigh, Richmond VA, Salt Lake City, San Francisco, Savannah, Seattle, Sioux Falls, Spokane, St. Louis, Tampa, Washington DC.

If you live within driving distance of one of our recruiting cities, and fit one of the seven stereotypes (militant black person, flaming homosexual, filthy dirty homophobe, naive 18 year old girl willing to lose virginity on camera, slutty women with foreign accent, frat guy in a band, and sensitive guy with tendency to idealize slutty women with foreign accents) please email casting@bunim-murray.com.

The subject heading of your email should contain ONLY the name of your nearest city from the above list. (If you do not live within driving distance of one of the above cities, your subject heading should be OUT OF AREA REQUEST).

Please attach a few PHOTOS of yourself as well as a brief BIO. Also, include your full name and TELEPHONE NUMBER(S) in the body of your email.

IMPORTANT: The total size of your email must not exceed 3mb!

Please send ONLY ONE EMAIL. Multiple submissions may disqualify you.
If you are one of those people who wants to be famous so badly that you will have your entire life taped to be seen by the eight people who still watch the show, make sure to get your application in soon.  Just know that you'll probably be competing against Chad (you can decide which charicature he'd be filling).  And if you make it on the show, let us know so we can get you a Lost Ogle T-shirt to wear while you're demeaning someone by calling them "Tulsa trash."
(note:  I may have amended the casting call a tad.)
Clark Matthews is a world-class checkers champion, co-founder, and basketball editor-emeritus of The Lost Ogle
Read More:
Stay in touch
Sign up for our free newsletter