OKC Media
Aubrey McClendon is salty with the Oklahoman…
2:00 AM EST on December 4, 2008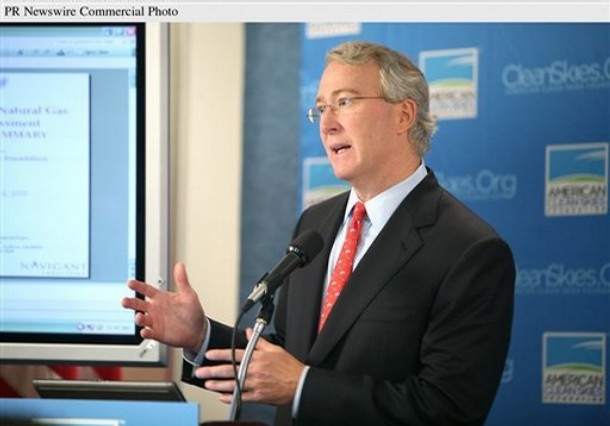 Earlier this week, it looks like Aubrey McClendon decided to send another mass email to all the commoners at Chesapeake. In this one, he talks about a bunch of confusing stock related financial crap that nobody can really understand. He also talks about how the Oklahoman sucks. I think anyone can understand that.
Aubrey's email (and our thoughts) are after the jump:
Dear OKC CHK'ers: Good morning and I hope you all enjoyed a restful and happy Thanksgiving holiday. I wanted to address a couple of topics this morning. First, let me begin by saying how proud I am of Doug Jacobson, his entire A&D team and all of the rest of you who helped them out in completing the recent Statoil transaction. We told analysts and investors during our two-day conference on campus in October that we would complete a Marcellus transaction that mirrored our previous PXP-Haynesville and BP-Fayetteville transactions by year-end 2008. Many in attendance doubted our ability to complete it on time and at an attractive valuation, but we did it with a month to spare and on terms both fair to Statoil and to CHK. In fact, a reporter from a national publication with tremendous credibility emailed me the day we announced the Statoil agreement to apologize for doubting us and commend us for a truly major achievement.
Editor's Note: You got to give Aubrey some credit for staying awake during "business letter writing." You're always supposed to begin a "bad news" letter with some unimportant good news that nobody really cares about. I guess he learned something at Duke.
Also, I'd say that there is a 95% chance that Doug Jacobsen probably got laid after this email went out. Having Aubrey mention you in the first paragraph of a mass email has to be a big deal.
Which leads me to my second topic - you would probably agree with me that over the past few months, CHK has been in the headlines too often. Some of the coverage simply comes with the territory of being the largest U.S. natural gas producer in a time of declining natural gas prices; some of it comes from the high-profile transactions we have successfully completed in the past few months; some of it comes from our advocacy for U.S. natural gas public policies; and some of it just happens, perhaps because of some slow news days. In general, we appreciate the media's interest in the contributions our company is making both here in Oklahoma and across the country through our discovery and production of so much clean-burning, abundant, affordable natural gas. On the other hand, we, like you, find it unfortunate when an article like the one in this past Friday's Oklahoman was printed without consultation with us. To clarify and to ensure you have the proper context, I am sending you this note to set the record straight.
The Oklahoman story said we planned to raise $1.8 billion in cash in the near future by selling shares of CHK common stock. In Friday's press release (you received it at 6 am on Friday morning by email from Alyse Reynolds), we clearly stated that our Form S-3 filings with the SEC give us the ability to sell additional shares of our common or preferred stock at some point in the future. We have no plans at the present to do so. Our November 26, 2008 prospectus supplement relating to a Distribution Agency Agreements outlining how we could issue up to $1 billion of common stock. We said we stated "Chesapeake does not anticipate issuing shares under the Distribution Agency Agreements in 2008, but it will consider issuances from time to time in 2009 and beyond as market conditions warrant." This is not a traditional filing that would raise cash proceeds in one offering. We may issue some shares or no shares under this filing, but we have the program in place to issue shares in the right circumstances. Unfortunately, that important distinction failed to make the story. This very challenging economic environment can create exceptional growth opportunities and we want to make sure our financial toolbox was fully and properly equipped to seize the opportunities should they come along. Let me also say our 2009 budget reflects our stated goal to operate within our cash resources, which we fully intend to do.
Editor's Note: Dear God, this email is so long that Clark Matthews is getting jealous (see: The Clark Matthews College Football Playoff Plan). Seriously, if you made it this far, congratulations to you. You've probably made it farther than the average overpaid Chesapeake employee.
The sub-headline to the story was also bothersome in that it implied (incredibly) that we might not be able to make interest payments in the future. This sub-headline came from a sentence in the standard "risk factors" section of our filings. This section appears in every prospectus and Form 10-K we and our peers file with the SEC. In it, public E&P companies are required to disclose the range of possible risks that may adversely affect their businesses. We include risks such as how declines in natural gas and oil prices would reduce our revenue and could reduce the amount of natural gas and oil that we can produce economically; our efforts will be unprofitable if we drill dry holes; we might not be able to find additional reserves to replace our production; our operations could result in injury, loss of life or environmental damage; etc etc. It was a disservice to the paper's readers and our company to lift such a line from a laundry list of standard risk factors without providing the proper context. I can assure you that we will make our interest payments (which will total only about $500 million out of our expected cash resources in 2009 of over $7 billion), our payroll and our electric bills, and so forth and so on - I am sure you get the picture.
A third headline in this same article declared "CHK's cash flow falls," but with no explanatory text in the article itself. We do not know the basis for that claim. What our prospectus supplement and 2008 3rd quarter Form 10-Q actually said was that "cash provided by operating activities was $4.305 billion during the nine months ended September 30, 2008 compared to $3.389 billion during the nine months ended September 30, 2007," a $916 million increase!
As I have said before and will repeat here, our company is in excellent position to weather the current difficult economic situation in the U.S. We have the necessary cash resources and the industry's best people and assets and we have a balance sheet that has been steadily improving. While I cannot guarantee there won't be other poorly researched or sensational articles down the road, I can assure you that this great company will continue to create value for its shareholders, employees and other stakeholders for years to come. Natural gas is indeed the fuel of the 21st century as noted in the good story on the front page of yesterday's Sunday Oklahoman about CHK's leadership in promoting the greater use of CNG vehicles. No one owns more natural gas in the U.S. than we do. Keep up the great work and I look forward to becoming more familiar with many of your accomplishments during this week's comp review sessions.
Geeze, thank god that is finally over. The email makes Gandhi look like a short film.
Anyway, I don't do this very often, but I'm going to stick up for The Oklahoman on this one. It seems like every news story about Chesapeake that originates from Oklahoma is some positive, PR pitched, fluff piece focused on how awesome they are and that they have a nice gym and record profits and gold plated floors and court side Thunder tickets and ivory staircases. It's about time that a local publication wrote a "questionable" thing about the company, even if it really doesn't make sense.
Also, Aubrey needs to realize that crazed mass emails complaining about media coverage isn't the best way to communicate to employees. I didn't understand even half of what he was writing about and now even I'm panicked and scared. Hell, I bet half of their Lease Analysts are currently working on their resumes. Instead of sending out manifestos to his now-frightened employees, maybe he should send out a limerick or soothing haiku. You know, something like:
Leaves fall in the woods.
Natural gas makes us rich.
Oklahoman sucks.
Seriously, that would be better than some manifest. Not only would it probably get his point across better, but he'd also win some award from a haiku foundation. Then The Oklahoman would write some fluff piece on how great of a scholar he is and how Chesapeake can do no wrong. Then he could write an email about how great The Oklahoman is. Then the OKC CHK'ers would all sleep better. The end.
Stay in touch
Sign up for our free newsletter