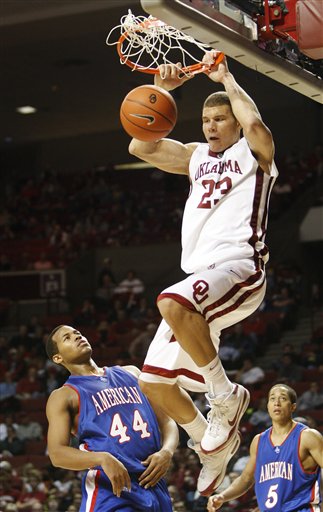 (This was supposed to be a season preview for the Sooner basketball team, but I drug my feet too long and the college season snuck up on me.  Now the team has played two games, so it's basically just a view.)
Blake Griffin is a bad mamma-jamma.  No one denies this.  Last year, he was really good.  So good that most pro analysts felt he was crazy or else too attached to his brother when he chose to return to OU for his sophomore season.  This year, he looks exponentially better.
During the preseason, with the caveat of the opposition being Panhandle State and UCLA (University of Cameron in Lawton, America), Griffin was perfect.  Literally.  In 49 minutes of floor time, Blake scored 39 points on 16 for 16 shooting from the floor.  He also grabbed 22 rebounds, handed out ten assists, blocked five shots, and stole a couple of passes.  Even discounting that the players guarding him were NAIA shrimps, one would expect at least a little rust.  Now that the season has started, he looks even better.
In the opener versus American, Griffin scored a point a minute in 33 minutes on the floor.  He was 9 of 11 from the field with 18 rebounds.  Two days later against Mississippi Valley State, he was 8 of 9 for twenty points with 19 rebounds.  That's 92% shooting against live competition so far.
Combine that with super recruit Willie Warren's arrival and Sooner fans (those that care about basketball--the rest won't realize the team has started playing until all the BCS bowls are finished.  At that point, they will probably begin hassling me like they follow college basketball as closely as Dick Vitale.  Particularly if OU losses their bowl game again.) are exuberantly anticipating the outcome of this season.  They opened the year ranked #15 and based on my conversations with two friends who follow Sooner basketball religiously, their expectations range anywhere from possible Big XII Champions and a return to the Sweet Sixteen in the tournament to undefeated through conference play and competing for the national championship.
While I make no claims to be an expert on Sooner basketball, I will be playing the role of Debbie Downer with four reasons not to get too excited after the jump.  For OU fans who don't like to look beyond the surface, you can skip this part and just accuse me of being an OSU homer in the comment section.  For those of you who aren't interested in basketball, the Irritated Tulsan posted a non-sports related article earlier today.  The rest of you can read the remaining bits of this article and then accuse me of being an OSU homer in the comment section.
1.  Blake Griffin's Knees
Something that gets glossed over in Griffin's impressive freshman season is that he missed two stretches of the season after having knee surgery.  Most like to focus on how quickly he returned and how well he played upon those returns.  But, the fact of the matter is his knees are about as reliable as a Doug Gottlieb free throw.  The entire season hinges on Griffin playing at 100% for the whole year, because...
2.  Willie Warren is a freshman
He might be one of the best freshman in college basketball this year, but he is still a freshman.  Big XII fans have been spoiled over the past two years watching guys like Griffin, Kevin Durant, and Michael Beasley dominate the NCAA from day one, but those are anomalies.  Those guys came from really strong recruiting classes that placed a couple dozen players in the NBA after one season in the college game.  This  year's freshman class is the worst in four years when Byron Eaton and Gerald Green were among the cream of the crop.
Warren is talented, and will likely be a star for OU, eventually.  But, he is closer to James Anderson (OSU's McDonald's All American who was a freshman last year) than one of those one and done megastars that have passed through the Big XII recently.  And unlike Anderson, Warren has struggled mightily to open the season.  Anderson looked like a superstar in OSU's non-conference schedule prior to disappearing once Big XII play began.
Through the first two games, Warren has looked like a player struggling to catch up with the new level of competition.  Considered a sharp shooter, he has missed his first ten three point shots against American and Mississippi Valley State.  He has averaged 12 per game, but he has done it with volume of shots.  The level of play only gets more difficult from here on out.
3.  Austin Johnson is still very pivotal to their success
If OU expects to meet their high expectations, they will need at least adequate play from the point guard position.  Unfortunately, that means Austin Johnson will have to play adequately.  Tony was really enthused about the team's outlook, but he had this to say:  "Austin Johnson is still the point guard and while I am not a hater of his he can charitably be called inconsistent."
I guess I am a "hater."  Coming into his senior year, Johnson has always been more of a liability than an asset to his team.  Even when the only expectations set on him are to hit some of his open three point shots and play defense you cannot really count on him to come through there.
My buddy Screech reminds me that the team went 23-12 with him as the starting point guard last season, so maybe I'm putting too much emphasis on Johnson's ability to derail the Sooners.
4.  No Depth
That same Screech guy tried to sell me on the Sooners improving from last year because they "are deeper than last year."  I don't see it.  Against American, a game which was in all senses, a blowout, Coach Jeff Capel gave only eight players more than garbage time minutes.  More played versus MVSU, but with the quick turn around of a second game against last year's Cinderalla, Davidson, meant the starters needed to be rested.
Considering that rotations are generally tightened as the year progresses, only three bench players are probably being considered to contribute at all.  Those three are Cade Davis, Ryan Wright, and Omar Leary.  Davis is a capable sixth man, but he was the seventh man last year.  Wright is a UCLA transfer (the one in California) who represents the only front court help.  Anytime Leary enters the game, fans only hope that he is coming back out soon.
While and eight man rotation is not out of the ordinary, the team does not look any stronger than last season when depth was an issue.  If anything, the team was stronger in the post last season when they had Longar-squared and his incredible length to defend the basket.  Neither Wright or promoted starter Taylor Griffin can alter shots, and Wright is not considered to be any more of an offensive threat than Longar was.
GENERAL OUTLOOK:  While I'm not as optomistic as people who actually root for the University of Oklahoma, the team will be really good.  Of course, repeating what they did last season would consitute "really good."  I think think this team will probably score more points than last season based on the idea that Warren will improve and can provide a lot more scoring options than David Godbold did in 2007/2008 and that Taylor Griffin won't fumble as many passes as Longar-squared did in the post.  The additional scoring, though, will probably be offset by the fact that those two new starters are not as interested defensively as the two guys they replaced.
In the end, I think the Sooners do have an excellent shot at being the Big XII champions.  That has more to do with Kansas and Texas being significantly worse than they were last year, though.  In the NCAA tournament, I think the Sooners would do well to repeat their Sweet Sixteen performance.  Of course, that is assuming that my #1 concern does not become an issue.
Clark Matthews is a world-class checkers champion, co-founder, and basketball editor-emeritus of The Lost Ogle
Read More:
Stay in touch
Sign up for our free newsletter