Everything Else
Clark Matthews' 2008 NBA Draft Diary
2:40 PM EDT on June 27, 2008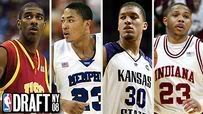 Most years, the NBA Draft is a night I plan for far in advance. That was particularly true last year when the Sonics drafted Kevin Durant as the marquee player to usher the team into Oklahoma City. This year, not so much.
It kind of snuck up on me. I'm in the middle of changing jobs, I was on vacation early in the week, and the Sonics having bad luck in the lottery basically combined to the distract me to the point that I was actually surprised to see a commercial advertising it when I was sitting in a restaurant in St. Louis on Tuesday. Needless to say, Part II of my draft preview is not going to be published. That isn't to say I don't have an interest, and I'll prove that if you read my minute by minute thoughts after the jump.
You can also see how I covered the draft for HornetsCentral.com in 2006 and for this website in 2007.
6:30 - David Stern takes the podium, and immediately begins needling the New York crowd. While listing off the accomplishments of the year, he touts the Boston Celtics 17th title eliciting boos from the crowd. If David Stern were from Oklahoma, he would probably lead the Justice League.
6:34 - I am under the distinct impression that the ESPN round table (Stuart Scott, Jeff Van Gundy, Mark Jackson, and Jay Bilas) has inside information that Derrick Rose will be the pick here. They are talking roster moves that the team can make after drafting Rose.
6:37 - If it is such a done deal, why is Chicago waiting until the last second to turn in their card. Maybe Sam Presti (the Sonics GM) is knocking them out with an amazing offer...a guy can dream, can't he.
6:38 - Shocker. Derrick Rose, the Chicago native, and the best point guard prospect since Chris Paul is selected by the Bulls. Now comes the real drama. Will Miami take the most talented player on the board, Kansas State's Michael Beasley, or O.J. Mayo who has bonded well with Dwyane Wade. There is speculation that the Heat will pass on Beasley because he has a history of being a party boy and they fear what might happen if he were to be unleashed on South Beach.
6:40 - Jay Bilas describes Derrick Rose as the perfect sidekick for Kevin Durant. He is entirely unselfish, has great court vision, and defers to his teammates. In essence, the perfect point guard. Unfortunately, the Sonics were punished by karma for Clay Bennett and failed to win the lottery.
6:43 - Miami wised up and took Beasley. There is still (slight) hope that this pick was made for the Sonics. The word is that Sam Presti was trying to take advantage of Miami's waffling and swap the #4 pick and Chris Wilcox for the #2 pick and Mark Blount's albatross of a contract. You may have heard, but Beasley and Kevin Durant played little league basketball together and are BFFs.
6:46 - Beasley's mother is named Fatima, which Mrs. Matthews thinks is the meanest name a mother ever bestowed on her daughter.
6:47 - Steven A. Smith asks Beasley what kind of player the Heat just selected and after some generic description of his basketball skills, he gets most excited when he says "fun loving guy off the court." Yikes. No wonder Pat Riley hesitated.
6:48 - Minnesota is about to make the third pick. Smart money says it will be O.J. Mayo, but smart and (Minnesota GM) Kevin McHale are rarely used in conjunction.
6:49 - Mayo it is. That's fine with me. I think he will be an excellent player, but will never play for a championship caliber team, especially if he is played at point guard.
6:51 - Jay Bilas agrees with me. I might have to reconsider my assessment.
6:52 - I usually leave it to my wife to critique the player's outfits, but she's busy with the ClarkPupp. In this case, I really don't need her to tell me that Mayo did well with his three piece cream colored suit. He looks like a V.P. of marketing more than a basketball player.
6:55 - What the Sonics will do with this pick is tough to read. Jerryd Bayless was expected to be a certainty, but in the last couple of days, there has been talk that Russell Westbrook or Brook Lopez could be the pick.
6:56 - Russell Westbrook! Seriously? It is not a good feeling to know that the team that is about to be your hometown team just made the first WTF choice of the draft. He has the tools to be a good player, but a good player is what you look for late in the lottery, not early in the first round.
6:57 - This is comforting. Westbrook did not start for his high school until his junior year and he was the back up point guard at UCLA last year. As a juxtaposition, O.J. Mayo was profiled by the Associated Press when he was in sixth grade.
6:59 - Kevin Durant does a good job of selling the pick. "He's a great defender," he says, which is true. I project him to be a lot like Boston's Rajon Rondo. Of course, like Rajon Rondo, I think defenses will back off of him and rove over to double team Durant. Had the team taken Brook Lopez to address their lack of a center, opposing defenses would have had to respect his offensive game which would have freed Durant up to do his thing.
7:01 - Back from commerical, Memphis has actually already made their pick, but we are waiting on Stern. When he does arrive, he announces Kevin Love as the pick. That's two strait UCLA Bruins. On WWLS, Pork actually just wondered why the Bruins didn't do better this year. Um, they were an #1 Seed and made it to the Final Four. Also, Kevin Love and Russell Westbrook both just got selected about ten spots too high.
7:03 - Bilas is touting Kevin Love's outlet passing. When did chest passes from big men become so overvalued? The Suns gave that as one of the reasons they traded for Shaq last season.
7:05 - Even if Love never makes an all star team, he will get credit for bringing Color Me Badd's facial hair back to the forefront. I am pretty sure that Bryan Abrams and Love might actually be brothers...and after seeing "Project Boyband" on VH1, I'm not sure which of them is physically bigger right now.
7:06 - The Knicks are about to make their first selection of the Mike D'Antoni era. D'Antoni was pushed out as Phoenix' coach after the Shaq trade completely undermined his system. Supposedly, New York is pretty set on taking Danilo Galinari out of Italy. D'Antoni was a teammate of Danilo's father in the Italian league and has known him since he was a kid, but rumor has it that the coach does not see him as an NBA caliber player.
7:07 - Knicks fans are hilarious. Knowing what was coming, they began booing when Stern said, "With the 6th pick..." Either D'Antoni changed his mind about Galinari, or else the Knicks new GM just undermined D'Antoni with his first personnel decision. If it is the latter, the Knicks job seems a lot like the Phoenix situation.
7:09 - This may be a sign of the apocalypse. Jay Bilas just complimented the pick of a foreign player and pointed out that it was no different to take a 19 year old American kid than it was to take a 19 year old Italian.
7:12 - Kelvin Sampson's downfall is the 7th player taken in the draft. For those who do not know, Sampson broke basketball recruiting etiquette by recruiting Eric Gordon after he had committed to play for Illinois. By pissing off his intraconference rival, Sampson managed to turn every other team in the Big 10 into tattletales who were quick to tell on him when they ran into players who had been the target of recruiting violations. Obviously, Gordon is a good player, but Kelvin might have to be contemplating how much he needed this specific one and done guy.
7:16 - Donnie Walsh, the Knicks GM, is explaining the Gallinari pick. He has made no mention of D'Antoni's feelings about him, so I'm expecting that his feelings were not much of a factor. That's too bad, because I really think D'Antoni is a great coach and a great guy, and I think there is no way the Knicks job ends well for him.
7:18 - West Virginia's Joe Alexander was just selected by Milwaukee. If it hadn't been for the inexplicable Westbrook selection, I would say Alexander was the most overrated player in the draft. He had a great game against Duke in the NCAA tournament, but Duke really wasn't very good last year.
7:23 - Now that we're back from commercial, we are about to find out which player Larry Brown will ruin for Charlotte.
7:24 - Ouch! D.J. Augustin. That's a great pick, in my opinion, but Larry Brown is hard on rookies, and he's hard on point guards. I wonder what he'll do to a rookie point guard. From a talent perspective, he is incredibly smooth with the ball in his hands and has an amazing shot. Mark Jackson just called him a back up for Raymond Felton, but I would not be surprised to see Augustin end up as the starter.
7:27 - Augustin's gray three piece suit is as smooth as his ball handling. While being interviewed by Stephen A. Smith (who I hate to admit, I miss being in the round table), Augustin takes the inevitable Hurricane Katrina related question in stride. Maybe he will be mentally tough enough to play for Larry Brown.
7:30 - The Nets get a steal by taking Brook Lopez with the 10th pick. Apparently, the Nets, unlike the Sonics, learned their lesson. After taking two project caliber centers in the past two years (Josh Boone and Sean Williams) they settled on a polished offensive post player. With Lopez, Vince Carter, and Richard Jefferson to run with Devin Harris, I suspect the Nets will be a contender in the East next year.
7:34 - Channeling me, Stephen A. Smith just tried to get Lopez to say the Nets would be a playoff team next year.
7:35 - Strike the Richard Jefferson remark. I was unaware that the Nets and Bucks made a deal earlier in the day to send Jefferson to Milwaukee for Yi Jianlian and Bobby Simmons. I still say they are contender in the East next year.
7:36 - Indiana just selected Jerryd Bayless, which is a value pick rather than a pick that fulfills a need. The Pacers traded Jermaine O'Neal yesterday for T.J. Ford from Toronto. So, now the Pacers have a logjam at the point guard position. That's a good place to have a logjam, but the reason Ford was available was because Ford was upset about having to share time with Jose Calderon. Now he's in a situation where he is usurping last year's Indiana starter Jamaal Tinsley and a first rounder. I assume that means Tinsley is on the market, but there has been no interest in him (due to his contract) in the past three years.
7:41 - For some reason, the NBA keeps playing the same soundclip that comes on Outlook when you get an email whenever Stern comes to the podium.
7:42 - The second WTF selection belongs to Sacramento. Jason Thompson from Rider at #12.
7:43 - Jeff Van Gundy just said this pick proves that Sacramento GM Geoff Petrie is a "master evaluator of talent". As someone who believes that Van Gundy symbolizes everything that is wrong with the NBA, I take that as a back handed compliment.
7:46 - Portland makes Brandon Rush their first pick of the night. As a team who tends to buy draft picks from other teams using Microsoft stock, I doubt Portland is done.
7:51 - Anthony Randolph of LSU is taken by Golden State. Randolph is not a very interesting pick, so I am more intrigued by the fact that the Warriors may potentially have nine free agents in this Summer's pool. That is not a good recipe for the team to succeed next year.
7:54 - Randolph is a confident dude. When Stephen A. asks him about his scouting report saying he needs to bulk up, Randolph boasts that he's stronger than people think. Cardboard Jim would approve of the bravado.
7:55 - Dick Vitale makes his first appearance. I wondered why my head didn't hurt until now.
7:57 - Stuart Scott deadpans when Vitale stops saying Vitale things, "Dickie V, you really need to work on coming out of your shell.
7:58 - The Suns take Brook Lopez' twin brother Robin. First of all, I'm amazed the Suns kept a draft pick. In years passed, they have given up the opportunity to take players that really could have turned them into a dynasty. Phoenix has generally used draft picks to lure teams into taking their garbage contracts off their hands. While owner Robert Sarver may have saved a few million, the Suns could have had Luol Deng, Andre Iguodala, and Rajon Rondo on the team. Second, I'm surprised the Suns made a good selection with the pick they kept. Lopez will be perfect in the Suns system. They need a guy who can harass Tim Duncan, grab rebounds, and block shots. Robin will be great. It's too bad they ran off D'Antoni.
8:03 - Philadelphia takes Marreese Speights out of Florida. Speights was supposed to be a top 10 player coming into the season, but he had a poor season considering he was the best player returning from a back-to-back championship team. He's a good talent at this point in the draft, though.
8:05 - ESPN is making up for the lack of commercials early in the draft. There was a break right before Philly's pick and now one right after.
8:08 - Roy Hibbert is the pick of Toronto. Of course, this pick was part of the Jermaine O'Neal/T.J. Ford trade, so Indiana is actually taking him. That makes a lot more sense than the Bayless selection earlier. Then again, this also adds some clarity for why they went with "best available" at #11. Hibbert is a big man who should be ready to contribute immediately, even if he is bound to be a stiff.
8:09 - Another commercial. Am I watching ESPN or has the Sports Animal begun a television network?
8:12 - When they come back, ESPN shows a montage of Brook Lopez "Wired". He kind of sounds retarded, and based on some of his activities, I'm disgnosing him with ADHD.
8:14 - The Washington Wizards take JaVale McGee. McGee is only significant in that his mother played in the WNBA.
8:15 - As I said before, Portland was bound to make some more noise before the evening was finished. In a deal with the Pacers, Jerryd Bayless and Ike Diogu will go to Portland for point guard Jarrett Jack and Brandon Rush. I would have to say Portland just bamboozled the Pacers. The Trail Blazers received the two best players in the deal, and Indiana still has a point guard logjam.
8:17 - At the bottom of the screen it shows Cleveland's team need to be "a second star" to pair with LeBron James. I don't think a player that fits that need is still available at #19.
8:19 - Kansas' Darrell Arthur is the last player in the Green Room, which is where the players invited by the NBA to be interviewed by ESPN and get their picture with the commissioner upon selection sit. That means he gets to have the camera watch him as he gets more and more frustrated that players like J.J. Hickson (just selected by Cleveland) get taken before him.
8:20 - On Hickson's profile it says he must improve his work ethic. He'll get on that as soon as he completes the next mission on Grand Theft Auto IV.
8:24 - Denver traded out of this year's draft and gave the #20 pick to Charlotte.
8:26 - Charlotte uses the pick to take France's Alexis Ajinca. I think this guy has about as much hope of playing for Larry Brown as Darko Milicic had. ESPN's Fran Frischilla pointed out that Ajinca could benefit from staying overseas. I agree, he should wait until Larry Brown inevitably quits.
8:29 - Apparently, Josh McRoberts will also go to Indiana in the Pacers/Blazers trade. Oh, it all makes sense now, except that it doesn't.
8:31 - With a pick they acquired from Dallas in the Jason Kidd trade, the Nets select Ryan Anderson from the University of California. This would have been a better pick if they hadn't taken Brook Lopez earlier. I guess the idea is to mix and match the Boone-Williams-Lopez-Anderson front courts so that they have offense/defense.
8:38 - Orlando takes Courney Lee from Western Kentucky. If J.J. Redick can't beat him out in the depth chart, I might cry. Check that, I will cry.
8:39 - Jay Bilas says Lee will start for the Magic next year.
8:40 - Kiki Vandewege, the Nets' new GM, is being interviewed by the panel. Kiki has been a busy man tonight, and is bragging about all the big men they now have who can shoot the ball. That was the team's biggest weakness over the past few years. Jason Kidd is probably wishing he hadn't begged out of town, right now. With the roster that will be on the floor next year, he would have had a field day.
8:42 - Utah takes Kosta Koufos who, despite his name, was born and raised in Dayton, Ohio and is not a foreign guy. I'm not really sure how he fits into the Jazz system. I guess they just wanted a seven footer to sit at the end of the bench.
8:44 - The Sonics are on the clock and like a season finale of American Idol, ESPN goes to commercial to build the suspense. After taking a point guard with the early pick, the Sonics probably need a big man. DeAndre Jordan has slid to them, so why not take a gamble on a guy who has a build similar to Dwight Howard.
8:48 - Stuart Scott brings up that the team might be moving. The question he then asks the panel if the team can make the playoffs next year...how are those two nuggets of information related? Well, Van Gundy responds that they can't and that it will be a tough sell to Seattle because the team will be bad and the owner doesn't want them there. What? It's a tough sell to keep the team in Seattle? Tell that to the city who is trying to force them to stay.
8:49 - Serge Ibaka is the pick. There is not a peep from the crowd. It's as if Stern said nothing. Sam Presti has not impressed me tonight. Why pass on Jordan, who is strong and athletic, for a foreign player who is pencil thin and unlikely to play in the U.S. for three to four years. Of course, if Ibaka becomes good enough to play in the NBA over that span, he will be worth more than the Sonics will be allowed to pay him and will likely stay in Spain. I'm starting to think the Sonics are already working on tanking the 2008-2009 season in hopes of lucking into next year's prize, Ricky Rubio. It could also be an indication that the team is trying to save some money in anticipation of being stuck in Washington next year.
8:51 - Poor Darrell Arthur is getting interviewed and being reminded that he is sliding like a madman. Doris Burke sounds like Dr. Phil trying to console him while Arthur is doing his best not to start bawling.
8:52 - Stu Scott says that the only player from the Congo, Ibaka's homeland, to play in the NBA is D.J. Mbenga. With that level of competition growing up, I can see why Presti just had to take Ibaka.
8:53 - You guys probably never thought I'd end this, but now that all the Sonics first round picks are complete, I am going to call it a night here. I'll add an adendum to the bottom for any other relevant news.
-------------------------------------
Addendum:
* Darrell Arthur supposedly has a kidney condition which is why he was not taken in the lottery and is still available as the Spurs select at #26. How did they not find this out until now? If this had come up earlier, there is no way that Darrell would have been invited to the green room.
* I love Mike D'Antoni. Talking about Gallinari, he points out that Danilo needs to work on his defense and deadpans that "everyone knows I can teach him that."
* Portland bought the Hornets pick at #27. That pick? Darrell Arthur. Stephen A. asks Arthur about his health. His response: "I took a blood test in Washington, but I guess those guys in the NBA don't contact anybody."
* As Memphis gets ready to pick, the panel suggests that Chris Douglas-Roberts who played for the University of Memphis might be the choice. Bilas jokes that the Grizzlies wouldn't even have to pay moving expenses, and the panel doesn't even give him a courtesy laugh. I believe Bilas is the Dean Blevins of ESPN.
* In what I see as a huge surprise, J.R. Giddens is the final pick of the first round. As probably the fourth best player to come out of John Marshall High School since 1996 (Joe Adkins, Tony Heard, and Reggie Tate were better), I have to think the Celtics made a mistake here. At least those other Bears never started a bar fight that ended with them having their calf muscle slashed with a knife.
On another note, the Celtics have had a recent history with the state of Oklahoma. They drafted Tony Allen (an Oklahoma State player) and Gerald Green (an Oklahoma State signee) in recent drafts. Now they have taken a kid from Oklahoma City.
* The Sonics made a trade. In return for two of their second round picks (#32 and #46) they receive the draft rights of the Pistons to D.J. White. White was compared to James Worthy by the panel when he was originally selected. He looks more like Robert "Tractor" Traylor to me. One good thing about this trade is that the Sonics did finally get a big man who has the capability of scoring.
* DeAndre Jordan finally gets taken at #35 by the Los Angeles Clippers. It should be noted that there was once an expectation that he would be taken by the Sonics at #4.
* New Jersey continues to have the best night of any team. At #40, they were able to pick up Chris Douglas-Roberts. He is not a likely to be a great player, but he has the capability to produce for the team now.
* As the #46 pick comes up, a pick that was once owned by they future Oklahoma City (Name TBA), the guys on WWLS' NBA Weekly begin lobbying for the Sonics to select Longar Longar out of OU with one of their final two selections. Has there ever been a more overrated player in Sooner history? I project Longar-squared to be a poor man's Serge Ibaka.
* DeVon Hardin is the Sonic pick at #50. That's actually a surprisingly good pick up at this point. He's 6'11" "freak athlete" (according to Jay Bilas).
* The Sonics final pick (#56) is used to take Sasha Kaun from Kansas. I guess that since they passed on a proven big man at #4, Presti's hope is to find a big man who can help the team by getting a bunch of them and perhaps sewing them together like a seven foot Frankenstein.
* Apparently Kaun already signed a contract to play for CSKA Moscow in the Euroleague next season.
* Chad Ford at ESPN.com graded the Sonics night as an A-. I hope he's right, but if I had to give it a letter, I'd say D.
*
Clark Matthews is a world-class checkers champion, co-founder, and basketball editor-emeritus of The Lost Ogle
Read More:
Stay in touch
Sign up for our free newsletter