Everything Else
Berry, Jenni and others moving to Sellout-Crowd.com! We have the scoop!
10:39 AM EDT on August 11, 2023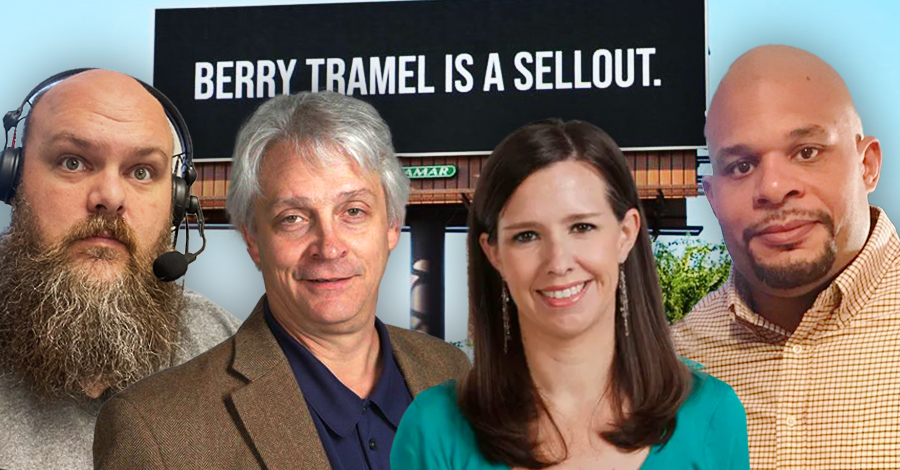 On Wednesday afternoon, we were first on the scene and on the story to report that longtime Oklahoman sportswriters Berry "Boomer" Tramel and Jenni Carlson are leaving The Oklahoman to join a mysterious new local sports media start-up. 
When I broke the news, details were about as clear as a smudge on Berry's glasses, but not too long after I hit the publish button, the Ogle Mole Network lit up with more information!
Here are three things I've learned about Wimgo 2.0 since my article first published:
1. The project is going to be called Sellout-Crowd.com, which explains why a Mole DMed me this photo of a billboard yesterday morning: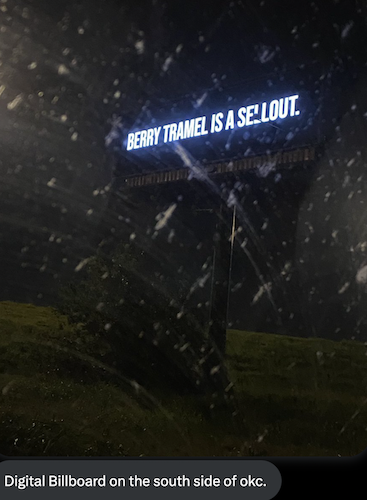 I'd like to thank the Ogle Mole for the tip. I'd also encourage him to stop by one of the 1,000 new automated car washes that have popped up in the metro in the last two years, and maybe even take advantage of the free vacuums while he's at it!
The billboards have definitely accomplished their goal of generating online chatter by confused people who don't read this site, but I would have gone a different route and played off the very successful "Where's Matt?" ad campaign.
Here's a mock-up: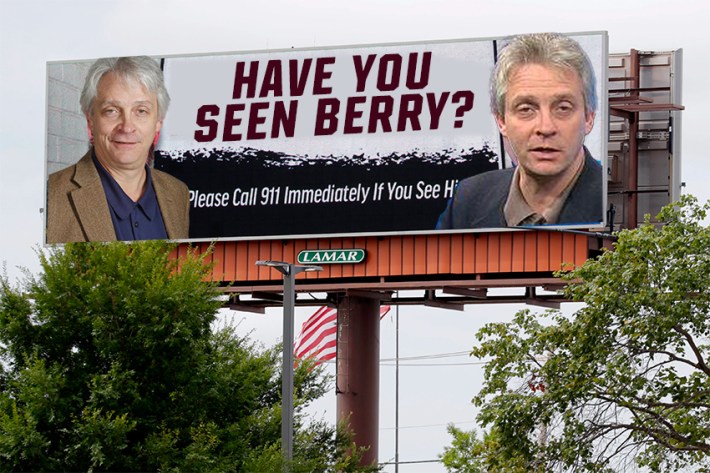 Then again, what do I know about advertising? Now to #2...
2. In addition to Boomer and Jenni, a bunch of other local sports reporters, podcasters, radio personalities, and out-of-work people are joining the project. 
They include former News 9 anchor Ed Murray, former Tulsa World Sports Editor Guerin Emig, Thunder salary cap expert Jon Hamm, former Franchise radio host Sam Mayes, Franchise morning host Todd Lisenbee, and a few other people who are still employed by other places so I won't be naming them.
Also, to answer your question in advance, I have no clue why Lump, Mel Bracht, Running Girl, Dave Garrett, PJ Mills, Rusty Olsen, George Schroeder, Amy Lawrence, Brandon the Bartender, Cale Gundy, John Rohde, Pat Jones, or OU Geno haven't been invited to Sellout-Crowd.com team. Maybe they'll be part of Round Two. 
3. There's a rumor floating around town that Toby Keith is the main investor sticking his boot in the project's ass.
However, a source close to the Keith camp is telling me that rumor is not true. Makes sense. If Toby was involved, the site would probably be called ILoveThisOklahomaSportsSite.com. However...
Other Moles have confirmed that Keith and Bob Stoops are involved, so who knows. Hopefully I'll know more this week.
Anyway, I know those three things because…
A) I'm Patrick with The Lost Ogle and I know pretty much everything.
B) We acquired via the Ogle Mole Network copies of a pitch deck that Mike Koehler – the former Oklahoman editor turned social media guru who dreamed up the project – sent out to local investors, businesses, ad agencies, and apparently everyone else in town except for me.
The Mole provided the kit to me on the condition that I wouldn't publish or share it, so I have to keep it under wraps for now, but...
According to the pitch deck, the goal of the site is to "fundamentally transform how sports stories are told and shared in Oklahoma."
I guess they plan on accomplishing that grand mission by taking a hodgepodge group of athletes and former sports personalities from dying mediums like newspapers, radio, and TV and giving them a website platform and social brand where they can collectively record podcasts, write blogs, email newsletters, and even film fancy videos. 
Transformative idea, huh?
According to the pitch deck, Sellout-Crowd.com is apparently going to make money by selling advertisements and a variety of sponsorships direct to businesses, ad agencies, etc.
I have to admit, for a start-up with no presence or established traffic, the ad rates seem kind of pricey.
For example, they're quoting a $10,000 monthly rate for one 970X90 spot on the front of the Sellout-Sports.com website, which is about double what we make selling advertising in one month while delivering about 750,000 ad impressions.
Granted, comparing TLO to a safe and friendly sports conglomerate is an apples and oranges thing, but for $10,000 a month, Air Comfort Solutions or Noble McIntyre or Tall Paul should probably demand that Berry Tramel tattoo their logo on his forehead, too!
But wait, there's more! 
For an additional $20,000 per month, you can get a title sponsorship to the Berry Tramel, Jenni Carlson or even Jon "Not The Actor" Hamm podcast!
Yes, you heard that right Sherrie's Berries marketing person!
For the bargain bin price of just $20,000 grand a month (lol), you can reach Berry Tramel or Jenni Carlson's legions of listeners and followers which, as of press time, still don't technically exist. What a deal, huh?
The other personalities joining the project, like Todd Lisenbee, Sam Mayes and something called the Hutchens Twins, offer more affordable opportunities in the $10,000 - $15,000 (lol) a month range. I can't wait to see which local car dealership, bank, or hospital scoops those up, so I can then hit them up for money, too!
Anyway, I know some of the people associated with this project. They're good folks. I wish them the best of luck in getting this thing going, and I'm not trying to take a giant pterodactyl shit on their new car, but...
Trust me on this, if The Oklahoman or Tyler Media or News 9 or even TLO could charge $10,000 a month for a banner ad, or (lol) $20,000 a month for podcast sponsorship, we'd all be doing it, and people like Berry Tramel and Jenni Carlson wouldn't be "selling out" for a new startup. 
There's a reason virtually every media outlet out there, us included, is going lean and transitioning to reader-supported models, and why so many creators and former journalists are going the Substack / Patreon route. The sad truth is unless you're backed by big fat pockets, it's virtually impossible to survive on advertising alone in today's media environment.
But then again, outside of owning and operating an independent online media outlet for the last 17 years, what do I know about all that?
Obviously, the folks at Sellout-Crowd.com believe in what they're doing, and I hope they prove my skepticism wrong. We wish them the best of luck. 
Stay with The Lost Ogle. We'll keep you advised. 
Stay in touch
Sign up for our free newsletter