Everything Else
I think we know why Kevin and Ryan are protecting Coach Koons…
8:49 AM EDT on May 24, 2023
For a guy who claims he wants to protect Oklahoma students, Ryan Walters sure is doing a bad job protecting Oklahoma students!
Late last week, KFOR reported that the Ringling Public School District is reinstating Phillip Koons as its principal and head football coach on June 1.
In case you forgot, Koons is the hothead football coach who was placed on administrative leave back in February after multiple students claimed he was verbally abusive and, amongst other things, forced some players on the football team to exercise naked. The accusations were serious enough to warrant a still ongoing OSBI investigation.
It also wasn't the first time Koons has been accused of being an abusive prick who gets off on public nudity and intimidating teenagers. He was canned under similar circumstances at other school districts, including at Clinton High School where he allegedly exposed himself to the football team as a motivational tactic.
Here are some details about his reinstatement via KFOR:
Despite allegations of verbal abuse, an ongoing state investigation and a looming lawsuit on the horizon, Philip Koons is said to be reinstated as the Ringling High School Principal and head football coach as of June 1…

News 4 has confirmed with the OSBI there is an ongoing investigation in Ringling, but they would not release any further information than that.

In this same time, two Ringling faculty members have come forward, claiming the district has retaliated against them for standing with the alleged victims in this case.

Despite the investigation, one of Mercer's clients received confirmation from a Ringling Public Schools' teacher that Superintendent Kent Southward announced to staff during a recent luncheon Koons would be reinstated as the High School's Principal and football coach as of June 1.
That's bizarre.
With so many credible allegations being lobbed Coach Koons, why would Ryan Walters allow Superintendent Southward to reinstate him? At the very least, you'd think Ryan would try to revoke Koons teaching credentials llike he does for pesky teachers who share QR codes to the library.
Also, where's Ryan's online moral outrage?
Can you imagine the tweets Matt Langston would be firing off for Ryan if the Tulsa Public School District allowed a band teacher who was accused of forcing the drum line to do nude marching drills to return to the rehearsal room, especially if that same band teacher was fired from OKC Public Schools a few years earlier for showing his dick to the jazz band?
If that were the case, you'd have to bet Ryan would be in his SUV each day filming videos vowing to protect students from woke leftists, Joe Biden, teacher unions, drag queens, gay drum majors and all the other right-wing bogeymen of the day!
Other than the typical bag of right-wing hypocrisy, seriously, what gives? Why is Ryan Walters protecting this ole ball coach???
Well, I think I may have a reasonable explanation.
According to the Ogle Mole Network, one of Koons's biggest fans and supporters is Ringling School District Superintendent Kent Southward. He's the guy who hired Koons as principal and football coach, and who proudly announced to staff that Koons will be returning on June 1. In fact, he loves Koons so much he employs five of them at the school!
Southward is apparently an influential, well-known, land-owning member in the south central Oklahoma community. His wife is a physician in Ardmore and his brother-in-law is a judge.
Southward is also an avid hunter and outdoorsman, and would you believe it, is hunting buddies with Oklahoma Governor Kevin Stitt!
Well, at least according to one mole:
"Walters, Stitt, and State Representative Chris Kidd are all involved with Ringling Supt. Kent Southward. Representative Kidd bought the home and property of Southward's in-laws. Stitt also bought a home and property on the Howard Ranch in the same area. They all hang out, hunt, and drink together."
I haven't verified the Mole's claims that Stitt owns land on Howard Ranch near Ringling – or that he, Walters, and Southward are hunting buddies – but that would make logicial sense. It would also help explain why Southward was quoted in this press release endorsing Stitt and Walters's weirdo, unsuccessful plan to make state employees substitute teachers.

That's interesting, huh?
Out of all the school superintendents in this state, the one Stitt got to endorse his plan was the guy overseeing a tiny little rural school district in south Oklahoma.
I'm sure that's just a big coincidence… or maybe it's not.
"Hey Kev! We need subs because of that there virus going round! Why don't you make them lazy state employees do it!"
"That's not a bad idea, Ken. What do you think about it, Ryan?"
"Hey look, boss! A woke baby deer! I'm going to shoot it!"
Okay, I doubt it went down exactly like that. Like they'd really let Ryan hold a loaded gun. Just look at his form!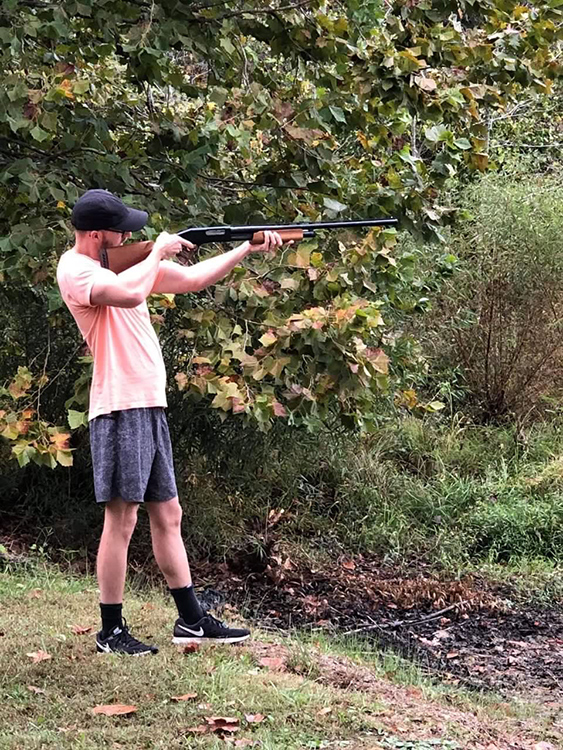 As I mentioned, I haven't been able to verify the accuracy of the Mole's intel, but as we know, where there's Ogle Mole smoke, there's usually a pile of burning library books, and this feels legit. 
For one, it would help explain why Walters and Stitt seem more focused on protecting a creepy football coach as opposed to protecting the students the coach torments. 
And two, attacking your enemies on moral grounds all while looking the other way when your friends and allies commit their own moral transgressions is a standard operating procedure in the GOP hypocrisy playbook. 
Plus, Ringling High School wins football games! Who cares if a few students have to deal with abuse as long as the school gets to paint another championship year on the water tower? It's collateral damage and totally worth it!
Anyway, if you have any info or details about what's going on in Ringling, Southward's connection to Stitt, Walters and Koons, or anything else we should know about, hit us up on the Ogle Mole Tip Line.
Stay with The Lost Ogle. We'll keep you advised.
Stay in touch
Sign up for our free newsletter