Everything Else
Open Records reveal Ryan Walters's sad, desperate attempt to land CPAC speaking gig…
Thanks to some open records we've obtained via The Ogle Mole Network, we were treated to a behind-the-scenes look at how Ryan Walters's PR team tried to score him a speaking gig in DC at CPAC, and their efforts to get Oklahoma taxpayers to front the bill.
3:29 PM EDT on April 27, 2023
Back in early March, just days after he sabotaged the Oklahoma Teacher of the Year ceremony, Oklahoma State School Superintendent Ryan Walters hopped on a plane for Washington D.C. to attend CPAC – the infamous right-wing circle jerk where our country's most desperate and attention-seeking conservatives gather to out-troll each other. 
We know Ryan did this because of tweets like this:
And photos like the one below.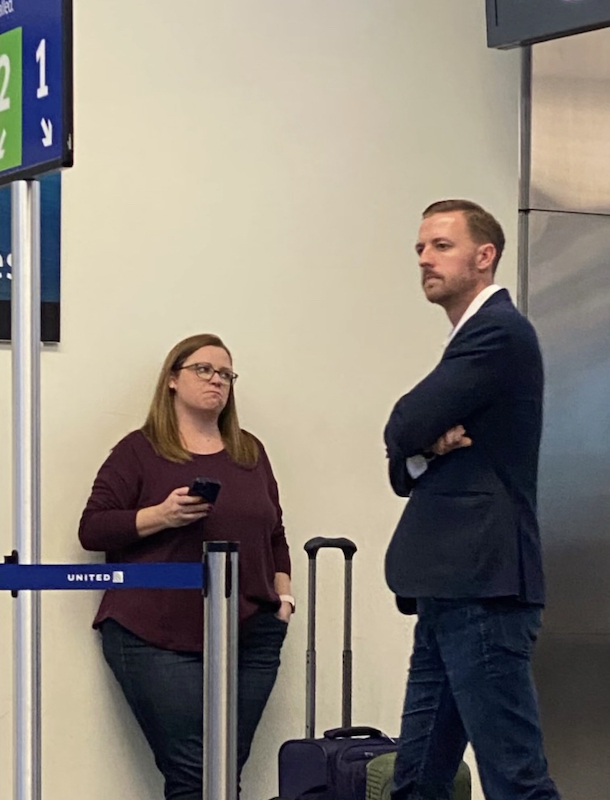 It was sent to us back in March via The Ogle Mole Network. It shows Ryan and his confidant Jennifer Monies – a famed Oklahoma education grifter and Saxum PR flack who's helped Ryan rise up the education ranks – waiting to board a plane at Will Rogers World Airport.
Apparently, they – or at least Ryan – were flying out to D.C. for CPAC.
Earlier this morning, I received a batch of open records via The Ogle Mole Network about that trip.
They detail the Walters Administration's desperate attempts to get Ryan booked as a speaker at the conference; network with Senator James Lankford's staff; score interviews with right-wing media outlets; and – perhaps most importantly – get Oklahoma taxpayers to pay for it. 
On February 13th, just three weeks before the high-profile national event was scheduled to take place, Ryan Walters's cc-all communication chief – Justin Holcomb – sent an email to CPAC's Macy Cochran to see if Ryan could be added to the conference agenda.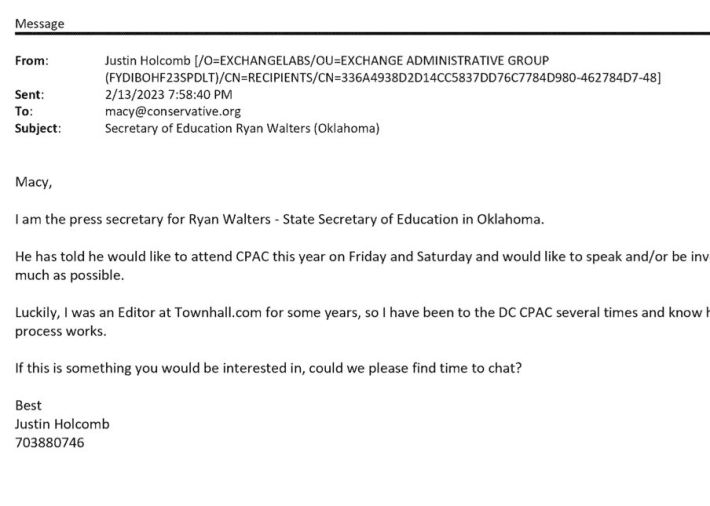 Listen, I was never an editor at TownHall.com, but asking to be added to a big national conference agenda just weeks before it's supposed to take place, especially when you're a new-to-the-scene rookie politician from a flyover state, is a stupid if not bold move. 
Just a few minutes later, Macy responded. She told them they don't have spots open this late, and suggested they buy some tickets like all the other deranged right-wing conservatives who planned on attending: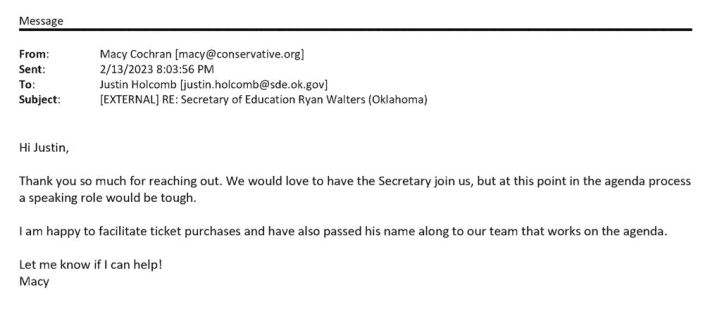 In all seriousness, I give Macy credit for being kind and cordial in her response, and not replying with something like "LOL. F*ck off."
One week after being shot down, Justin sent another email to Macy, this time asking if Ryan could join a "round table discussion" where, I assume, he could talk about porn in public school libraries:

Once again, Justin was shot down: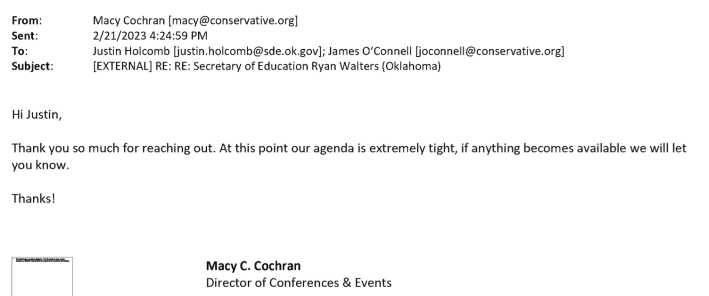 While Justin was trying to get Ryan booked as a speaker, OSDE staff was trying to figure out a way to get Oklahoma taxpayers to foot the bill for Ryan's trip. 
On February 21, 2023, Vonna Anderson – an employee in the OSDE Comptroller's Office – sent an email to OMES to see if they could put airfare and lodging on the agency travel card.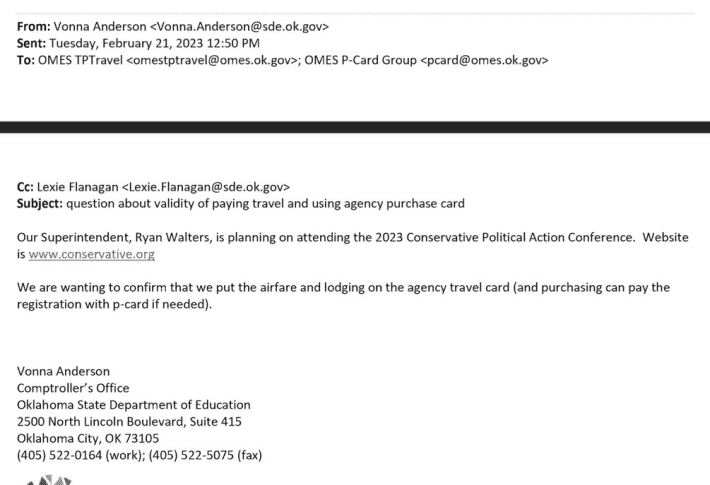 Catherine Huckabee – an Accounts Payable Manager for OMES – responded with some bad news.
To get the state to pay for Ryan Walters's leisurely trip to CPAC to boost his national profile, it "would need to meet the definition of official state public purpose business."
She went on to further state:
"I can see where there could be a public purpose if a person was making a presentation on a state issue, but to attend such an event just to be there, could be questionable for meeting the official public purpose requirement."
Here's the full email: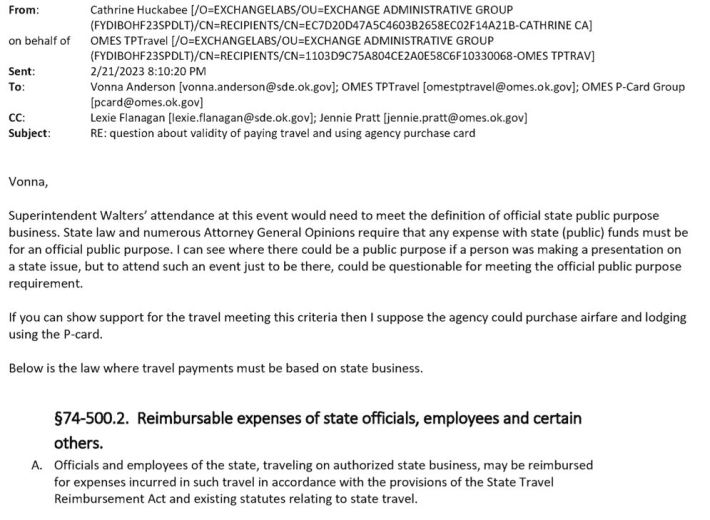 At this point, Justin responded with some not-very-convincing "reasons" and "justifications."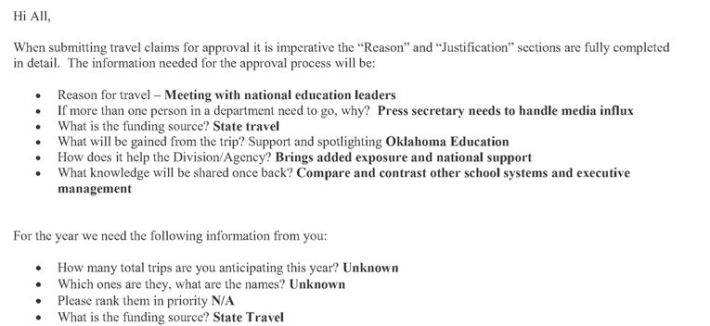 Yeah, Ryan wanted to go to CPAC to meet with National Education Leaders, not boost his national profile with right-wing sycophants. 
Since Ryan needed to strengthen his case to have the state pay for the trip, Justin doubled his efforts to get Ryan booked on some sort of panel. 
On February 28th, he sent Macy another email begging to add Ryan to the agenda.
This time he specifically requested for Ryan to join an "Education for Dummies" panel, something I think we can all admit Ryan is uniquely qualified for:

Either because she was A) Annoyed or B) Planning a big national conference that books its speakers months in advance, it doesn't appear that Macy responded to Justin's email. 
Then, the next day, it looks like Oklahoma Governor Kevin Stitt tried to throw his buddy a bone. I guess Ole Stitter was supposed to speak at the event, but backed out at the last second.
Sensing an opportunity, Justin sent his fourth email to Macy: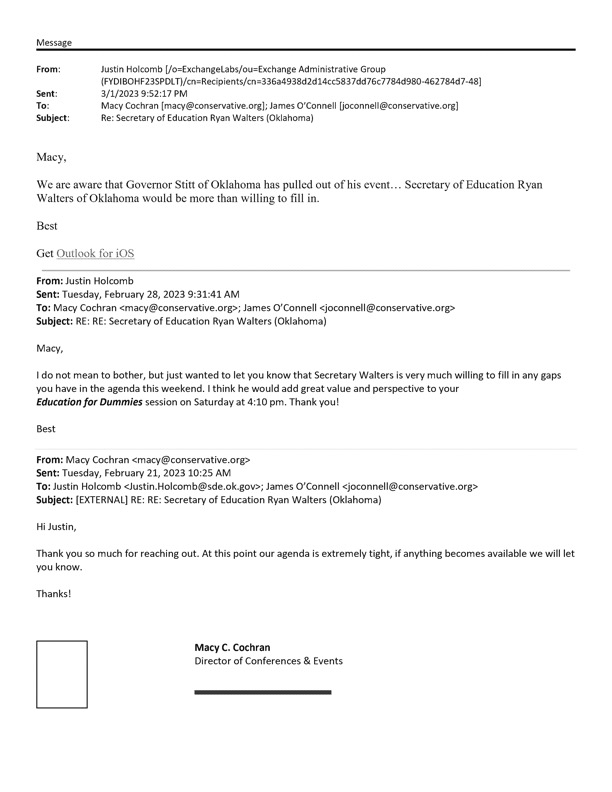 It doesn't appear that Macy responded to that email either. As a result, Justin had to purchase tickets to the event. It's still not clear if taxpayers paid for them or not, but since the receipt went to his state email, I'd say it's a safe assumption we did:
The next night, Holcomb sent the following email to his personal Gmail account. I'm not sure why, but it details the talking points and schedule for Walters's quick trip to D.C.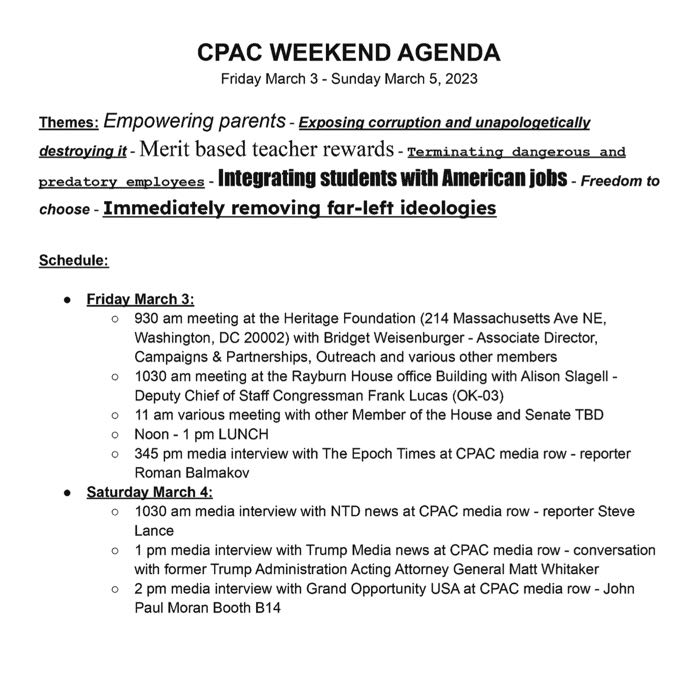 Since the purpose of the trip was to meet with national educators and spotlight Oklahoma education, you'd think something related to that would have made the agenda. Instead, the agenda is built primarily around right-wing media interviews and meetings with special interest groups, while the themes look like they were grabbed from a Conservative Nutjob Talking Points Bingo Card. 
That being said, Ryan did attempt to meet with some of Senator Lankford's team.
In early February, he reached out to Senator Lankford's Chief of Staff – Michelle Altman – to see if they had any interns they could pilfer to staff the Oklahoma Department of Education:
Check this out: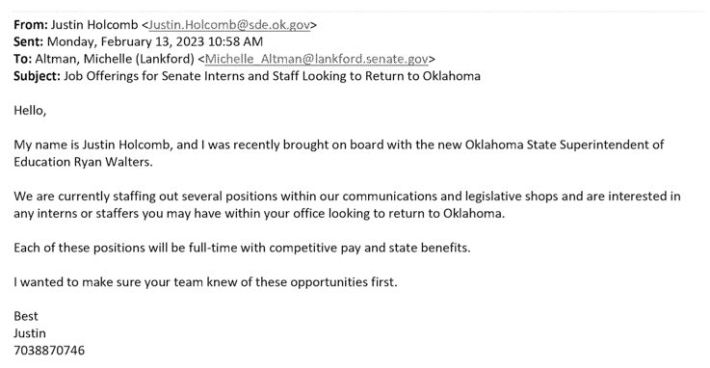 Michelle responded by asking a few normal follow-up questions: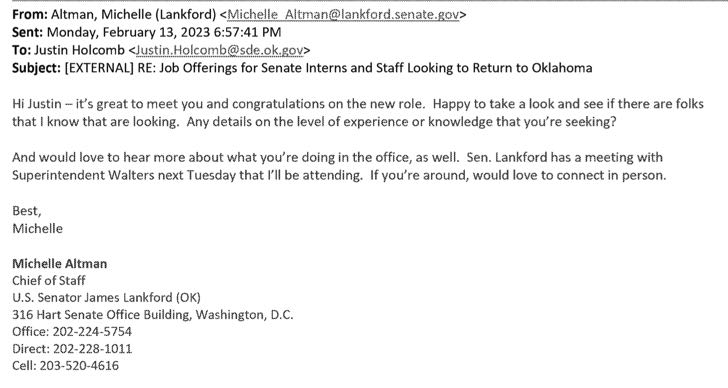 This was Justin's reply.

Yep, they care less about resumes, and more about the "right fit." If that doesn't tell you everything about Walters's attempt to destroy the Department of Education from the inside, there you go. 
"Well, Darryl, I see here you don't have a college degree and got fired from your last job at the flour mill."
"Yes, sir. But I hate that damn there porn in schools! There are only two genders and we must protect men's sports!"
"You're hired"
From there, Justin and Michelle had a long back and forth trying to schedule a time for Walters to meet Lankford's education expert.
At one point, Walters and Justin were supposed to swing by for a quick meeting, but had to cancel due to an emergency!
I'm not sure what the emergency was, but it should be worth pointing out that on Friday, March 3rd, Ryan and his pal Matt Langston fired Events Director Stormie Honeysuckle and other state employees during a recent purge. I wonder if the emergency was related to that, or if it was Ryan's wife being spotted waiting for a latte at the Harbor Mountain Coffee House. We may never know the truth.
Anyway, although we have a lot of open records that detail Ryan's sad, desperate attempts to land a speaking gig at CPAC, we don't have a lot of records or details pertaining to whether or not Oklahoma taxpayers paid for trip, who attended, and what was the total cost. 
As a result, I sent the following email to OSDE's leadership to see if they could provide it: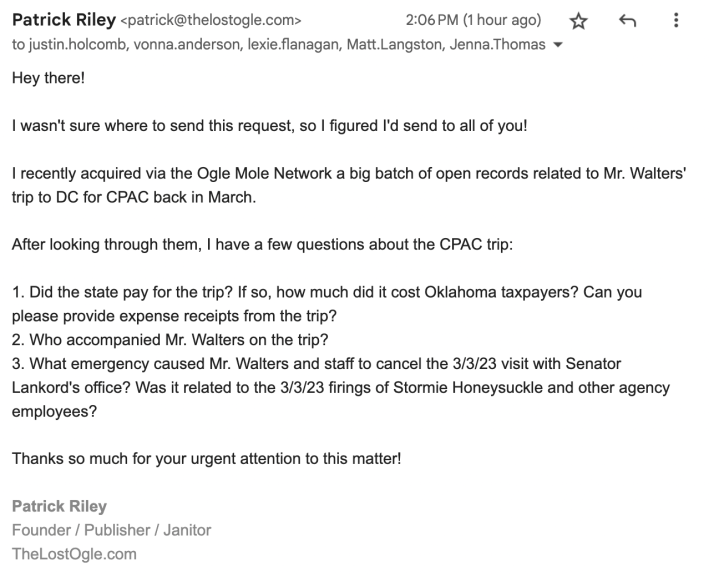 They haven't responded and probably never will – they're probably hard at work trying to get Ryan a speaking gig at a conservative event taking place next week – but if they do, we'll tell you all about it. 
Until then, you can view all the open records we acquired here.
Stay with The Lost Ogle. We'll keep you advised. 
Stay in touch
Sign up for our free newsletter