Everything Else
Tulsa King recap: "Warr Acres"
8:41 AM EST on December 26, 2022
It's another week of Tulsa King – the Oklahoma-centric story about a Mafia capo, freshly rehabilitated and out of prison, finding himself in the world of Tulsa's (somewhat) criminal underground.
When we last left our protagonist Dwight, after a bit of a breather, he was back in Oklahoma City Tulsa dealing with the fallout of this temper tantrum. Still, the mafia got Dwight's daughter's husband in a street beatdown in New York. Add to this the white supremacist biker gang, and it all comes to a head…probably.
Now let's move on to...
_
Episode: "Warr Acres" (Ep. 1.7)
The Plot: Dwight and Mitch (Garrett Hedlund) dump a biker's body as a message to the gang, and afterward, an associate comes to Tulsa to keep tabs on Dwight. We learn about bitcoin from Bohdi (Martin Starr), and Dwight has a date with Margaret (Dada Delany), the ranch owner we met in the last episode.
Stacy (Andrea Savage) is dealing with a dead body, too—in the form of the informant Roxy (Emily Davis). Poor Roxy intruded on some industrial espionage and cyber hacking—probably—but was discovered by the motorcycle gang leader (Ritchie Coster) who promptly strangled her to death. He then tells Stacy this, letting her know she's in trouble.
In addition to all this, the top guy in the mafia is rubbed out, leading to new micro-management.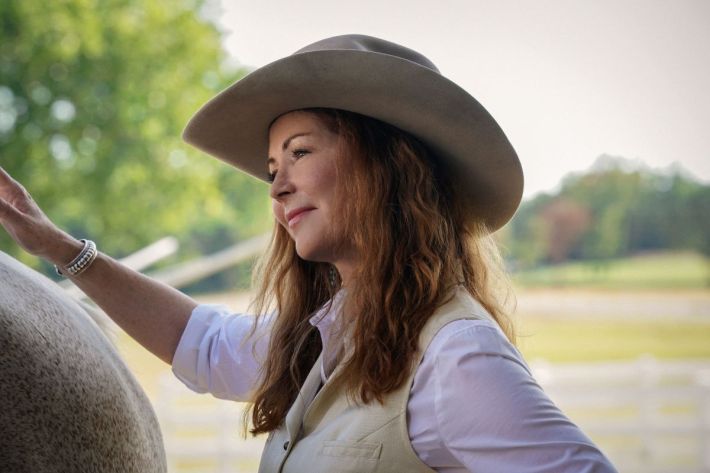 The Review: The title of this episode is "Warr Acres."
At first, I was excited that Stallone would be taking his no-nonsense two-fisted acumen to the western OKC suburb that was once home to a super low sales tax rate, complete with gang-fights around Dolese Youth Park, a sit-down at Tim's Indian Tacos, and a high-speed indoor go-kart race at Incredible Pizza…but none of that happened. Nothing.
Despite the unwarranted tease of a subtitle, this was actually a pretty good episode. With great narratives about Stacy's work problem, the trashy bikers, and the idea that Bohdi, apparently, has $8 million in the bank, there was a lot to enjoy.
I'm also a fan of Dwight's new love interest, Margaret. This could be because I'm magically transported back to ancient memories of China Beach on ABC whenever Dana Delany graces the screen, but I enjoy it nonetheless.
Anyway, while Margaret's occupation might be a set-up into the world of crooked horseracing—possible set-pieces at Remington Park, you think?—after turns in nitrous oxide, white-trash bikers, and the Oklahoma-set mafia-goombahs, she seems like a good force in Dwight's life. With Stacy's career in the toilet, Margaret might be the opposing force he needs.
Of course, she could also be an Okie crime-lord in a Stetson hat, too…you never know.
Best Line:"A fucking waste of money. She works at Walmart now." – Manny (Max Casella)
Stallone Moment: Stallone's rage nearly comes around as Goody (Chris Caldovino) comes to town.
Oklahoma City Cameo: In this very Oklahoma City-centric episode, Classen Inn at 820 N. Classen is prominently featured. Also, I think I spotted both the Winchester Drive-In and the Farmer's Market.
-
Follow Louis on Twitter at @LouisFowler and Instagram at @louisfowler78.
Stay in touch
Sign up for our free newsletter