Everything Else
Drew Stitt questioned by OSU police after trying to saw parking boot off pick-up truck…
He's been ticketed for 17 parking infractions this semester and has been labeled a "habitual" offender.
12:38 PM EST on November 29, 2022
It looks like Guthrie Haunts isn't the only place where Kevin Stitt's son has caused a little trouble with the law!
In a follow-up to our Thanksgiving Day report about his unapproved use of an "OHP security" dashboard parking placard, we've learned that Drew Stitt – a.k.a. Lil' Stitter – has been ticketed 17 times for parking violations on the OSU campus this semester, with one offense resulting in Lil' Stitter taking a trip to the police station!
According to our research, the tickets have resulted in at least $595 in fines, and Lil' Stitter being labeled by OSU Parking and Transit as a "habitual offender."
Here's the full list we acquired via an open records request: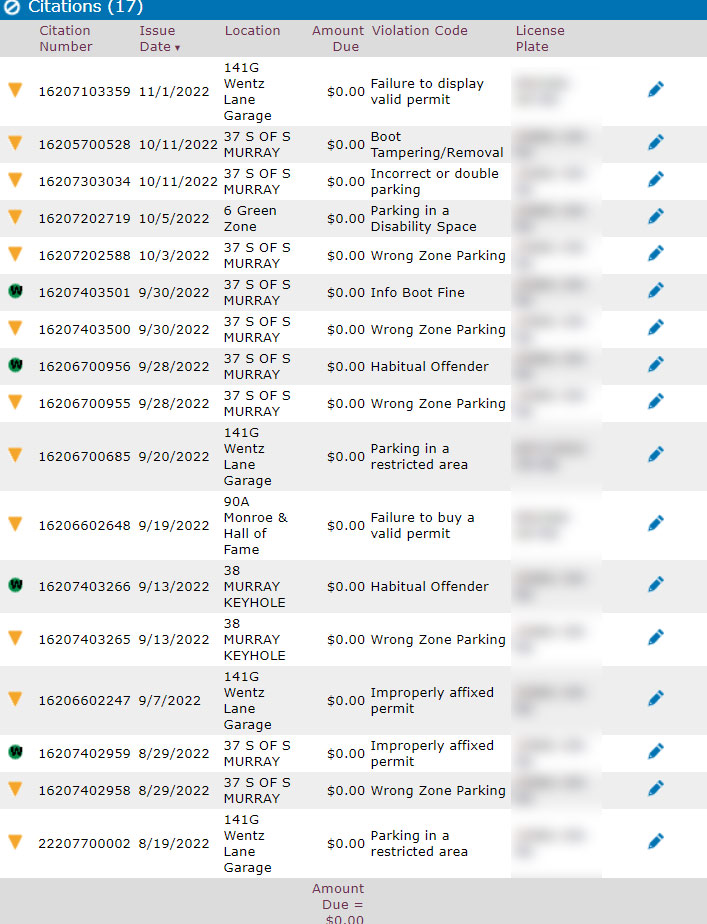 Editor's Note: The amount due for each infraction shows $0.00. That's because the fines were automatically deducted and paid from the bursar's account. 
As you can see, the infractions range from the commonly mundane (parking in a restricted area) to the ridiculously disgraceful (parking in a disabled space) to the absolutely bizarre (parking boot tampering/removal).
It's the "absolutely bizarre" one – parking boot tampering/removal – that got the attention of the OSU Campus Police. We know this because we obtained the incident report they filed!
Stay in touch
Sign up for our free newsletter
On October 11th, Lil' Stitter had a parking boot placed on his Toyota pick-up for double parking outside of Stout Hall – a dormitory on the south-side of OSU's campus. 
Instead of going through the proper procedures to get the device removed, Stitt attempted to cut the boot off with an angle grinder!
OSU Campus Police were then called to the scene for a vandalism in progress. 
When OSU Campus Police Officer William Peterson arrived, he observed a white Toyota truck "double parked, with a yellow parking boot on it."
When he approached the truck, he noticed a yellow saw in the bed "with an extension cord attached from it, leading from an outlet inside OSU's stout hall."
He also noted the parking boot had "two fresh cut marks" on the left and right sides. 
Here's a pic of the boot we obtained via the Ogle Mole Network: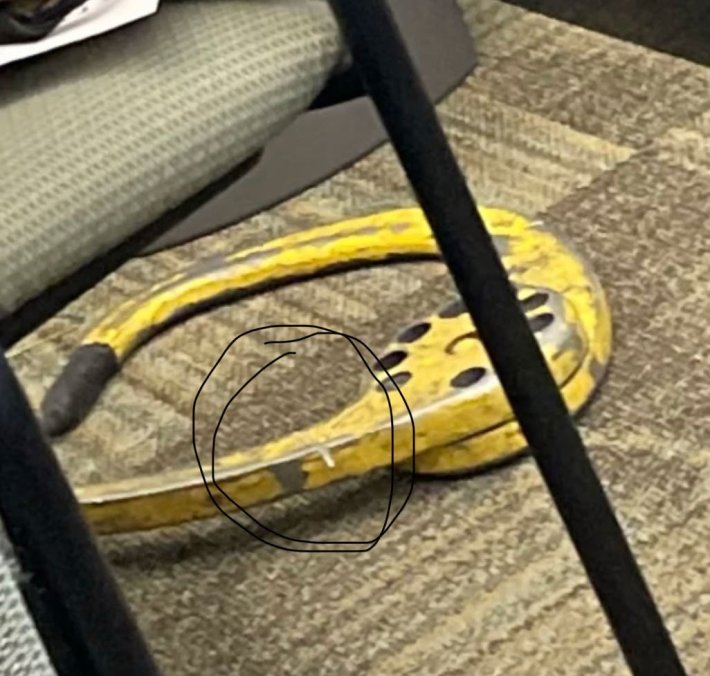 Officer Peterson asked for OSU Parking Enforcement to come out. They identified the truck as the one belonging to "habitual offender" Drew Stitt. The truck was then towed and Campus Police attempted to reach out to Drew to talk about the vandalism, but got sent to voicemail.
Probably after talking to his Dad about the situation, Drew Stitt eventually called Officer Peterson and agreed to meet at the OSU Campus Police headquarters for questioning. 
During the meeting, Lil' Stitter admitted that he attempted to cut off the parking boot, claiming he did so because he was "frustrated" with parking enforcement, and that had actually had the "proper permit to park" I'm not sure if the proper permit he's referring to is the OHP Executive Security placard he was placing on his truck's dashboard, but it wouldn't surprise me if it was.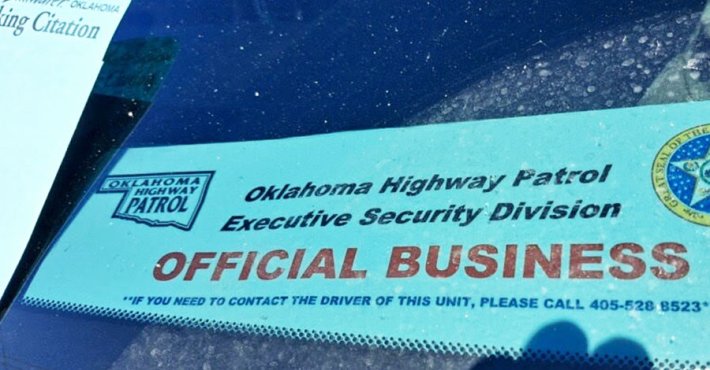 I guess Lil' Stitter eventually said he was sorry and offered to pay for any and all damages to the parking boot – a harsh and expensive penalty for any kid with a powerful, mega-rich dad who is possibly worth tens of millions of dollars. OSU Parking & Transit cordially agreed not to press charges for the damages.
Of course, that's just my interpretation of the police report. You can read the whole thing for yourself below…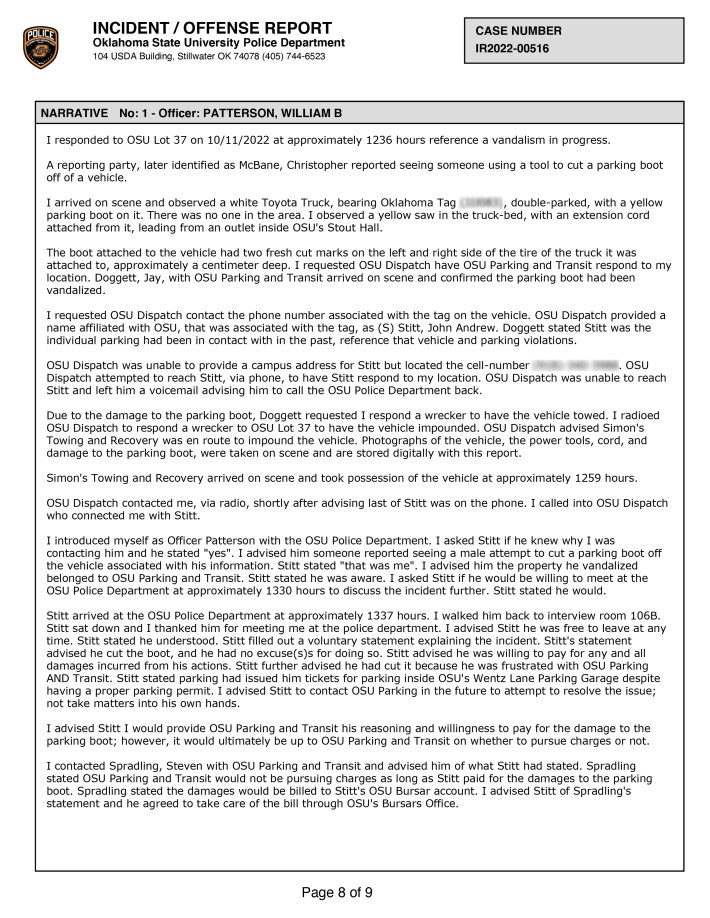 As you may have noticed, the report claims that photos of the truck and the scene of the vandalism were included in the report. For beer shits and giggles, I've reached out to OSU to see if we can get those sent over, too. 
Anyway, I have no clue how other OSU students who have racked up an impressive list of parking violations and then brazenly attempted to saw a parking boot off their vehicle were treated by OSU Campus Police and OSU Parking and Transit, but you have to wonder if Drew's dad being a rich and powerful OSU alum, and the Governor of Oklahoma, led to him getting preferential treatment, and not being charged with vandalism.
Or, as KOCO Channel 5 would ask, if his dad's position led to Drew being treated harsher the most other students.
We'll continue to monitor this story. If you have any details or tips about the First Family behaving badly and/or acting like they're above the law, his us up on the TLO Ogle Mole Tip Line.
Stay with The Lost Ogle. We'll keep you advised.
Stay in touch
Sign up for our free newsletter