Everything Else
Kelly Ogle allegedly topples crane in downtown OKC…
5:54 AM EDT on September 26, 2022
I guess you'll never know what you'll see in Downtown OKC!
On Saturday afternoon, a crane attempting to replace a jumbotron at the downtown headquarters for The Oklahoman, News 9, and Oklahoma Watch tipped over and crashed into a building, giving a few local news reporters an incredibly short walk to cover a breaking news event.
Here are the quick details:
A crane smashed into the downtown Oklahoma City building where The Oklahoman is headquartered Saturday afternoon, closing surrounding roads but causing no major injuries.

About 3 p.m., city authorities responded to emergency calls that a crane had fallen onto the building at 100 W Main St. No one inside the building was hurt, authorities said, but police and firefighters evacuated the building and closed down intersecting routes at West Sheridan and Robinson avenues out of safety concerns.

"Construction workers were moving a big JumboTron (display screen), but as the main lifting crane was set up, the weight hit it and, for whatever reason, tilted it over," said Chief Sean Cobb with the Oklahoma City Fire Department. "That crane then impacted the corner of the building, and the crane (was) up on its side (Saturday afternoon), somewhat resting against the building."

A crane fell into a downtown Oklahoma City building at Sheridan and Robinson avenues Saturday afternoon.

The crane operator was taken to a local hospital to get treated for mild injuries, Cobb said. Authorities were not yet able to identify the agency responsible for the crane, although letters on the side of the crane indicated it might be property of TNT Crane & Rigging, Inc. Management at the Oklahoma City branch of the agency declined to comment when The Oklahoman reached out Saturday evening.
That's great. Every time I'm stuck directly underneath the giant yellow cranes building the new add-on at Integris Baptist Hospital at NW Expressway and N. Independence, I always think about what I'd do if some big gust of Oklahoma wind swept down the plain and knocked the cranes over. Would I have enough time to get out of the way and dodge them, or would I be crushed flat on the pavement? I always chalked those thoughts up to an overactive imagination and irrational worrying, so I'd like to thank the fine folks at TNT Crane & Rigging for letting me know they are totally justified.
Obviously, people are wondering "How the hell did a crane tip over?" Was it the fault of the Oklahoma wind, moronic crane operators who don't understand physics, or some other cause?
Well, according to this dispatch via The Ogle Mole Network, it looks like we may have an answer: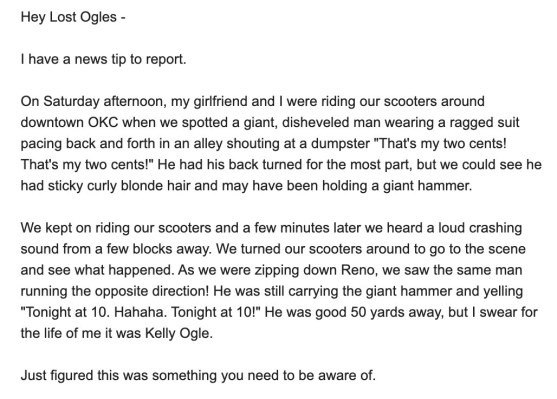 Yep, according to this totally legitimate email, it looks like the crane may have been tipped over by an angry Kelly Ogle who is still disgruntled and unhappy that News 9 forced him off the job back in January. That wouldn't surprise me. He was really psyched to be working downtown, and as we say, there's nothing more terrifying than an Ogle scorned...
Then again, I'm not 100% sure I believe this Mole's dispatch. They didn't send us any photos of the mysterious man, and it appears he didn't call anyone "Bub." As a result, I think I may just classify this as a "weird rumor."
Anyway, if you have any details about the crane tip over, and/or know of Steve Lackmeyer's whereabouts when it took place, shoot us an email on the tipline.
Stay with The Lost Ogle. We'll keep you advised.
Stay in touch
Sign up for our free newsletter