Food
TLO Restaurant Review: Juanita's Mexican Grill
10:03 AM EDT on September 13, 2022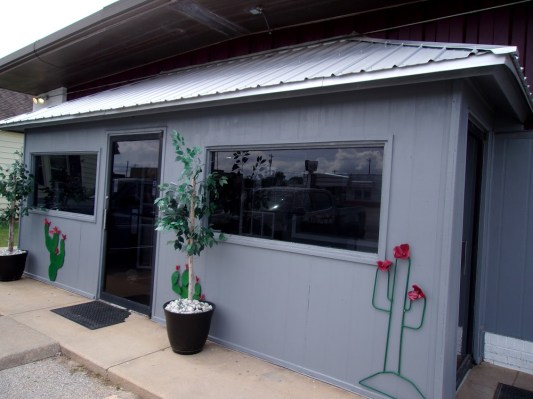 Last week I celebrated my 44th birthday.
Staying in a small farming community—well, three mobile homes, a bunch of horses, and a dirt road—I usually keep to myself, with my records, my books, and my basic laptop, usually to get these warblings to you. Once a week, I go to Norman, and I trek down to Oklahoma City proper once a month or so.
I hate to say it, but I am bored for the most part. But, last week I had a friend come around to see me, giving me a few moments of respite and some great Mexican food.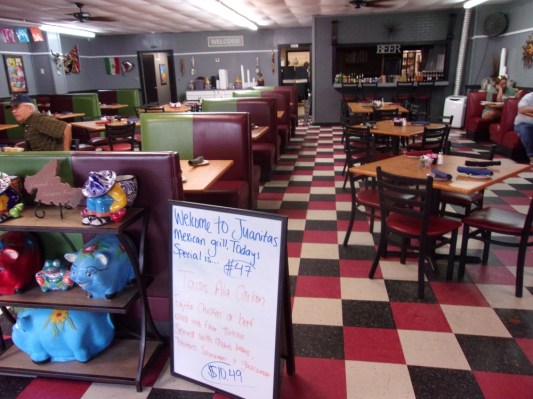 We talked for a little, taking a short-ish drive to Juanita's Mexican Grill, 418 N. Broadway St., in Tecumseh. For my low-key birthday dinner, I was pleased to find this restaurant, probably the best in the tri-county area, at least I think so.
Taking our seat, I had a few of the complimentary tortilla chips with some drizzled cheese-sauce on them. As addicting they are, I only took a few more chips for the road.
The menu has the stereotypical items like tacos, burritos, and enchiladas, but for this birthday, I wanted to stray a tad from the typical Tex-Mex path, so I started with something most intriguing: the Armadillo ($2.99) – a jumbo jalapeño stuffed with a mixture of cheeses and wrapped with bacon.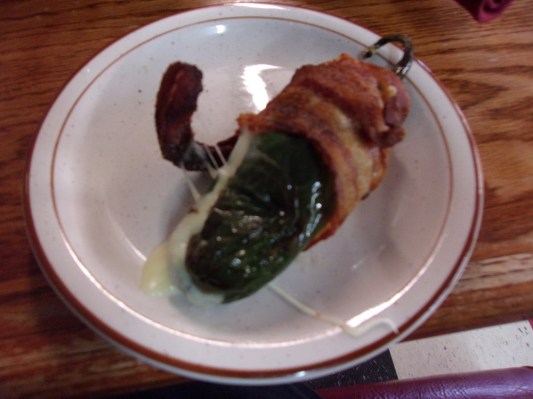 Though I've seen a few Texas-style armadillo iterations over the years, I was impressed with Juanita's take on the matter – the bubbling cheese acting as a tasty glue for the bulging pepper, tightly winding with a couple of slices of bacon.
The taste was more than I could handle, but barely. The crispy bacon and the gooey cheese were a match made in heaven, but the tormented jalapeño brandished all comers in the melting pot of my tender tummy. After another bite or two, I had to slow down—my main dish was set up and I had to focus.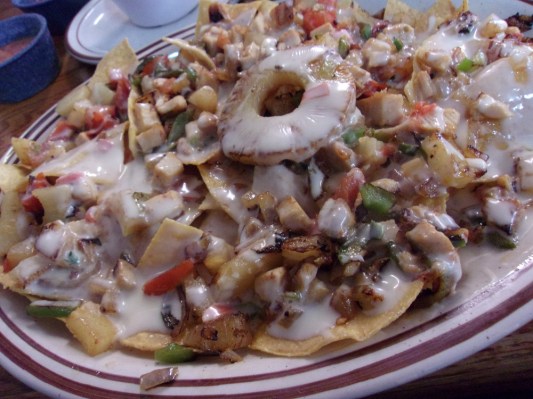 The Hawaiian Nachos ($11.99) are a real trip. A mash-up of traditional nachos crafted with bourgeois exotic execution, the mixture is all your tastes and some—tortilla chips, chicken, and bell peppers on one side, and a slew of pineapple chunks on the other —that is thrown together and topped with white cheese sauce and a pineapple ring. Surf's up, guey!
The combination of the island frivolity and tear-shaped tattoos came together to create a new sensation of handheld performance, maximum portability, and an Oklahoma beach culture that I hope to someday be a part of. But, until that day comes, I will lie in bed like Brian Wilson did, a platter of Hawaiian Nachos by my side.
By the time dessert came calling—sopapillas, of course—it was a good enough birthday celebration for a 44-year-old, right?
Cómpralo ya!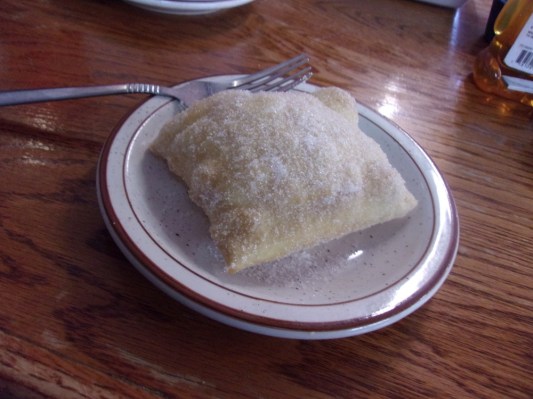 _
Follow Louis on Twitter at @LouisFowler and Instagram at @louisfowler78.
Stay in touch
Sign up for our free newsletter