sports
OU lineman love Hooters…
10:11 AM EDT on August 23, 2022
For about 25 years now, I've spent a lot of time arguing at bars that college football players should be legally compensated for their occupation, and not just have to depend on ghost jobs at local car dealerships to make ends meet.
Naturally then, it pleases me to see so many players across the country cashing in on NIL deals, especially when these deals give me the opportunity to write a fun headline.
Yesterday afternoon, Hooters announced they spurred General Booty and signed the always hungry OU offensive line to an endorsement deal. Here are the details via SI.com.
Six Oklahoma offensive lineman have signed a new Name, Image and Likeness deal.

Hooters, the famous national restaurant chain, announced the signing of 51 offensive lineman from schools across the country on Monday.

Tyler Guyton, Anton Harrison, McKade Mettauer, Andrew Raym, Chris Murray and Wanya Morris signed the deal together which will include appearances both at physical Hooters locations as well as social media marketing campaigns.
That's pretty cool! I, like most local sports fans, enjoy OU football, buffalo wings, and big boobs. So outside of Hooter's brand color being OSU traffic cone orange, this makes a lot of sense!
Obviously, the big question here is why didn't General Booty get to cash in on some of this action? Did he work out a side deal Twin Peaks?
It would make sense. He has the name for it. Plus, he has no problem using his badass name to his advantage.
Earlier this month, the General spurned our list of NIL endorsement ideas, and created his own line of General Booty apparel. Because he's better than us, the proceeds go to Oklahoma Children's Hospital.
Bootyful stuff, huh?
Anyway, while we wait on General Booty's big NIL breastaurant decision, I think it's time we look at getting some OU athletes to sign endorsement deals with our new home for bar trivia, bingo, and Singo – Hoot Industries.
In fact, I'd like to officially offer OU punter/kicker Zach Schmit a lucrative three-figure endorsement deal to be the official spokesperson of Hoot Trivia, Bingo, and Singo for the upcoming season.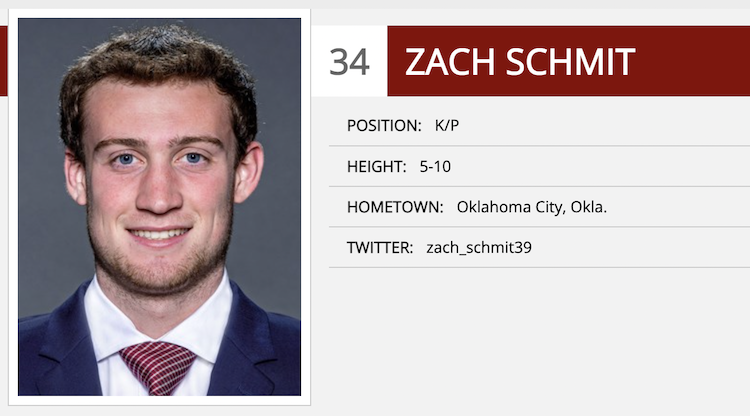 We'll let you know how the negotiations go.
Stay with The Lost Ogle. We'll keep you advised.
Stay in touch
Sign up for our free newsletter