Everything Else
Here's your Ogle Madness XIV Bracket!
1:11 PM EDT on March 13, 2022
Let the madness begin!
After hours of meetings and deliberations today at the Biltmore Hotel on I-40, we are proud to release the field for Ogle Madness XIV!
In case you're new or forgetful, Ogle Madness is an annual Oklahoma Celebrity Tournament that rounds up some of the best and worst things about our city and state's culture and places them in an NCAA-style bracket tournament. Each day, we share matchups and let our readers vote for who they want to advance, and who they want to send home.
Here are the Top 4 seeds for this year's contest. In a sign of just how progressive we've become, the top four seeds are all women!
Northeast: Abigail Ogle
Southeast: Emily Sutton
West: Joleen Chaney
Midwest: Mayor Breea Clark
Here's a quick breakdown of the 1-seeds:
During last year's Ogle Madness, Abigail gave birth to a male heir to her kingdom. In honor and tribute of that history-altering event, we have made her the overall number one seed. This is for everyones protection. Emily and JoJo are basically the Duke and Kentucky of Ogle Madness, so there are no big issues there. Norman Mayor Breaa Clark proved last year that all it takes is a decent social media following and a couple of tweets to take home the Ogle Madness crown. She upset KFOR Severe Weather Princess Emily Sutton in last year's Ogle Madness XIII Championship Match by a 52% - 48% margin, securing 865 of the 1,659 votes cast in the finals.
Here's a full PDF of the bracket if you want to check it out. The fun gets started on Tuesday morning when Abigail Ogle takes on Gabe Ikard's Chest Hair in the (1) vs (16) matchup. Here's a look at that region...
Northeast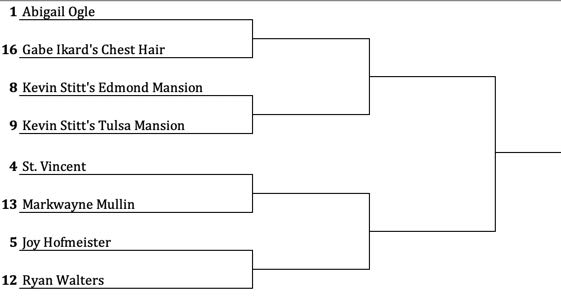 It really feels like this region is there for Abigail's taking. The 5-12 matchup between Joy Hofmeister and Ryan Walters should be interesting. I'm also eager to see which of Governor Kevin Stitt's mansions – Tulsa or Edmond – Lost Ogle readers prefer!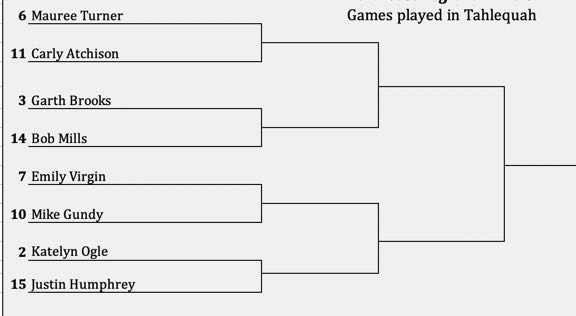 You may notice that Katelyn Ogle makes her Ogle Madness debut as a 2-seed in the Northeast, which means there's potential for an Abigail / Katelyn duel on the Elite 8. I'm sure all the Norse gods will be following that one. Also, progressive State Rep. Mauree Turner takes on Kevin Stitt's shit posting communications wizard Carly Atchison in the 6-11 matchup. If Carly loses, she'll probably call it a rigged vote.
Southeast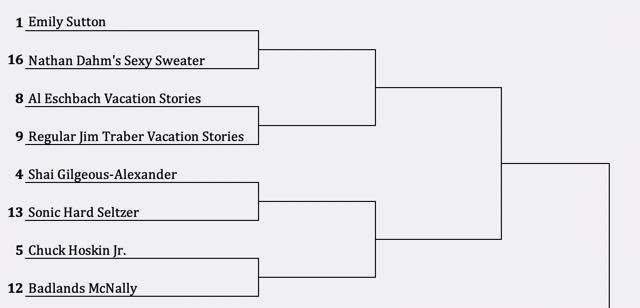 Emily Sutton can count on two things for the rest of her life – free Mexican food and being a 1-seed in Ogle Madness. Hopefully, the 8-9 matchup between Regular Jim Traber and Al Eschbach's vacation stories don't involve any stabbings or bad beats at the dice table.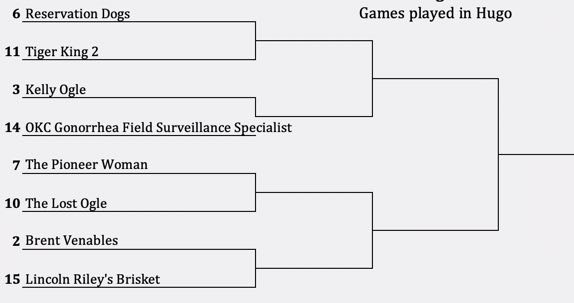 There are lots of solid matchups in this half of the region. We have the best and worst of Oklahoma-based streaming series, Venables taking on Lincoln Riley's Brisket and, naturally, we go up against our old nemesis – The Pioneer Woman. Kelly Ogle gets a lifetime achievement 3-seed in what will could be his final Ogle Madness. Unless, of course, he lands on one of these gigs.
West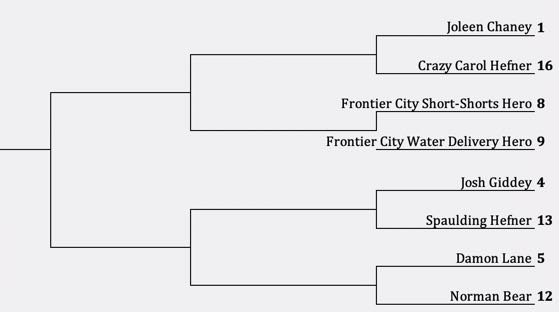 I'm curious to see how far Josh Giddey goes this year. He's quickly turning into a Thunder fan favorite, and they usually do pretty well in the tournament. That being said, he'll have to get past Spaulding Hefner and then either Damon Lane or Norman Bear (RIP) before a possible match-up with JoJo.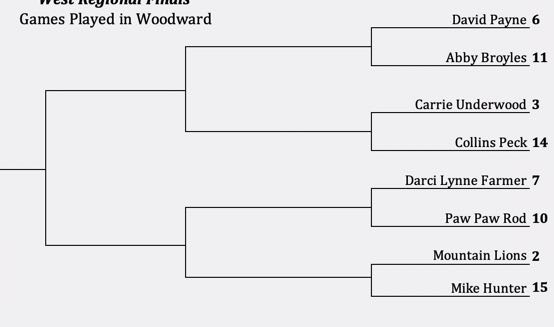 Mysterious Oklahoma Mountain Lions make their debut as a 2-seed, where they're expected to tear apart disgraced former Oklahoma Attorney General Mike Hunter. This section of the bracket also features two of the 50 Most Powerful Young Professionals in Oklahoma – teenage ventriloquist Darci Lynne Farmer and Lingo Construction project manager Collins Peck.
Midwest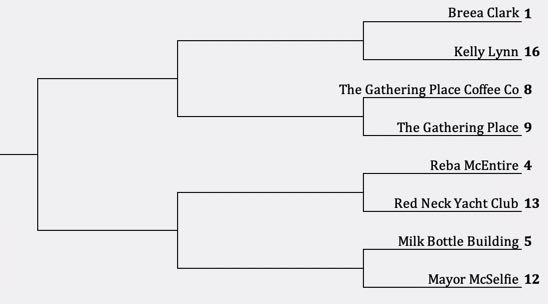 This bracket looks like it could be a cakewalk for Mayor Clark. It also has a heavy hit of Oklahoma landmarks, like the Gathering Place, Milk Bottle Building and Red Neck Yacht Club.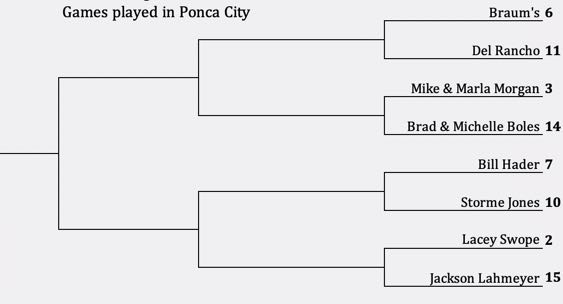 The line to vote in the Braum's vs Del Rancho match-up will be very long.
-
Anyway, if you made it this far, here's a link to the full bracket again just in case you want to check it out. Thanks for reading The Lost Ogle and making stupid-fun things like this possible.
Stay in touch
Sign up for our free newsletter