Everything Else
TLO Restaurant Review: Florence's Restaurant
9:39 AM EST on February 17, 2022
Editor's Note: As Louis Fowler recovers and rehabilitates from the stroke he suffered earlier this month, we're going to republish – per his request – some of his classic TLO Restaurant Reviews and other articles from over the years. 
Today, we're going with his glowing write-up of Florence's Restaurant from September of 2017. It's one of my favorite pieces he's written, and with the east-side recently announced as a recipient of the prestigious James Beard "America's Classics Award," relevant, too. 
If you'd like to support Louis and donate to his stroke recovery fund, please do so here.
=
TLO Restaurant Review: Florence's Restaurant
Summers growing up in small-town Texas, usually in the mornings you attended some form of Vacation Bible School at one of the 100 Baptist churches in the area and then, if you were lucky, spent the rest of the day riding bikes and getting into trouble, occasionally stopping for the omnipresent Little Debbie snack cake and 16 oz. Dr. Pepper at the corner feed and grain store.
Those were the days.
Or at least I heard they were. We had a small farm and my Depression Era father grew a pretty decent-sized garden that we were expected—not asked, but expected—to help with every aspect of it. From following behind the rototiller and planting the applicable seeds to boiling hot afternoons pulling tomatoes and picking okra, those fiberglass-like hairs rubbing your hands raw, these were our summers and our reward for said labor? Being lucky enough to have a seat at the dinner table and hopefully a place in Heaven, not necessarily in that order.
There was something so special, however—and even more so in aged retrospect—in feasting over the same food you spent all afternoon bleeding on while your old man called you a "cotton-pickin' idiot" over and over again. The magical smell of those mustard greens and dirt-encrusted onions simmering in vinegar, the warm tartness of a firm green tomato and I'll always remember the fresh snap of that okra—that damned okra—breaded and browning in ancient coffee-can manteca and always served hedonistically next to some gravy-charged "Manager's Special" meat, usually chicken but hopefully pork.
The only restaurant that has ever, at least in my recent memory, even come close to that farm-bred country cooking at the dinner table has been the incomparable Florence's Restaurant, 1437 NE 23rd St. A tried and true Oklahoma City landmark since 1952 when Boley farm-girl Florence Jones brought those rural recipes to the burgeoning big city. For well over 60 years, she's been giving the people something they obviously can't get anywhere else around here and, by all regards, doing it right.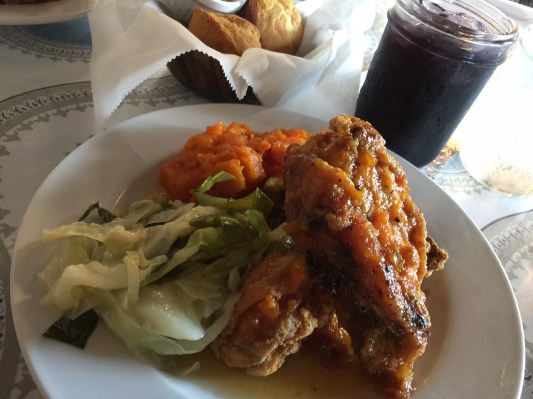 Take, for example, Florence's wholly original Yammed Fried Chicken ($9.75); personally, I think it's the best fried chicken in this entire forsaken city, a spiritual testament to the poultry-based art-form. A golden-fried piece of expertly seasoned chicken, aided by decades of tastefully designed skill, these country-style cuts just dripping in the sticky sweet natural sugars of any and all nearby yams, glistening in a pure flavor that is impossible not to be hooked on from the very first bite, especially when sided with some additional never-from-a-can solo candied yams and a steaming pile of country cabbage; pass the Trappey's, won't ya?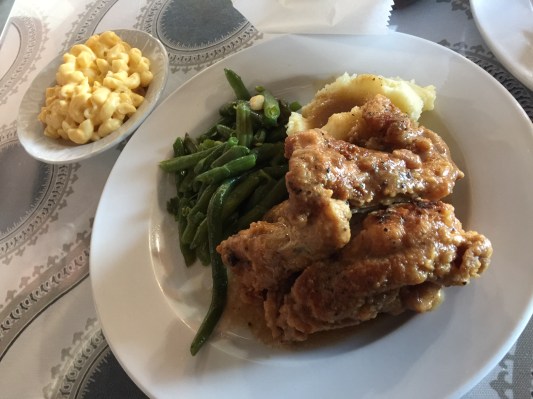 Of course, if that's a little bit too much overkill of natural sweetness for your sensitive city tongue, then I would recommend the gravy smothered fried chicken ($9.00) instead. It is given that same utmost respect as every other piece of fried chicken on the menu, only here, it's smothered in this ethereal creamy country gravy that somehow finds a way to actually meld onto and into the chicken on some sort of molecular level, crafting a fully unavoidable ascent into the sheer unknowable heights that a piece of chicken, a simple piece of chicken, can actually attain. Maybe add some still snappy seasoned green beans and home welcoming made-from-scratch mashed potatoes, huh?
I did and I wouldn't lie to you.
From the chicken gizzards and livers to the ox tails and everything in-between, I try to make a stop at Florence's once a month or so to cleanse my critical palate and remember my country roots, getting all of those processed eats exorcised out of my system as I work my way through the menu. And even though I haven't sampled anything off of their legendary weekday breakfast menu as of yet, I'd be more than happy to meet up with you on the first Saturday of each for what I consider the best brunch in Oklahoma City.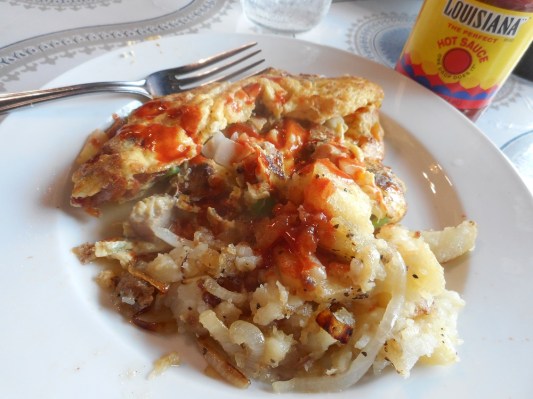 For a little under $20, I was served a made-to-order behemoth of an omelet that was wonderfully bursting with an absolute cornucopia of fresh vegetables and a hearty helping of breakfast meats, expertly piled together on plate that just screams "Thank God I'm a country boy!" immediately followed up with an impossibly thick fresh-off-the-griddle pecan waffle made from Florence's own vaunted homemade waffle mix that used to be available for purchase and remains justifiably sold out. Complete with endless mimosas and a live jazz band back in the corner; this is the only time you'll catch me not only participating but actually enjoying that crazy little thing called brunch.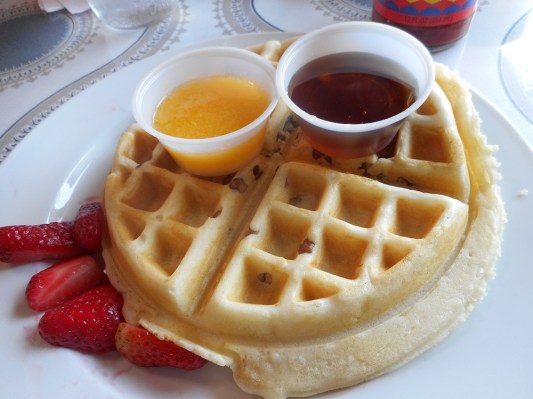 While the forever young Florence still works her culinary magic in the kitchen, daughter Victoria now owns the place, continually coming around to each table, refilling glasses of pure sugar purple drink and making sure every aspect of each meal is up to snuff, happily ensuring we apostles spread the Gospel of Florence's, ensuring this joint's going to be around for another 60 or so blessed years, even if I won't be. ¡Cómpralo ya!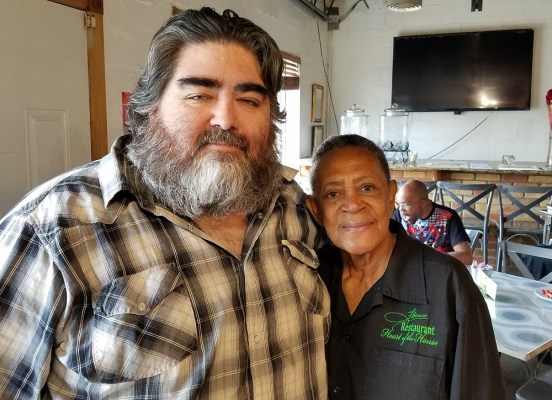 Stay in touch
Sign up for our free newsletter