Food
TLO Restaurant Review: Mariscos Los Arados
10:12 AM EST on November 9, 2021
It was sometime around dinner when I walked into Mariscos Los Arados, 5301 S. Western, and the place was effortlessly humming with hungry people just coming off work and, surprisingly, street vendors coming in to work, walking around to the different tables and selling their wares; I was immediately hit up for a few bucks by a kid selling candy.
But sweets was the last thing I needed, because my body absolutely craved soup, with its hot liquid base, churned in a large metal pot with pieces of meat and chunks of vegetables simmering within, perfectly cooked to comfortably travel with heated ease down my throat, deep into the waiting wading pool of carnal hellfire that is my empty stomach. I needed soup.
And, from what I've heard, Los Arados, known for their seafood specialties, has a more-than-filling variety of soups. Looking over the menu, I made a quick and decisive choice of the large Caldo de Camaron ($14.95) and, for an appetizer, a Camaron y Pulpo Tostada ($6.95) with a side of sliced aguacate, for my own personal tastes.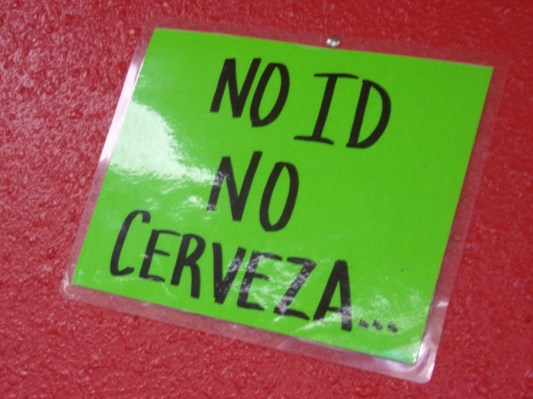 I sat at a table against the wall, with its handmade sign asking for legal identification if you're going to purchase beer. Unfortunately, today I wasn't and, not to be rude, I wasn't going to purchase the beautiful roses from the comely woman that came in selling them either, I guess for men trying to score points on their dates.
"Lo siento, pero no tengo a nadie a quien dárselos ..." I quietly told her as she giggled.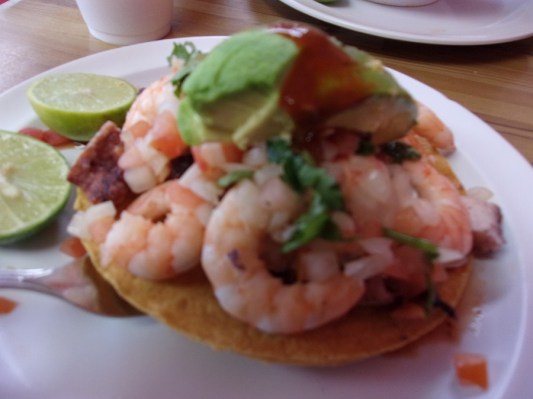 But, as the Camaron y Pulpo Tostada came to my table, there was no room for my self-appointed insights about terminal loneliness to even set in; well beyond whatever my expectations were, the surprisingly large tostada shell was almost completely covered with a tall pile of shrimp and octopus, fighting it out for tasteful dominance on top.
Sprinkling on an adequate amount of hot sauce and ample squirts of lime juice, it gave me such a delightful sensation, with the well-timed acidity followed by the tight squeeze of heat doing immediate wonders for my throat, calling off the abject soreness that begun sometime earlier in the day. Gentle bites did me very well, but were soon pushed off to the side when my bowl of soup had finally arrived.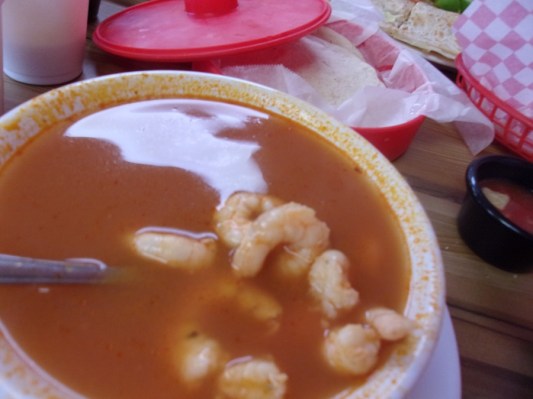 The sturdy bowl of Caldo de Camaron—or, if you're far less romantic, shrimp soup—sat before me, the pure aroma of the tomato-drenched gulf warmly basting my runny nose like a kiss from a mentholated mermaid, blessing me with ability to breathe free and clear for the first time in a while. I swallowed spoon after spoon of this delicate concoction, freeing me, for the time being, from this minor sickness.
The base was thin and warm—the way, in my opinion, seafood soups should always be—with the shrimps dancing around the bowl like I was the king of the seven seas and they were the sacrificial eats for my main meal. And, by God, I ate every caliente camaron, drinking down the nourishing liquid that contained them, leaving me a far stronger man, for a few hours at least.
As I paid my check and walked out the door, that kid selling candy came back up to me; while my first instinct was to tell him no and continue to walk on, instead I gave him my remaining couple of bucks and I bought one of those World's Finest chocolate bars. In case you're wondering, they're really not, but Los Arados, for what it's worth, definitely is. Cómpralo ya!
_
 Follow Louis on Twitter at @LouisFowler and Instagram at @louisfowler78.
Stay in touch
Sign up for our free newsletter