Everything Else
Rez Recaps: Reservation Dogs Ep. 8
5:06 AM EDT on September 22, 2021
Reservation Dogs, season one, is done for now.
Who would have thought that this Hulu-only show would change not only pop culture, but culture in general, in a way that has put not only Indigenous actors and creators on the screen, but our stories—our true stories—on the televised map once and for all. It has finally made Hollywood and beyond take us seriously—let's hope they keep listening, as if they got a choice.
[Editor's Note: You can catch up on all of our' "Rez Recaps" on our Reservation Dogs page.]
Created by Oklahoma filmmaker Sterlin Harjo and New Zealand filmmaker Taika Waititi and starring Devery Jacobs as Elora Danan Postoak, D'Pharaoh Woon-A-Tai as Bear Smallhill, Lane Factor as Cheese, and Paulina Alexis as Willie Jack as the titular dogs, this show is the most important program to air this year and, if you haven't watched it yet, all the episodes of season one are now up for streaming, so you really got no excuse.
Over the past eight episodes, regular viewers have been on an unexpected emotional hayride, a needed and necessary one—a wholly human one, seen through our eyes. But instead of counting down the days until the next season, how about getting out there and supporting Indigenous art wherever you find it?
Native works are not something that you should have to search out—there's plenty of it right before your eyes if only you'd open them up.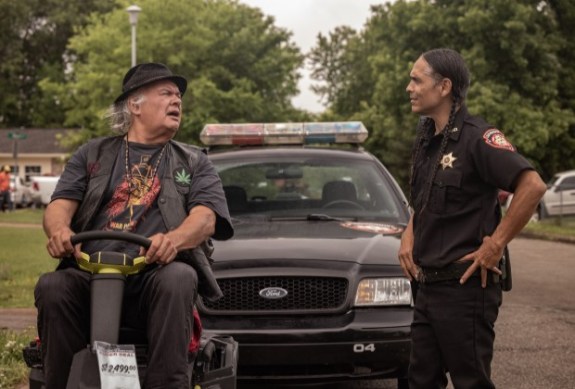 _
Episode 8: Satvrday
The Plot: In this season finale, Bear has another vision from his guardian Native, who tells him he has something important to do before leaving for California. He interprets this to mean he has to fight the town's rival gang, the NDN Mafia. Just as they're about to rumble, however, hail starts pouring from the sky.
They make their way to the church basement, fully-loaded with many characters from this past season. As many truths come to a head, Willie Jack gives an impassioned speech as to why she's staying, while Cheese gives a very simple one. This leaves Elora and Bear to make the trip to California, but personal issues get in the way, as they usually do.
Meanwhile, Uncle Brownie (Gary Farmer), riding a stolen lawnmower, takes it upon himself to fight the storm with his "good medicine."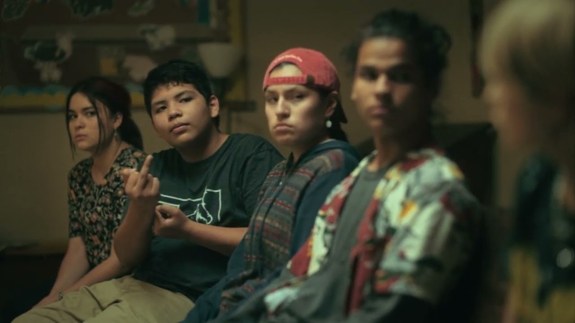 The Review: In Oklahoma, as I'm sure many of you may know, weather is the most terrible of all our aerial gods. The town faces this in a way that, like much of the show, hasn't been seen on television before outside of Gary England's weather interruptions to regular programming, especially when it comes to the forced camaraderie of those groups gathered in shelters, basements, and so on.
There are two sides to this story however: the in-fighting among the Dogs and the rival gang, as well as Uncle Brownie's Quixote-esque battle against the raging storm. And while Brownie's battle is played mostly for laughs—especially the brilliant ending when he is found nude in a field by the guardian Native—the kids are far more volatile, perhaps more emotionally than anything else.
In those close quarters, the two rival gangs make something of a volatile peace—especially when White Steve (Jack Maricle) raps next to Mose (Lil' Mike) and Mekko (Funny Bone)—however, as every Dog finds their inner peace about the upcoming trip to California, Elora angrily drops her friendship with Bear and instead heads to the golden state with the NDN Mafia's leader, Jackie (Elva Guerra).
It's disheartening to see Bear on the curb, waiting for a ride that's never coming. But, at least his story—all of their stories—will continue, like many of our stories do each and everyday.
Best Line: "This is not the time to be praying to the white man's god!" – Uncle Brownie
Funniest Heartfelt Moment: The kind words that Willie Jack unexpectedly says to the gathered group about her parents and why she's not going to California, displays more actual love and true maturity than most kids have. It's a truly moving moment and really puts Paulina Alexis's acting chops on display.
Oklahoma Soundtrack Pick: Freddy Fender – "Wasted Days and Wasted Nights" (Okay, it's not an Oklahoman song, but it's one of my all-time favorite tunes and I'm glad they played it.)
[Check out all of Louis' Reservation Dogs recaps here]
_
Follow Louis on Twitter at @LouisFowler and Instagram at @louisfowler78.
Stay in touch
Sign up for our free newsletter