Everything Else
Rez Recaps: Reservation Dogs Ep. 5
9:08 AM EDT on September 1, 2021
America always seems to lust after Indigenous people when they're at their lowest, for dramatic purposes, of course. Very rarely are their comical sides ever shown—probably because it actually humanizes us too much—which makes Reservation Dogs not only a groundbreaking series, but one of the truest shows ever presented on television.
Created by Oklahoma filmmaker Sterlin Harjo and New Zealand filmmaker Taika Waititi, Dogs stars Devery Jacobs as Elora Danan Postoak, D'Pharaoh Woon-A-Tai as Bear Smallhill, Lane Factor as Cheese, and Paulina Alexis as Willie Jack as the series main focus, with each week bringing new trials, tribulations and, of course, guest stars, many of whom you would never expect on television.
Every week, I will recap the show for those that don't have the FX on Hulu (or illegal file-share services), giving the basics of the episode and not spoiling anything too much for anyone until they, of course, hit DVD. Skoden!
_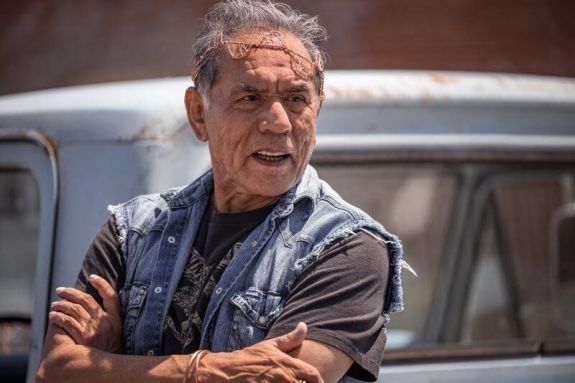 Episode 5: "Come and Get Your Love"
The Plot: Cheese is doing a ride-along with Officer Big (Zahn McClarnon). Along the way, they make various stops around town while trying to figure out who has been hiding little copper men around people's houses. We also get a bit about Big's childhood history with the Deer Woman, an Indigenous legend about a half-woman, half-deer, that leads promiscuous men rightly to their deaths.
The incomparable Wes Studi guest stars.
The Review: This was the episode that truly hit home for me, in the most subtle of ways. My father, who was hunted by many demons throughout his time on this Earth, was a lifelong officer of the law, for much of my childhood. When I was a kid, for most of the 80s he was the Chief of Police in Blooming Grove, Texas, a small redneck town that never liked having a Choctaw as their keeper of law and order and always made it well-known.
Even though my dad professed himself to be a Christian, he was also extremely superstitious and would claim to see ghosts, demons and other supernatural ephemera around him, recounting those stories with the utmost sincerity. It scared me deeply at the time, but now as an adult that sees much of it as well, I know why he was filled with so much fear masquerading as anger, not knowing how to ever deal with it.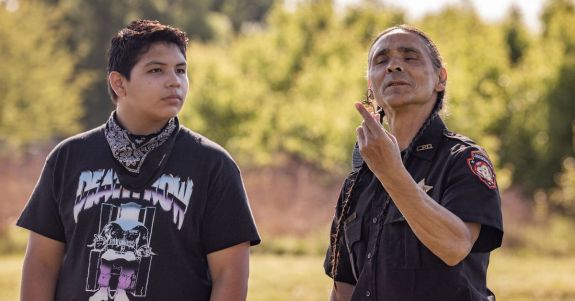 He also saw his fair share of death, many times with me in the squad car, on the way to school and so on. One time, a child molester had broken out of jail and had come looking to kill me, my brother and my sister. We were taken out of school and had to go into hiding as my father, my mother—also a cop—and half of Texas were on the hunt for him. They eventually found him, but not before he rolled a truck and crushed my mother in the process.
She was alright—wholly stitched up and bruised all over—but alright.
This ride-along with Officer Big and Cheese was an eye-opening look into the way that Indigenous law enforcement not only treats people, but how they're often treated in return. My dad always used to tell me that he couldn't have any true friends and, though I always suspected why, now I can truly see it. That realization, if I can admit it, made me cry a little bit; I wish I could ask him so many questions, but he's been dead well over twenty years now.
As for the episode, if there is a God and he is a fair, just spirit in the sky, this episode will be nominated and win whatever awards possible. It's the truest half-hour of television I've ever seen, and with a great soundtrack to boot.
Best Line: "Shit…you sound like a white person now. Just 'cause you can't see something don't make it less real. Eh?" – Officer Big
Funniest Moment: As a young Officer Big is asking for more toilet paper while in the general store's bathroom, the Deer Woman not only lays waste to a couple of white trash robbers out front, but also finds the time to bring him a fresh roll.
Oklahoma Soundtrack Pick: Redbone – "Come and Get Your Love" (It's not from Oklahoma, but the spirit totally is.)
_
Follow Louis on Twitter at @LouisFowler and Instagram at @louisfowler78.
Stay in touch
Sign up for our free newsletter