Oklahoma Business
Paradise By the Snack Bar Light: Losing My Drive-In Virginity at the Winchester
5:00 AM EDT on June 28, 2021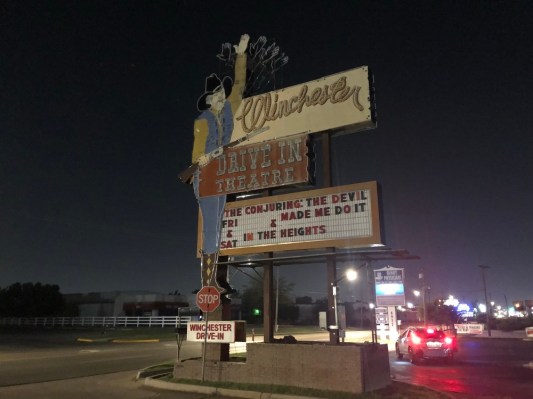 For much of my life, I'll admit that I've usually lied when it came to stories of my first movie in a theater. When many people my age would talk about their introductions, it was usually to see Return of the Jedi or some other early 80s flick. Meanwhile, my first one was Teenage Mutant Ninja Turtles back in 1990 at a second-run movie-house in Corsicana, Texas, at a friend's birthday party.
Of course, I made it up with plenty of VHS titles, living vicariously through those cinematic teens that went to the pictures, mostly because my parents thought going to the movies was a waste of time and money which, as I get older, I can see their point. Still, the one moviegoing thrill that I always wanted to experience but never did was the drive-in theater, particularly when a horror flick was playing.
With Covid (almost) a thing of the past, I finally lost my true virginity—my drive-in virginity—last week and, you know, I'm probably going to do it again and again.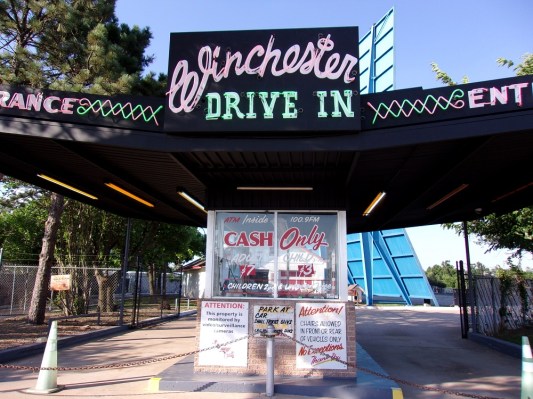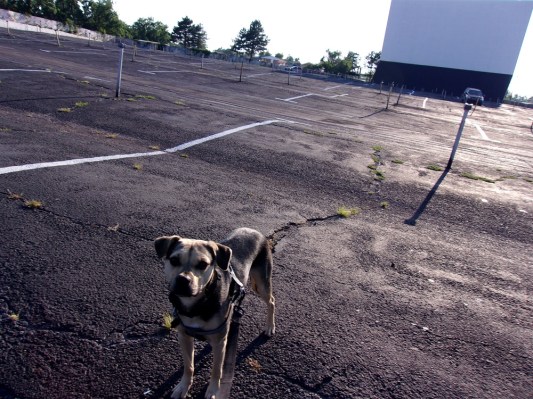 Two new flicks I desperately wanted to see—The Conjuring: The Devil Made Me Do It and In the Heights— were screening at Oklahoma City's one and only drive-in theater, the Winchester, so my friend and I—as well as my dog-son, Sean—decided that it was time to burst my filmic cherry in the back of her reliable Subaru, on a sultry evening in June.
Not surprisingly, we were the first ones to arrive there sometime before seven o'clock. As we drove in through the classic gate, paid our admissions and maneuvered a viewing system that I was completely foreign with, we parked and got out our folding chairs, setting up shop for the next few hours. Of course, Sean was no help until it was all done, where I took him on a walk of the ancient facilities.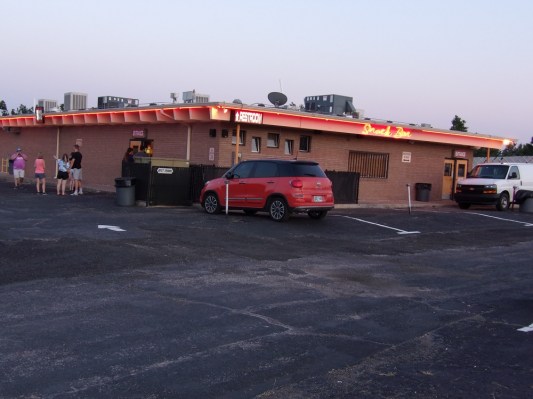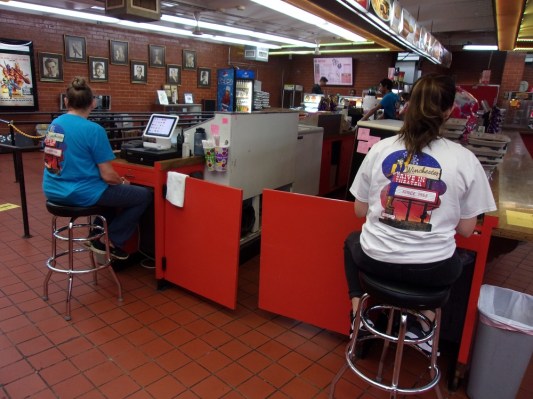 I interviewed the previous owner, Lindy Shanbour, shortly before his death in 2018 for a local alt-weekly. It was obvious that he was proud to own the place, maintaining the rural drive-in surrounded by urban sprawl the best he could. The new owners have managed to continue his legacy with glorious results, creating a cinematic netherworld where the real world isn't even noticed when inside these open gates.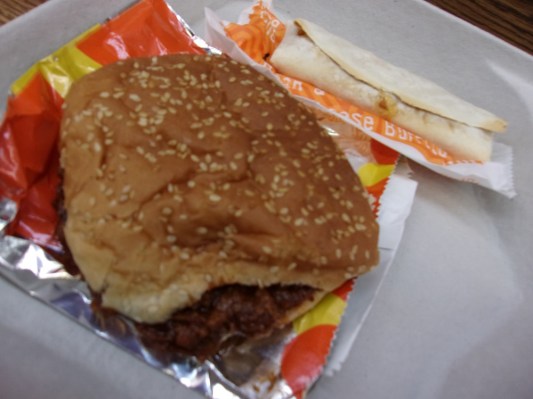 I finished walking Sean and, with him sleeping sound in the car, I went to explore the insides of the snack bar, another new wonder for me. Delicately reminding me of a high school cafeteria, the partitions snaked around the eats, of which I happily sampled a few before the movie as a dinner of sorts, starting with a chili dog and pickle for my friend, and a barbecue sandwich and small burrito for me.
Sitting at the car with a full tray, as the place started to slowly fill with cars, I bit into my burrito, a defrosted and heated glance thrown my way. It was alright, I suppose, while my friend had a much better time with her chili dog, scads of chili and cheese poured on top. That being said, I absolutely recommend the brisket, a syrupy ketchup flavor overtaking my body and soul with zest and zeal.
The movie was starting around nine, with still an hour or so to go. It was around this time that Christina, my friend's friend joined us, at least for the first film. Sean decided to wake himself up and parade around like the belle of the ball, constantly hugging and kissing both my friend and her guest, turning to look at me occasionally, either for approval or mocking, I'm not too sure. More power to him, I suppose.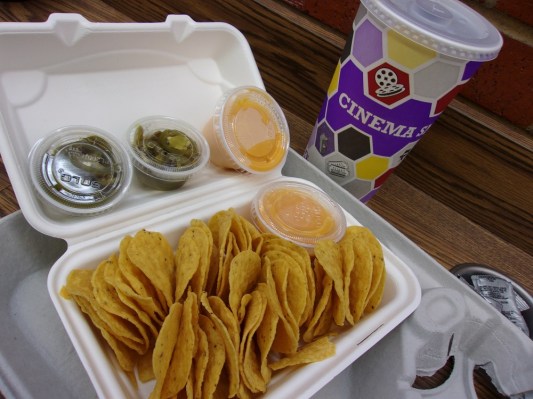 With mere minutes before the first feature started, I went back to grab a few more snacks for the group, including nachos and a drink for myself, as well as a few churros that were freshly fried and ready to imbibe, a small carton on Nutella off to the side. While I seemed to be the only person that truly enjoyed the nachos, everyone loves churros, a well-known treat that should be far more popular in this part of the country.
A satisfying feeling coming over me, the sun started going down behind the movie screen with the moon taking its place. As the ominous title card for the third entry in The Conjuring series came up, with a tray of remaining nachos on my lap and Sean on my friend's, I settled back in the lawn chair to thoroughly fall in absolute lust with my first time at the drive-in.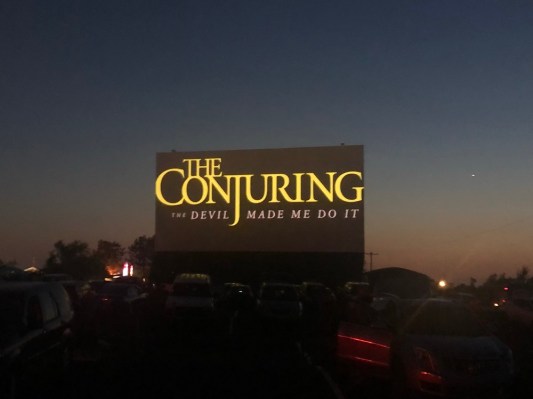 _
Special thanks to KY for the additional pictures. Follow Louis on Twitter at @LouisFowler and Instagram at @louisfowler78.
Stay in touch
Sign up for our free newsletter