events
Still Alive: The DeadCenter Film Festival Returns, Thankfully
5:33 AM EDT on June 9, 2021

Over the last year, one of the few events to brave the pandemic and live was Oklahoma City's own DeadCenter Film Festival. By going completely virtual, while many film fests went into deep hibernation, DeadCenter was able to survive and now, is back and better than ever.
Starting tomorrow, June 10th and running until June 20th, this year's DeadCenter will combine the two, mixing a solid online presence with a return to live screenings. It's a heavy undertaking, but one that Executive Director Alyx Picard Davis and her crew are hard at work to make sure it all goes as smooth as possible.
I spoke with Davis about her thoughts on the past year, and how they shaped the film festival not only for this year, but the future as well.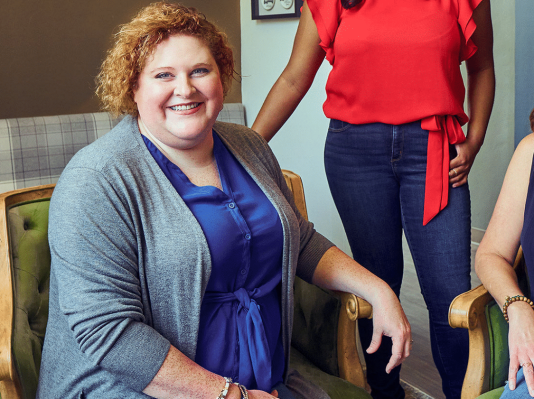 _
Louis: Last year, DeadCenter held a virtual film festival and it seems like you're doing it again this year, but with a return to some live events. Do you personally miss going to a theater and watching a movie on the screen?
Alyx Picard Davis:  Yes! We definitely do! I definitely do!
In addition to the online films we announced back in the fall, we're actually going to have a few in-person screenings, which is particularly exciting. We're going to have all of our Okie features at the Oklahoma City Museum of Art and our Okie shorts with be at the Rodeo Cinema in Stockyards City. The one I'm really excited about, however, are the Horrorfest shorts at 9 pm and 11 pm, presented by Rodeo Cinema at the Paramount on Film Row, in the screening room they've taken over…which may or may not be haunted. What a better place for horror shorts!
Besides the films, of course, what are a few things that you're excited to bring back this year that you couldn't do last year?
As far as the in-person screenings, we're proud to at least be able to show those live with the filmmakers in the audience. But we're also going to be at the Tower Theater, bringing back TechCenter, which is our industry and technology fair that happens during the festival. We're exploring what storytelling looks like using technology and that can be in a variety of different ways. We'll also have the virtual reality films available and the headsets for that.
Music videos will be available, as will a couple of happy hours…some of the things that people have loved about DeadCenter over the years are coming back: the parties, the happy hours, the networking pieces…we feel that, in a controlled capacity, those are all fun things to do during the festival.
Do you feel that, during the pandemic, DeadCenter was still able to grow?
We grew in ways we didn't anticipate. Honestly, after the past year, we weren't sure what we were going to do. But we ended up with an incredible reach, with 42 states and 24 countries participating…it kind of just grew from that.
We're hoping that this year kind of blends the accessibility that we've built for the last 21 years to really make it an Oklahoma City thing for people that are here, but not ignoring the fact that there's a reach beyond where we are physically. Last year was a blessing in disguise to know that there are people beyond our state that enjoy the films we are programing.
Because of what the world has gone through, are you seeing a trend in the newer films being shown this year?
Yes. There were some films that were made during the pandemic and that was something that we definitely saw. Surprisingly, there were a lot of films about music this year, a lot of music-centric stuff from people that I'm sure were upset that they can't play in front of an audience. There are some stories that spoke so well and might be a little different than your experience with the pandemic…we always try to balance out our slate.
If people have limited time this year, what two or three films do you recommend seeing?
I hate you for this question! It's like asking me to pick a favorite… I would say the Friday night screening of We Are the Thousand at the Wheeler District is going to be awesome. It's an incredible film…if you're looking for things to do in person, it's a great one, and a safe one, because you're outside.
I encourage everyone to go out and try the VR because there's nothing like it and that's part of the reason why we're a film festival, because we want to bring those experiences to people. And, personally, I really enjoyed Lily Topples the World…it's a really fun one. It's good for the whole family—it's fun to watch, it's colorful, and I think it has mass appeal.
What has Covid and the lack of live audiences last year taught you about the importance of DeadCenter?
I love that question. Last year, when we found out that SXSW had to cancel and everything started to feel real, we felt very strongly that there was no way in Hell that we were going to pull our festival or even postpone it. DeadCenter's been a staple in Oklahoma City, going on 21 years. Many people consider it the official kick-off of summer…we already had the films programmed, so it was just a matter of how to show them, so we threw ourselves into that.
This year has been a little bit different because we already knew the how, we just didn't know what it was going to look like. We did the best that we could and added things along the way…but everyone has just been so incredibly supportive about what we're doing. It feels like the entire city is behind us and wants to make it the coolest thing in town for the next ten days.
_
Follow Louis on Twitter at @LouisFowler and Instagram at @louisfowler78.
Stay in touch
Sign up for our free newsletter