Everything Else
OU football player on wrong side of Campus Corner fight for a change
9:16 AM EST on February 24, 2021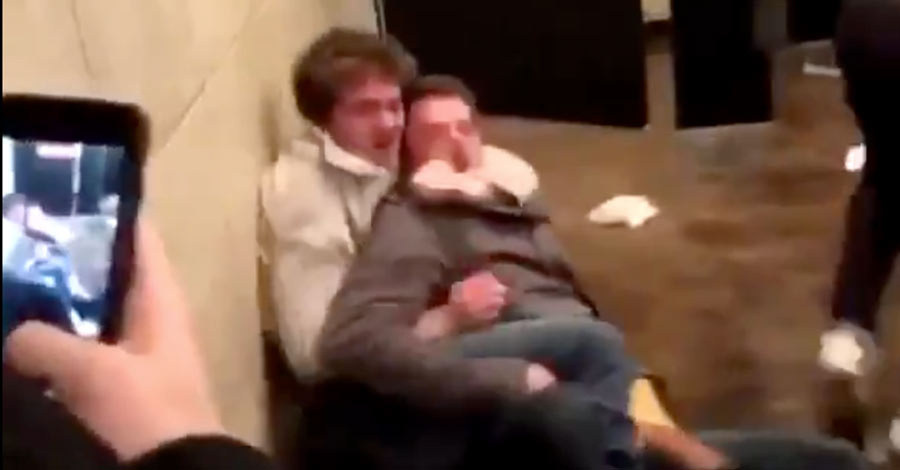 If you're lucky enough to not be exposed to the Twitter brah echo chamber, you may have missed the viral video of OU special teams holder Spencer Jones being sucker-punched, and then absolutely walloped, by some buckwild MMA-wrestler guy in the bathroom at the Campus Corner meat market Logie's.
Fittingly, the fight occurred in the early morning hours of Valentine's Day, and ended with the men – along with their tag team partners – erotically floundering on the establishment's patented urine-soaked floors.
Here's the video. If you don't enjoy raw unadulterated violence – or you're a really big germaphobe – you probably should read Lucas's ranking of Girl Scout Cookies instead:
That was brutal! An OU football player is getting his ass kicked in a Campus Corner bathroom, and the bystanders are not grabbing their phones to call the police or Toby Keith, but instead shoot video and call the play-by-play like they're Jim Lampley! God Bless the USA.
Also, you know OU coaches were a bit relieved when they saw the video. Usually when a they hear that a player was involved in a fight on Campus Corner, their first thought is "Crap. I hope the woman is okay... and that it doesn't affect recruiting." It's nice that this time around they only have to worry about finding a new holder that doesn't have double-vision.
Back in our in Brah Stool glory days, we would have been all over this incident like it was Lauren Richardson eating an ice cream cone at Braum's. Fortunately, my podcast pal Jason Kersey with The Athletic did that work for us. He learned that Spencer had his eye socket basically shattered and needed surgery to fix it. Outside of a loss of pride, they think he'll be okay.
Jason also reported that the guy who did all the punching is an OU student named Walker Brown. According to a tweet from his brother, they were raised in lion pits and trained their whole lives for these types of moments:
Braden Brown tweeted Saturday that he and his brother have "been wrestling since we were in diapers and MMA/Cage Fighting since we were 12. They gave us no options unfortunately. We showed restraint."...
I know the video doesn't tell the whole story, and obviously something went on before Walker punched Jones and went full Ken Shamrock on him, but come on – the only restraint they showed was not hanging Jones on the bathroom stall by his underwear and then sticking a paper football in his mouth.
Here's more:
Braden Brown also tweeted on Saturday that anyone interested in learning MMA should "hit me up and we'll get you set straight at The Colosseum here in norman, self defense is priceless!" That tweet was later deleted.

The Colosseum Wrestling and MMA LLC is registered with the state by Thomas Brown, Walker and Braden's father. The gym is located in downtown Norman. A message left at the number listed by The Colosseum went unreturned.

A Sunday evening post on the business' Facebook page read, "No pun intended…. but we do have some new wall decoration." Attached to the post was a photo of The Colosseum's wall, which was stenciled with the Mike Tyson quote, "Everybody has a plan until they get punched in the face."
Fun fact – I have also gotten into a bar fight with a wrestler! It happened at Edna's and, fortunately, the dude wrestled for OCU. The skirmish was broken up quickly by marijuana lawyer turned recluse Bud Scott, and I made it out relatively unscathed and with my pride intact. I guess if you're going to inadvertently get into a fight with a wrestler at a bar, make sure they wrestle at a school known for its musical theatre program.
Naturally, Walker has set up a Go Fund Me to cover his legal fees and medical bills. He's already raised over $20,000, and seems as remorseful as Bob Stoops watching Joe Mixon score a touchdown.
Hi everyone. I am the guy in the bathroom fight video. I have laughed with the funny comments about my cowboy boots and cauliflower ear. I have not commented because there is an on-going investigation. I have been advised to get an attorney. I am also facing a surgery from an injury I received while defending myself and will be looking at some unplanned medical bills and time off of work recovering from the surgery. I am a full-time student who works two jobs.

First, I would like to thank you all for the generous support that I have received from all over the country. It is overwhelming in a good way! Strangers have even offered to help me cover the costs of defending myself and so I have set up this account for anyone who would like to contribute. I feel awkward doing this because I want to work and pay my own bills, but I am realizing that may be difficult for a little bit. I will say that YES, there was something that occurred prior to the start of the video as my nose doesn't bleed for no reason. After I hire an attorney, I will make a statement so you will know my side of the story. Thank you again for all of the support.
Yep. While cancer patients struggle to pay medical bills and small businesses continue to close, this dude raised over $20,000 to battle the OU football and Norman law enforcement machine in the courts. I bet 90% of the donations came from Mike Gundy's burner Go Fund Me accounts.
Anyway, you can read a full-report about the incident over at The Athletic. In all seriousness, we hope Spencer recovers, doesn't have any complications, and holds the ball well for OU next season.
Stay in touch
Sign up for our free newsletter