OKC Media
Siberian Snowpocalypse 2021 (Round 1) Weather Coverage Recap
1:33 PM EST on February 15, 2021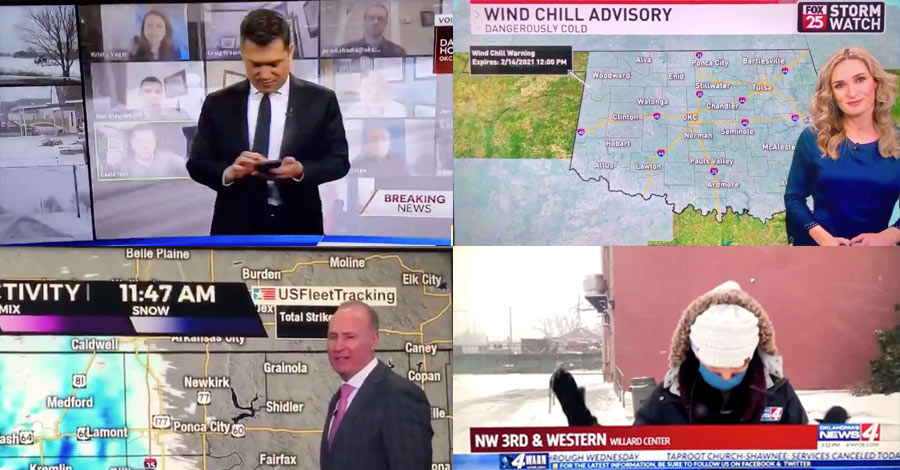 Before we get started, I hope everyone made it through round one of Siberian Snowpocalypse 2021 unscathed. Despite leaving three faucets dripping overnight and cabinet doors under each sink wide open, I – like thousands of other Oklahomans – woke up this morning to no water coming out of my hot water taps, and a blown-out pilot in my water heater that I can't get to re-light. If you're a plumber or person who fixes this stuff and wants to pay it 4-ward for free publicity and attention, hit me up!
Just like with every other major winter weather event that hits Oklahoma, the coverage for Siberian Snowpocalypse 2021 followed the same predictable, interchangeable script. Things like...
• Chief Meteorologists standing in front of the green screen trying to will more snow to fall from the atmosphere in order to fulfill their extreme weather forecasts.
• Stormchasers looking for a good car accident or massive turnpike pile up to cover, and eventually hitting the jackpot.
• News anchors conducting interviews with law enforcement, public safety and other government officials pleading for people to stay off the roads.
• Gas station interviews with people out and about ignoring those requests.
• Viewer submitted photographs of snow, children in snow, animals in snow, etc.
• The classic winter weather money shot of a frozen reporter standing at the corner of a busy intersection sticking a ruler in the snow.
For example, KFOR's Jessica Bruno nailed her ruler stick shot with precision and perfection:
Although the tweet was basically making light of Oklahoma winter weather coverage cliches and was not a direct or even indirect criticism of Jessica, she wasn't very appreciative that I shared video of her graceful, confident and very precise measurement of 3-inches of snow...
Yeah, that's right. KFOR viewers literally write letters to the station asking for winter weather visuals. Am I the only one who wants to read these letters??
Dear Channel 4 -

I love nothing more than watching your talented news team provide brave coverage of winter weather. I've included some photos of my grandchildren making a snowman, and ducks surrounding my icy pond. Can you please share them with Emily Sutton?

Also, can you please provide more coverage of reporters sticking yardsticks and tape measures in the snow? These types of visuals warm my heart.

Sincerely yours,

Mildred A.Kingfisher
Outside of the typical list of winter weather coverage I mentioned above, we did get some decent bloopers from the wall-to-wall coverage. Jessica's co-worker Angela Shen got so-cold she couldn't hold a microphone:
Damon Lane got so excited looking at the likes, RTs and shares of his social media posts that he forgot he was on set:
KOKH's Danielle Davis did this graceful walk-off following a weather update.
They say the people on the TV screen can't see us through their camera, but based on Danielle's facial expression, I'm not sure I believe it.
And, of course, Steve Shaw even went to the OSU campus to see if students were prepared for the winter weather onslaught:
Okay, that's from 2013, but as I mentioned, the winter weather coverage in this state always follows the same predictable, formulaic script. In fact, as I suggested on Twitter, the news channels could probably save time, money and frost-bitten fingers on news reporters by just replaying Sunday's winter weather coverage when "Round 2" hits tomorrow.
Here are a few more observations/notes that may be recycled from our Twitter:
• I touched on this in our article about Kevin Sttit vacationing in New Mexico while his state is under an emergency declaration, but does anyone find it odd or weird that during an emergency situation when we need natural gas more than ever, our natural gas companies are begging us not to use it?
• In the year 2021, do we still need the scroll on the bottom of the screen showing closings? During weather like this, it's pretty safe to assume that everything is closed. At this point, that space would be better used to show the places that are actually open.
• After watching News 9's weather coverage, I learned that February is apparently calving season in Oklahoma. I know this because Lacey Swope made sure to mention it each time News 9 showed a picture of a calf in the snow, which seemed to happen about once every minute or so.
• Online trolls have been coming after Mike Morgan on Twitter, and as usual, he's not backing down.
Anyway, I guess that sums up our recap. I'm going to go do the totally safe and responsible things and try to get the hot water heater pilot light to catch fire again. It was nice knowing you.
Stay with The Lost Ogle. We'll keep you advised.
Stay in touch
Sign up for our free newsletter