Food
TLO Restaurant Review: Ted's Tacos and Cantina
8:51 AM EST on January 26, 2021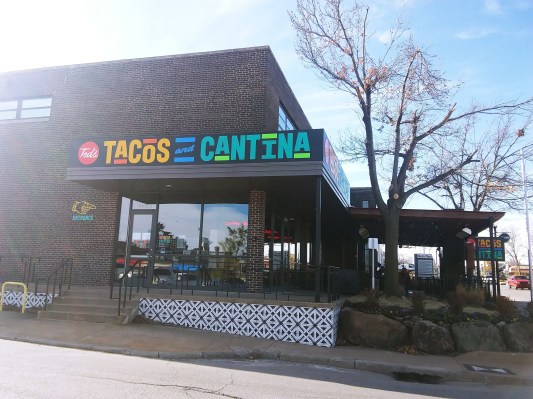 Ever since returning to Oklahoma City around a decade ago, nearly every ex-girlfriend I've fallen in love with (and, of course, lost) has carried a flaming torch for Ted's Café Escondido deep in their hearts, including my most recent ex-ladyfriend.
While I personally find Ted's to be merely alright, if that, I wanted to give the new Ted's Tacos and Cantina, 600 NW 23rd, an honest chance to impress me, especially since I received a coupon for a free order of Loaded White Queso in the mail and it's been burning a hole in my pocket for a week. Already, this new Ted's is on my good side.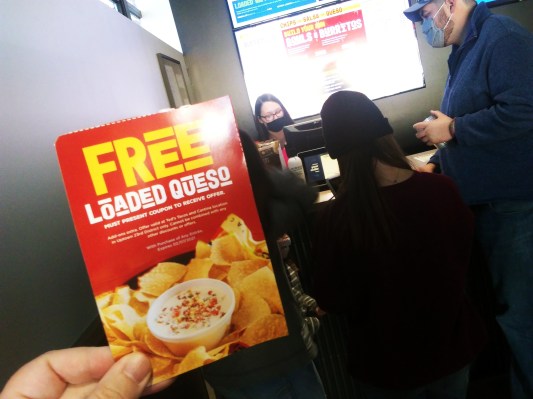 Located in the newly hip part of Oklahoma City—far hipper than I'll ever be, mind you—this eatery has little to no relation to Ted's Café Escondido, with the exception of those three little letters. With a cool atmosphere that slowly irked me over time, we waited in line to order our food for a few minutes, looking over the menus to be absolutamente preciso, if that mattered; it didn't.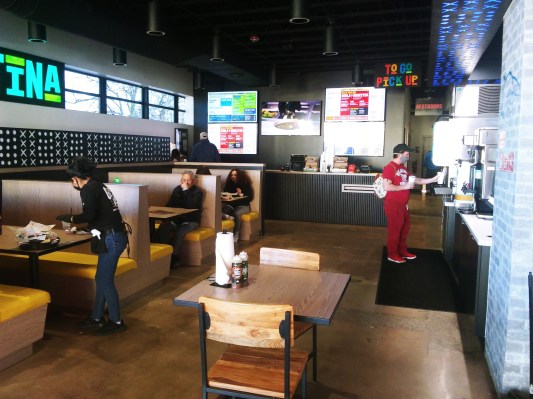 Finely crafted eats skillfully ordered, after walking past the very open bar—¿Nadie pensará en los niños?—my then-ladyfriend and I sat in the loneliest corner, gingerly waiting for our handmade comida to arrive; after a short wait, we received our tortilla chips and free cheese, as well as those now-omnipresent silver trays loaded with our tacos.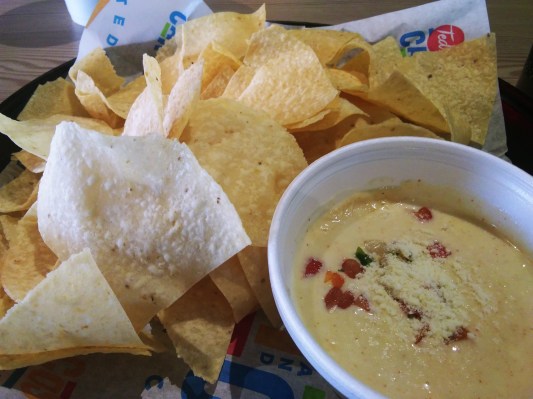 The Loaded White Queso, a creamy cheese somewhat tapered with bits of pico de gallo and Cotija cheese, was decent enough, especially for something I redeemed with a free coupon. Sadly, it was gone way too soon, as one-time helpings of melted queso always do; if there's ever a next time, I might try it with chorizo.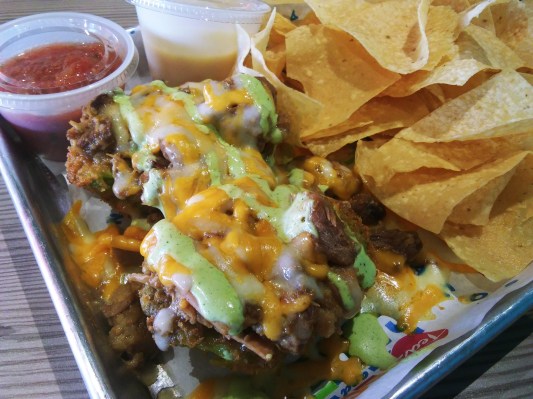 The Fried Avocado ($8.99) with shredded pork, on the other hand, was a genuinely tasty surprise. Featuring halved avocados rolled in breadcrumbs and then topped with my selected meat—shredded pork, por favor—as well as sour cream, cheese and some jalapeno ranch, it was a sensation that I've never had before but would happily love to have again and again, even if I had to make it myself.
Now here's where we get into a little trouble with the tacos: told I could mix and match the Two Taco Plate ($9.99), I thought that I put in for one Nashville Hot Chicken Taco and one birra-entangled Wet Taco. When I got my gleaming tray, however, there was a Nashville one, but instead of a Wet there was a Fried Avocado Taco.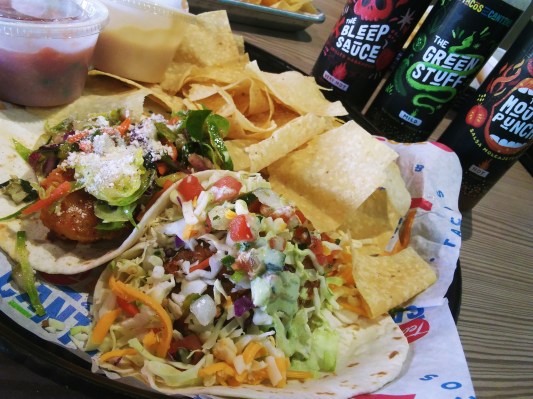 I'm not sure if wires were crossed or what, but once I complained as politely as possible to a random server, he went ahead and brought me a Wet Taco, on the house. That'll work—and I have a free Fried Avocado taco! At least one thing was going my way today!
As far as the Nashville Hot Chicken and the Fried Avocado tacos go, both were creatively delicious and are mostly recommended, by me at least. But, honestly, were both put to little shreds of big shame by the absolutely tremendo sabor of the nearly-sexual serving of the Wet Taco.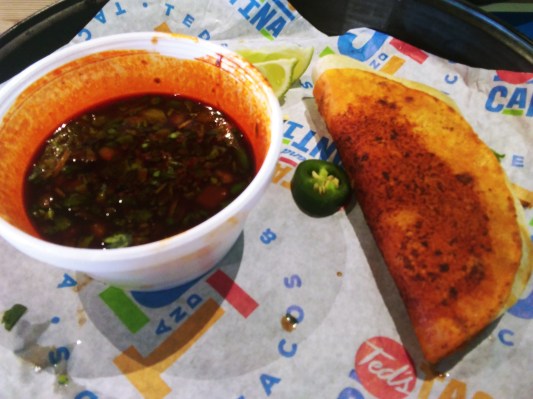 Featuring a slow-cooked cut of beef Birria—siempre mi favorito—and a well-done melted cheese serving on a perfectly grilled corn tortilla, it was sided with a sopping beef consommé (suitable for drinking, at least by me). Every dip and every bite of this Wet Taco is a thing of shock and awe; I almost ordered another one.
But, somewhat sorry to say, my ex-ladyfriend did not care for it, which actually surprised me. She would go on to explain to me that she doesn't really like avocados and I seemed to have nothing but the Mexican fruit for most of the simpático supper. I told her I'd remember that the next time we went out, which, little did my tonto mind know, was never going to happen again. Cómpralo ya!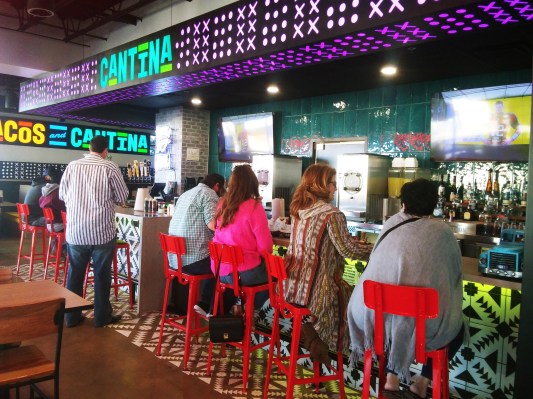 _
Follow Louis on Twitter at @LouisFowler and Instagram at @louisfowler78.
Support TLO (and, by proxy, Louis Fowler) by becoming an Ogle Mole…sign up here today.
Stay in touch
Sign up for our free newsletter