Food
TLO Restaurant Review: Mr. Tacos
8:32 AM EST on November 10, 2020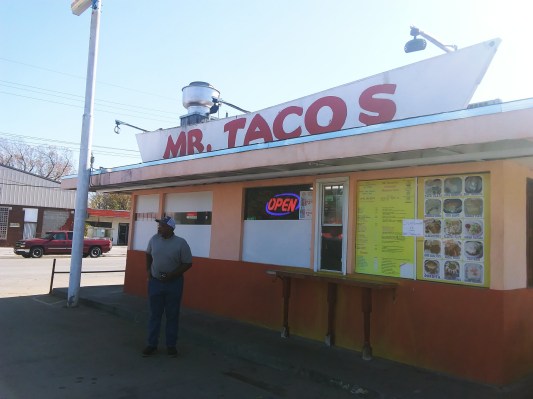 When asked what they'd like their last meal on Earth to be, I'm sure that most people often respond with an order of expensive steak—possibly Kobe beef—and costly truffles, flanked by a bottle or two of the priciest wines in the back of the cellar.
Not me though. Ni ahora, ni nunca.
For the past few months, all I've had in my hemorrhagic head has been the vague memories of Tulsa's Mr. Tacos, 130 N. Lewis Ave. I had driven by the Mexican joint sometime earlier in the year, vowing to hopefully return and sample their wares, each day building a kind of dangerously delicioso mythology around the place, fearful that their tacos and my mouth would never meet in connubial bliss.
The past Saturday, however, I officially had what I'd like to be my last meal on Earth.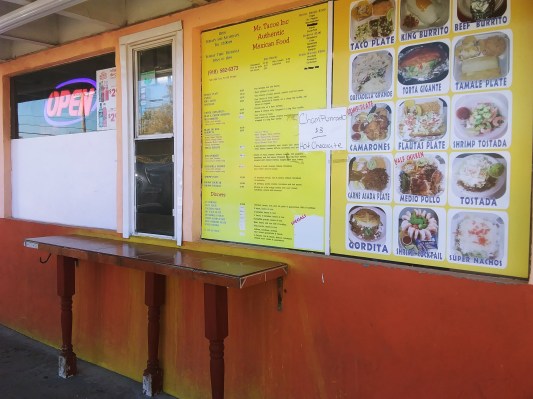 I stood in the short line as the shade covered the sun, absorbing what I could about the place as aromatic meats cooked on the grill and wafted outside. While I'm sure many would take one look and keep driving down the industrial landscape to far more hospitable restaurants, Mr. Tacos seemed to have a working-class clientele that knew the true secret of the place, as guys ahead of me ordered in their best broken Spanish.
Through a screen-covered sliding window, a woman smiled as she asked what I'd like. Having looked online at the menu for weeks—months even—I knew what I wanted as I ordered straight from my stomach and, perhaps even more, mi corazon. I paid my bill and walked around the sturdy edifice for a few minutes, an aged building with a couple of picnic tables off to the side.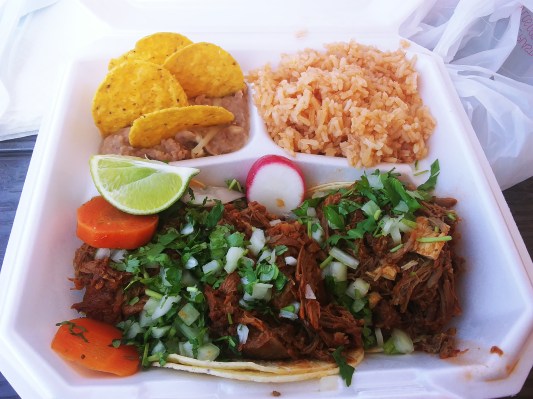 I don't really know anything about the place but, from the first taste of the Barbacoa Taco Plate ($9.00), I came to believe that Mr. Tacos, if it isn't already, should be named the Don of Tulsa Taquerias. Three tacos, each with double corn tortillas, were practically suffocated in the shredded cheek meat that covered the container, the plentiful onions and cilantro barely taming this alimentos salvajes.
Aided by some beautifully plated—or is that stryofoamed?—Spanish rice and refried beans, this plate was a perfect representation of what Mr. Tacos is all about and I was fully immersed in its gospel, the barbacoa and its remaining juices dripping down my chin and baptising the front of my black t-shirt.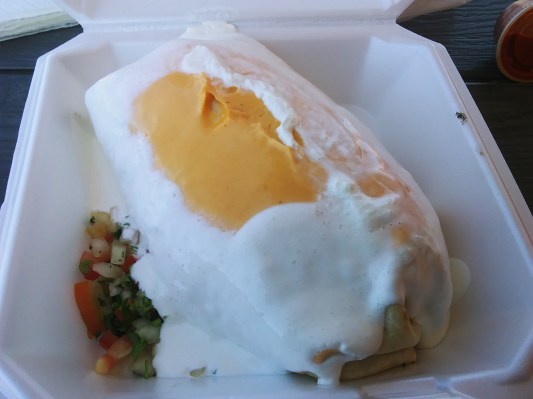 The King Burrito ($9.00) is a truly noble monstrosity; the waking dream of sour cream and melty queso covered a day-born nightmare of spicy pork, absolutely filled with onions, bell peppers, and hot sauce, wrapped in a cómicamente grande flour tortilla.
This giant lives up to its name, a verdadero rey where only the fewest of bites are taken as, under the weight of this royalty, you'll fall to your knees, tears streaming down as, belly near the bursting point, you pack it all up to munch on much later, the rojo salsa burning your tender innards alive.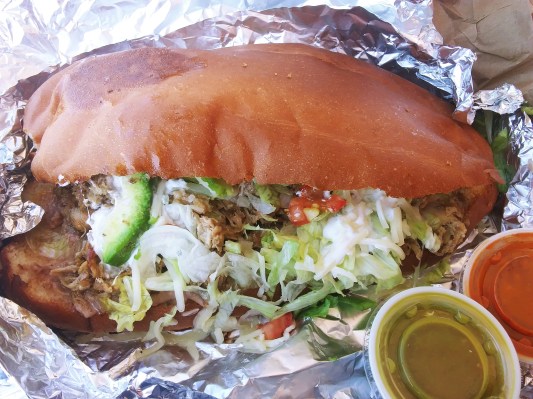 But it wasn't until the Torta Gigante ($11.00) when I learned just how close delicious pain is to heaving pleasure. Roughly the size and shape of an American football, the sheer width and outright girth of the behemoth was something possibly from the Book of Revelation, each tiring chomp and chew bringing both us and the world closer to the full-flavored end.
As the tender carnitas spilled out of every available opening, carefully plotted layers of beans, cheese, lettuce, sour cream, tomatoes and, the best part, avocados, soon followed suit, each handful of the freshly-baked bolillo barely containing this fire-breathing warlock of sandwiches, Mexican or otherwise, with every single snipe revealing to me the power and the glory that is Mr. Tacos, now and forever. Cómpralo ya!
_
Follow Louis on Twitter at @LouisFowler and Instagram at @louisfowler78.
 Support TLO (and, by proxy, Louis Fowler) by becoming an Ogle Mole…sign up here today!
Stay in touch
Sign up for our free newsletter