Everything Else
The Unbearable Lightness of Bowling (At Heritage Lanes)
4:53 AM EDT on October 15, 2020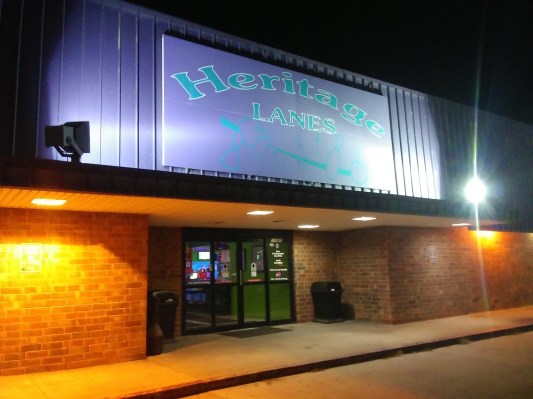 The last time I went bowling, it was sometime in the late 90s. Pins were drunkenly struck at the late 66 Bowl and their weekly Rock 'n Bowl show that I often attended, despite not being punk or rockabilly. The band onstage was Pulpit Red, of course—it was always fucking Pulpit Red—and they tore the place apart as usual. If anybody knows whatever happened to those dudes, let me know.
Nearly twenty years later, that wonderfully rancid scent of that old bowling alley is long gone, iconic neon sign and all. Losing 66 Bowl was such a 7-10 split to me and my then-Saturday night plans, I recently realized I haven't been to any local lanes until a week or so ago when my ladyfriend and I had a perfectly chaste outing at Heritage Lanes, 11917 N. Penn, near the Big Ed's.
A popular place for sanctioned ball-heavy pin-knocking, it was sometime around 9 p.m. and the inside of Heritage was mostly darkened, the black lights shining on the lanes for their weekend Glow Bowl, a phosphorescent evening that cost me somewhere around $35 for a party of two to play.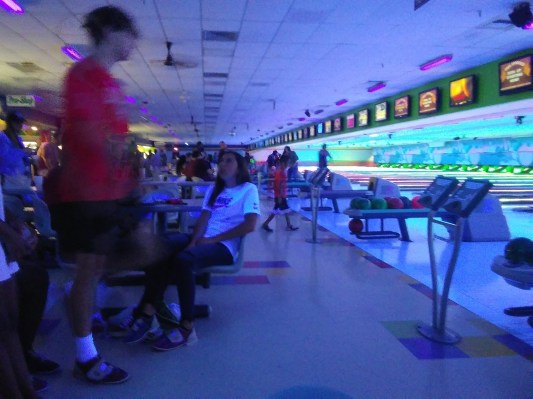 While I was somewhat taken aback by that hefty admission, it was for unlimited games—how many could one man really play though?—and included the ill-fitting shoe rental and that foot-spray stench that brought stinging mists to my middle-aged eyes.
Gone was the trademarked cigarette smoke that used to devoutly cling to me at bowling alleys, now replaced with the hovering flavor of hot dogs and sticky hormones of teen lust as we walked down to our lane at the very end of the building. As I fumbled around with my slickly-sick footwear, my ladyfriend set our names into the scorekeeper, settling for our real monikers instead of my youthful nom de comedie of Ass.
Grabbing a 13.5 pound ball from the rack nearest to us, as I slid my adult fingers into the child-like holes mystically drilled into it, I remembered how the alley's bowling balls never seemed feel right to me, mercilessly squeezing my thumbnail until it started to crack and break.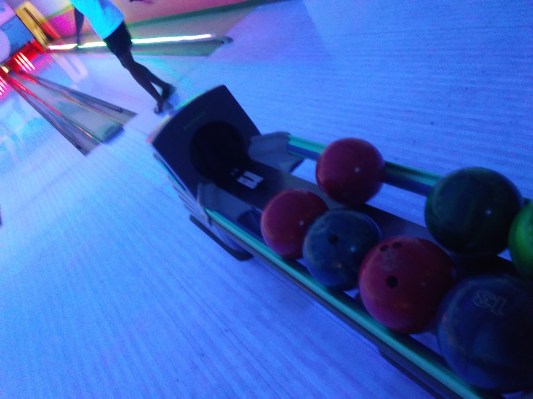 Aiming like the pros do on television—is bowling still shown on TV?—I reared back the ball and ferociously let it roll down the lane, where it almost immediately went into the gutter, making a low echo as it went to wherever those balls go. I repeated this technique five or six times.
I'm not a good bowler and have never claimed to be, and spent most of my time seriously considering asking them to raise the bumpers.
As my ladyfriend plopped her ball on the wooden floor, it slid off into the gutter as well, gently soothing whatever toxic masculinity I had left. But, truthfully, it was a total strike to bowl with someone like her, as there was no competition between either of us; instead, we used this game as comic relief, more to mock one another's depressive bowling stances and ball thuds than anything else.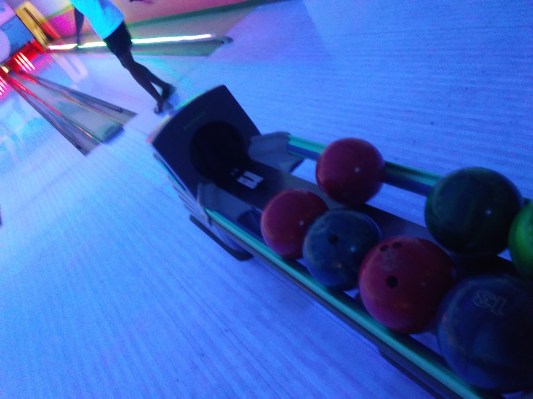 By the end of that first game, however, we must have done something because somewhere along the way, the computer went a bit screwy, with the pins not being counted and the machine obviously not resetting them. I went over to the unmanned counter, only to notice the employee coming out of the men's room with a bucket of mop-water. Before I could get his attention, he spilt the dirty pail all over the carpeted floor.
I backed away as he began to quietly fume, having done the same embarrassing thing in my chub-filled past.
We ended up playing somewhere around three games with scores far too comedically abysmal to publish here, my thumb a swollen red knob that throbbed all night. I also skipped on trying any of the food, the menu filled with the usual snack-bar suspects including nachos, chicken tenders and quesadillas; instead opting for a couple of large Diet Cokes as we ran the timer out.
In the final frame of the final game, after my spirit had long given up, I managed to score the most glorious strike mankind has ever seen, straight down the lane like a choreographed dream. But, sadly, it didn't register on the computer, the pins never resetting. It was one beautiful moment that was lost forever to the annals of sports histrionics.
The agony of defeat, I chuckled to myself as I suckled my engorged thumb.
_
Follow Louis on Twitter at @LouisFowler and Instagram at @louisfowler78.
 Support TLO (and, by proxy, Louis Fowler) by becoming an Ogle Mole…sign up here today!
Stay in touch
Sign up for our free newsletter