We'd like to send a big TLO "Attaboy!" to Oklahoma Governor Kevin Stitt!
Last Thursday, while searching for Sasquatch and other long-lost members of his family, he bravely killed an innocent, unsuspecting bear that was just minding its own business during the first day of Oklahoma's "black bear harvest."
Here's a photo of the kill shared on Facebook by the Oklahoma Dept of Wildlife: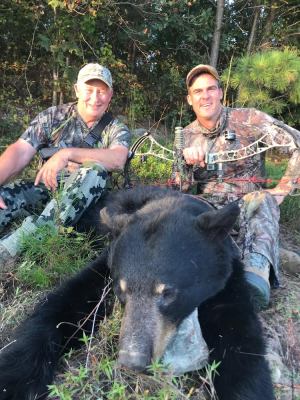 Mmmm-hmmm! Yummy! I don't know about you, but that puts me in the mood for some Jimmy John's!
Naturally, the photo pissed off the liberal crowd on social media, which is probably why Stitt shot the bear in the first place. I'm pretty sure "Stick It To The Libs (and Native Americans)" is the motto that forms his entire governing strategy.
That being said, Governor Stitt killing a defenseless black bear while hunting doesn't bother me all that much. Although I don't understand the thrill or allure of hunting down and killing animals as a hobby, I have some family and friends who sure do. Plus, as one who supports the cruel and barbaric American livestock industry every time I go grocery shopping, who am I to judge? Just as long as you eat the animal that you kill, who cares?
And that's obviously what Stitt's going to do, right? Being a Christian man who values all of God's creatures, he's going to have the bear butchered and the meat stored in his family's freezer. That way, they can feast on the bear over the long winter, and be able to serve the traditional Stitt family dish of Roasted Bear Heart Casserole for Christmas dinner.
Here are some of the details from the hunt at The Oklahoman_:
Oklahoma Gov. Kevin Stitt killed a black bear Thursday while bowhunting in McCurtain County on the opening day of bear season.

A photo of Stitt, the bear, and his hunting guide, Tom Cartwright of Holdenville, was posted Saturday on the Facebook page of J.D. Strong, director of the Oklahoma Department of Wildlife Conservation.

Oklahoma's archery bear season in southeast Oklahoma runs through Oct. 18. Bear hunting is legal in southeast Oklahoma east of State Highway 69 and south of Interstate 40, which covers all or portions of 12 counties.

The large majority of bears in Oklahoma are killed on private land by hunters with crossbows during the first week of the archery season. The best success comes early in the season before the acorns have dropped and bears stop coming to baited areas.
LOL! They had to set up bait for Stitt to get the kill? That's cowardly and weak, but at least he used a crossbow. I bet Kevin Stitt would be a Bobba Fett fan if he was allowed to watch Star Wars as a kid.
Stay in touch
Sign up for our free newsletter