Food
TLO Restaurant Review: Coney's -N- More
8:37 AM EDT on July 7, 2020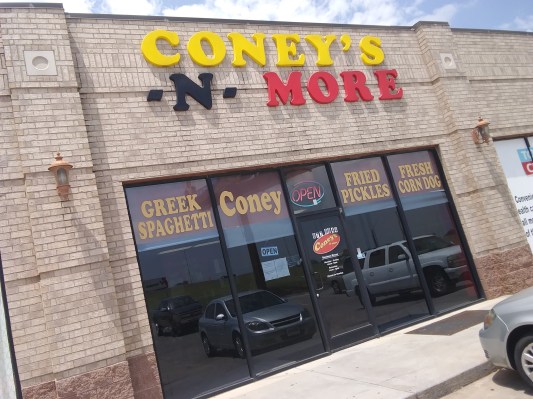 Arguably, the best thing about the Great State Fair of Oklahoma is the sheer amount of nutritionally-deficient foodstuffs available to nibble on and nosh off, usually stuffing our gunky gobs as we wait in line for some kind of poorly-assembled attraction, using our already-stained muscle shirts as an inbred napkin to wipe the sweaty cheese off of our chubby fingers.
Sadly, while we won't be able to experience those Okie lows this year, don't let that stop you from trying—calorically, anyway—the carnival-esque highs of Coney's -N- More, 1317 SE 44th, an eatery full of all the footlongs, corn dogs and chili pies anyone could ever want to grossly overeat, all at substantially rock-bottom prices...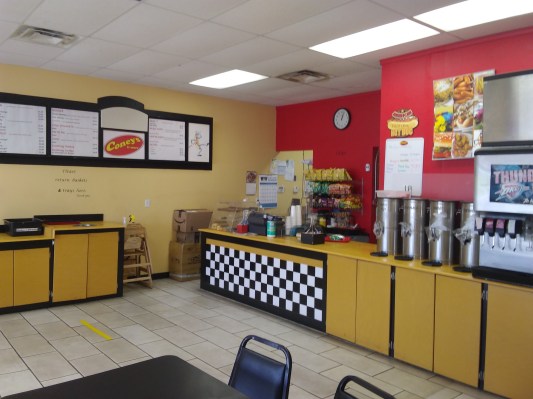 I've seen the grammatically hilarious Coney's -N- More storefront off the highway many times over the past few years, always planning on the perfect time to stop in and try it out. With fair food apparently dunzo this year, it seemed like as good a time as any to indulge one extraordinarily sticky afternoon when my gal-pal Jodie and I finally sauntered in.
Looking over their concise wall menu—featuring an anthropomorphic hot dog desperately dancing for his life—I eventually decided on a remarkably broad table of treats guaranteeing I'd be going to bed with a bit of heartburn, hopefully, that night.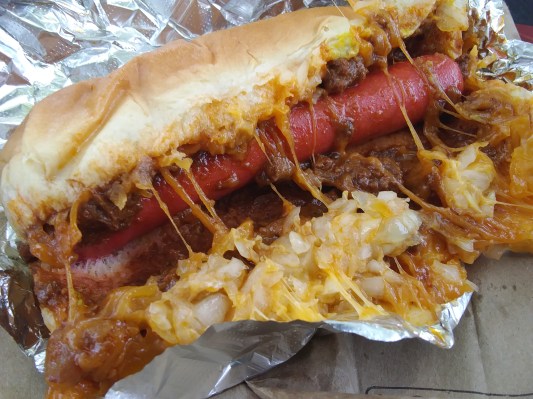 Like any fair-goer with low self-esteem, I started off with the Loaded Coney ($1.75) and, as a companion, the Corn Hot Link ($2.50). True to their word, this thick Loaded Coney was piled with plenty of cheese, chili, onions and mustard, making for a filling-enough wiener to eagerly stuff down my gaping mouth.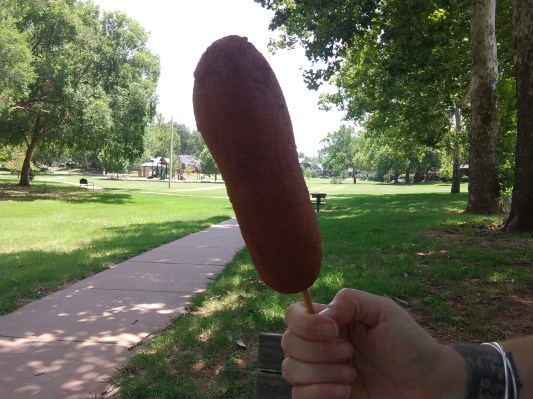 But, as good as that was, it was the Corn Hot Link that was pure penile pleasure; freshly battered and expertly browned, the girthy hot link—Schwab's, I think—spurted its warm juices with every one of my greedy bites, leaving only the thin stick where I gnawed the remaining crust off like an animated rat.
As for the sides, the Seasoned Fries ($1.99) were, honestly, nothing to really write home about. That being said, the generously sliced and gorgeously fried Pepper Chips ($2.59) were this year's model, a prime offering of sliced jalapenos battered and beaten to a crispy and crunchy consistency. Armed with Coney's -N- More's homemade ranch—lookout, Mazzio's!—these tasty little dippers are better than any useless potato.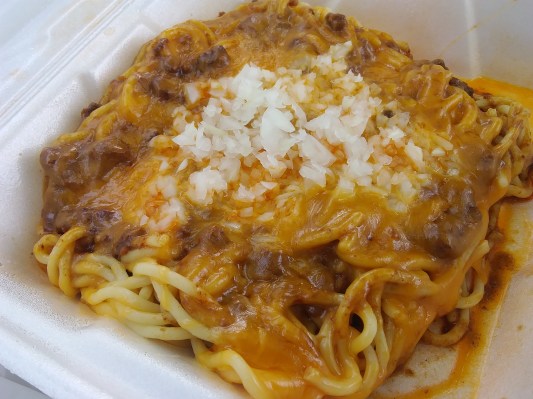 While I would usually stop there, I judiciously took small bites of the previous eats so I could try what Coney's -N- More should really be famous for, their Chili Spaghetti ($4.99). While I'm sure there are far more popular variations in town that people will presumptively let me know about, while not much to look at, this pile of spaghetti covered in a thick layer of cheese and onions—as well as all that sexy chili—is a fast-food revelation.
As we finished our meal in a local park, Jodie devoured her chocolate brownie square while I packed away the leftovers. Satisfied with finally having tried Coney's -N- More's best and possibly brightest, I tried to contain a deep belch to the best of my ability, forcing a slight burn that edged up my esophagus. Cómpralo ya!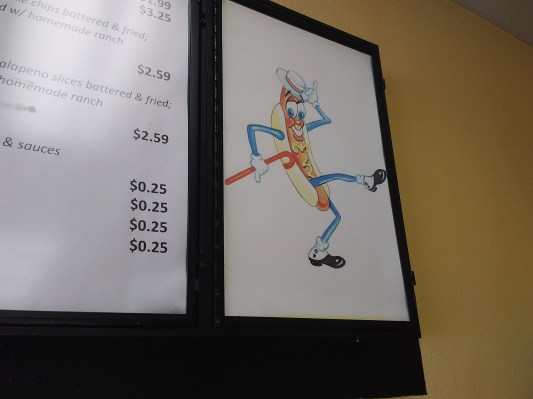 _
Follow Louis on Twitter at @LouisFowler and Instagram at @louisfowler78.
Stay in touch
Sign up for our free newsletter