Law and Order
Tulsa Cops Continue To Remind Us What's Wrong With Cops
12:25 PM EDT on June 11, 2020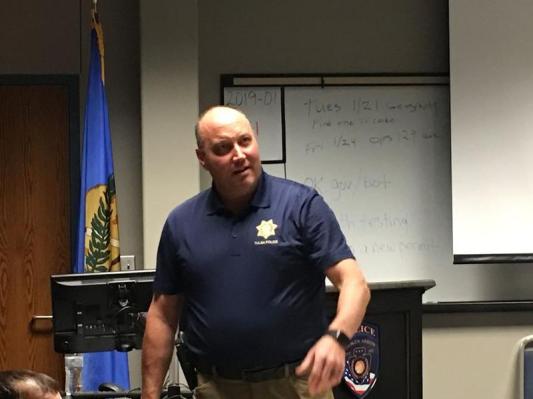 The last two weeks have been sobering for Oklahomans. As we passed the 99th anniversary of the Tulsa Race Massacre a little over a week ago, many Oklahomans took to the streets to reflect on our state's past as it advocated for its future. There is still so much work to be done to end police brutality and systematic racism in law enforcement, and no agency has made that more abundantly clear lately than the Tulsa Police Department.
Discussing nationwide protests over the killing of George Floyd by police in Minneapolis, a white Tulsa Police Department major said Monday systemic racism in policing "just doesn't exist."
Speaking to talk radio host Pat Campbell on his podcast, TPD Maj. Travis Yates also suggested that, according to his interpretation of crime data, police should actually be shooting black Americans more frequently.
"You get this meme of, 'Blacks are shot two times, two and a half times more,' and everybody just goes, 'Oh, yeah,'" Yates said. "They're not making sense here. You have to come into contact with law enforcement for that to occur…"
"And, by the way, all the research says — including Roland Fryer, an African American Harvard professor, Heather MacDonald, and the National Academy of Sciences, all of their research says we're shooting African Americans about 24% less than we probably ought to be based on the crimes being committed."
That is atrocious and sickening. Unfortunately, this seems to be more of the culture of Tulsa PD than their PR team wants you to believe. The shooting of Terence Crutcher by then-Tulsa police officer Betty Shelby amplifies this message. In the video taken in the helicopter circling the scene of the shooting in 2016, you can hear one officer clearly refer to Crutcher as a "bad dude." But surely, some say, this can't be a race issue! I mean, Sgt. Shane Tuell with Tulsa PD was quoted by Oklahoma Watch last week saying he doesn't see racial profiling as a problem in his agency. I wonder if he's familiar with this story reported by KOB4 yesterday…
Authorities in Oklahoma are investigating the arrest of two black teenagers who were accused by white police officers of jaywalking in a Tulsa neighborhood where some areas had patchy sidewalks or no visible footpaths…
The other video shows both officers forcing the teen to the ground as he physically struggles with them. The other teen tells the teen who's on the ground lying on his stomach to "chill out." An officer handcuffed the teen on the ground as the other teen asked the officers why the teen was getting arrested…
The nearly 20-minute videos show an officer remaining on top of the teenager who lied on his stomach even after he was handcuffed.
"Get off me! I can't breathe! I can't breathe! I can't breathe!" the teen shouted.
"You can breathe just fine," the officer replied. "You're fine."
"Sir, he has handcuffs on. What is he gonna do?" said the other teenager, who later got handcuffed but was sitting on the curb.
The officers repeated to the teenagers that they broke the law because they jaywalked. Body camera videos show that the area had patchy or no visible sidewalks.
No reason to believe racial profiling is a problem, eh? Bull shit. What's worse is that even if the teens and their families were to choose to file a complaint against the officer for racial profiling, the investigation would be conducted by the officer's employer, Tulsa PD itself, and historically similar claims have been dismissed without prosecution. And come on, it's "jay walking." It's not like they were doing something sinister like wearing a firearm in Tulsa's own Gathering Place (where it's prohibited). But even when that situation arose, the Tulsa PD didn't seem to think it was necessary to restrain the (white) perpetrator. Call me crazy, but Tulsa PD may have a racial profiling problem, after all.
-
Ya think? Follow Hayley on twitter @squirrellygeek
In my spare time, I officiate secular weddings, read about dead people, and search for the American Dream.
Stay in touch
Sign up for our free newsletter