Everything Else
Apparently, Oklahoma has had ZERO instances of racial profiling by law enforcement…
4:40 AM EDT on June 8, 2020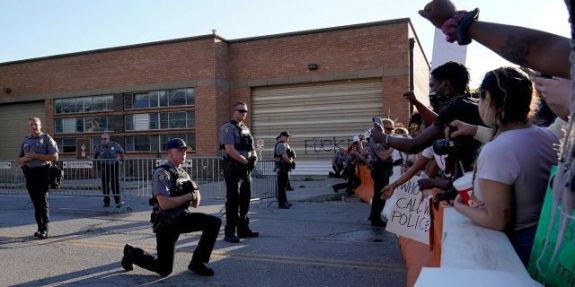 The last few weeks have been for the history books. Protests have sprouted across the nation, including in Oklahoma City and Tulsa, that call not only for justice for George Floyd, but also for the end of police brutality and racial profiling by law enforcement.
But as they kneel before the Oklahoma County Jail and plead for peaceful protests, law enforcement doesn't seem to understand the magnitude of the pain and suffering that systemic racism coupled with deadly force has caused. Maybe it's because according to their own investigations, there have been zero instances of racial profiling by Oklahoma officers.
Via Oklahoma Watch…
As protests over racial policing practices continue to rage across Oklahoma and the nation, a milestone in Oklahoma's racial history will quietly pass later this week
Friday will mark the 20th anniversary of the passage of a state law that for the first time explicitly banned racial profiling by law enforcement agencies. The law made it a misdemeanor crime for officers to stop, detain or arrest someone based on their race or ethnicity.
Shortly after the bill was signed into law in June 2000, Maxine Horner, a state senator at the time who authored the legislation, called it "long overdue" and said she hoped "law enforcement officers who routinely utilize racial profiling in their work will think twice before making unfounded assumptions."
It seems that some Oklahoma law enforcement agencies credit their increase in sensitivity training for the lack of profiling claims. According to the article, Tulsa Police Sgt. and white guy Shane Tuell praised the department's use of body cameras with improved training and stated, "I personally don't see (racial profiling) as a problem, but I guess it depends on who you ask." Well if you ask many Oklahomans, our agencies still have work to do...
But there's little evidence that the law has brought any teeth to the ban against racial profiling.
A 2018 Oklahoma Watch investigation found that every complaint submitted to the state attorney general's office or the now-shuttered Oklahoma Human Rights Commission over the past decade was dismissed. The reason often given is lack of proof.
Two years later, as nationwide protests over racial unrest and police brutality have put policing practices back in a spotlight, the picture hasn't changed
State documents show that 2018 and 2019 produced some of the highest number of complaints the state has seen since the law was approved. Last year a record 21 complaints were submitted, alleging instances of profiling by 19 state or local law enforcement agencies.
None of the complaints was substantiated by the law enforcement agencies, which are charged with investigating their own officers.
That's right. Any complaint about an officer engaging in racial profiling is forwarded to the officer's employer…the law enforcement agency itself. Unsurprisingly, this is problematic. Researchers in sociology and justice have coined a term called, "The Blue Wall of Silence." It suggests that difficulty in mitigating police corruption can be traced back to a reluctance by officers to report their colleagues. Which probably explains why according to the article all 85 complaints of racial profiling by Oklahoma law enforcement since 2008 have been dismissed. It also explains why so many Oklahomans are marching for reform.
-
Nobody says, "f*ck the fire department." Unless you have one of their calendars, I guess. Follow Hayley on twitter @squirrellygeek
In my spare time, I officiate secular weddings, read about dead people, and search for the American Dream.
Stay in touch
Sign up for our free newsletter