Food
TLO Restaurant Review: Tacos La Vecindad
8:43 AM EDT on May 12, 2020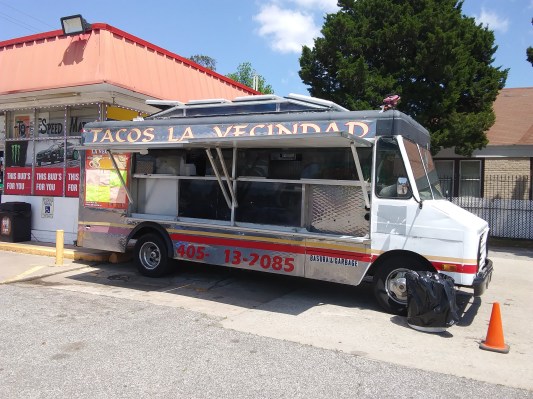 It's always beautiful to me just how varied most Latino-owned food trucks in Oklahoma City truly are, offering so much more than the usual tacos and burritos that most people stereotypically expect.
For example, down by the Speed Mart, 1700 N. May Ave.—still a great place for porn mags, weed pipes and foreign toys, by the way—is Tacos La Vecindad, a recent arrival on the scene that, though having a particularly small menu, does some rather extraordinary things with it.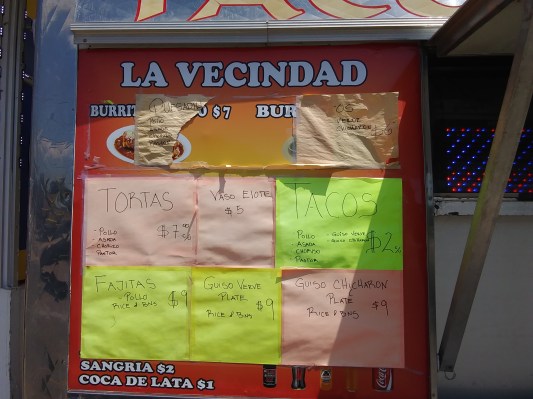 Essentially a one-man operation, it's in that tiny kitchen the anonymous chef is making some of the most marvelous guisos around town—which I had to order immediately, of course—as well as a few other sorpresas that I couldn't wait to impatiently devour, a couple of bottled waters at the ready.
Usually open for lunch, the chef works faster than most places staffed with two or three people, with multiple orders going at once, including mine this warm day. In addition to the Guiso Verve (sic) Plate, I also ordered a couple of Chorizo Tacos and one of my golosinas favoritas, a big cup full of Vaso Elote.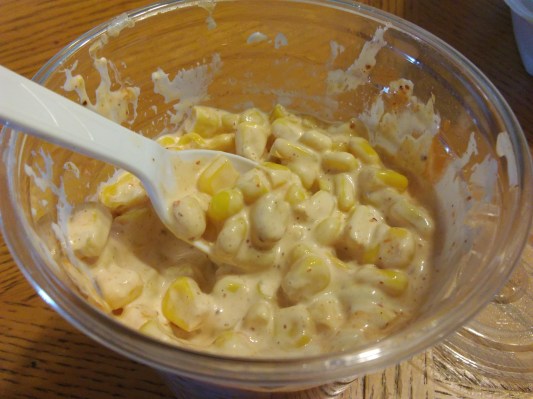 A slick mixture of fresh corn, mayonesa, lime juice, crèma Mexicana and crumbly Cotija cheese, Vaso Elote ($5.00) is a traditional snack that, served warm in a plastic cup, was the finest sampling I've had since, at least, the small shack in the Old Paris Flea Market parking lot where I normally indulged in this delicacy.
A creamier-than-expected elixir that might make some readers gracefully grimace, it's as savory as can be as it slid down my welcoming throat, a bit of a (possibly) Tajin-like seasoning giving off a round of unexpected heat, forcing me to chug most of my first water.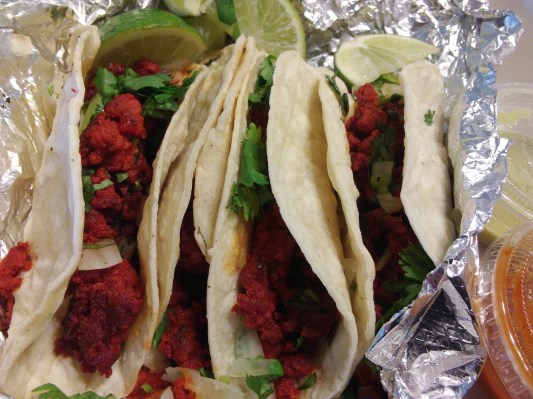 I ordered two Chorizo Tacos ($2.00 each), so imagine my mostly-agape mouth when I opened up the Styrofoam container and there were four in there; like Christmas come early, they were packed tightly with salsas and a few fresh limes.
Each searing red cut of pork—carved from the famed Mexican sausage—were piled into multiple hand-made tortillas, a mixture of both rojo and verde salsas alternating between the two, with squeezes of lime on each one. A temperate skirmish of the meat and a roasted pepper necessitated bottle of water number two.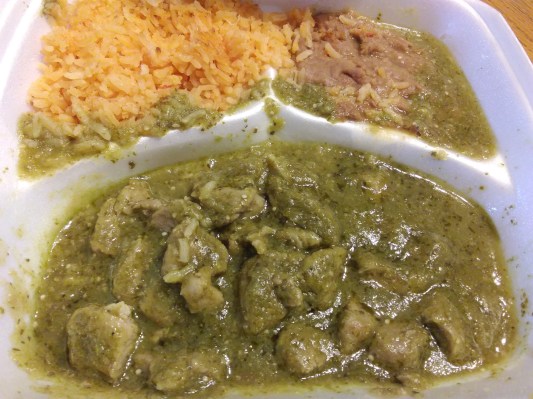 But it was the holiest Guiso Verve Plate ($9.00)—I think he meant verde, but here, verve strikes me as a true descriptor of this stew—a spicy brew filled with chunks of solid pork in a thick sauce composed of green chiles and tomatillos, jalapenos and cilantro; it was a hot dish that could only be momentarily cooled with the beans and rice that filled the rest of the plate.
With the tortillas that were included off to the side, I rolled each one tight and slathered them in scoop after scoop of that boisterous green verve, sopping up what I could, mixing some of the chile sauce in with the solid beans and rice. It was perfección hambrienta, one that had me going back into the Speed Mart to purchase another bottle of water, tears forming in the corner of my eyes. Cómpralo ya!
_
Follow Louis on Twitter at @LouisFowler and Instagram at @louisfowler78.
Stay in touch
Sign up for our free newsletter