Everything Else
Top 25 OKC TV News Blunders of the 2010s
5:02 AM EDT on April 2, 2020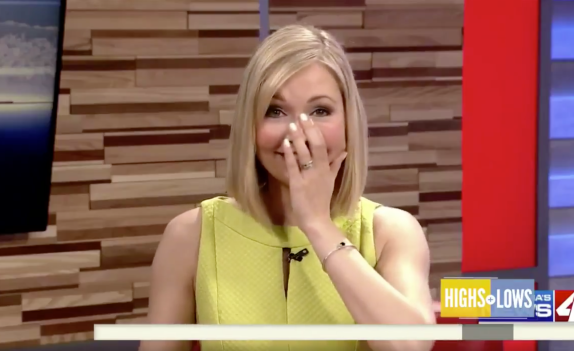 Earlier this year, we counted down the Top 25 OKC TV News Blunders of the 2010s. In case you missed it, here's the complete and full list in one long, scrollable, enjoyable post.
Also, if you enjoy insanely local Oklahoma niche content like this, and want to continue seeing it on the Internet, consider becoming a TLO member today. For only $5 a month you can help support whatever the hell it is that we do.
Here we go:
#25 Regular Jim Traber warns Bob Stoops to lookout for Bob Stoops
In Regular Jim Traber's defense I don't know jack shit about sports, so half of whatever comes out of his mouth doesn't make sense to me to begin with. But in 2013, you can watch Jim become visibly disappointed in himself when he flubs up live on Fox 25 by warning Bob Stoops that he will soon be an underdog to the one and only…Bob Stoops.
-
#24 Paul Folger befriends cats
Before the world knew just how many Russian bots were taking over our grandmas' long-neglected Facebook profiles, Paul Folger admitted he was hashtag-woke to the fake account epidemic. Back in 2012, Paul admitted to interacting with a cat on Facebook. He didn't make an fool out of himself because he accepted the feline friend request. He made a fool of himself because he didn't shout out our mutual Facebook buddy Paseo Catt when he had the chance.
-
#23 Jessica Schambach calls a wedding dress, "cheap shit" on air
In her defense, it was a wedding dress made completely out of toilet paper, so she probably wasn't THAT wrong…
-
Hey Rick, @ounwcm, Saturday April 6th, 2019 in Oklahoma: No SVR Watch ever issued, not one single SVR Warning of ANY type, not one single SVR report of ANY type. SPC reports map TOTALLY BLANK. As native Oklahoman I ask, can you provide insight to this attachment? #okwx #tornado pic.twitter.com/GSJGmov49l

— Mike Morgan (@MikeMorganKFOR) April 7, 2019
#22 Damon Lane prematurely calls first tornado of the season
Last year, Damon Lane tried to claim the first 'nader of the season, but was soon cornered and called out by Mike Morgan and Gary England for being premature on the call. Mike and Gary looked like they were trying to use sophisticated weather lingo prove to Okies on Twitter that they -as native Oklahomans- knew more about severe weather season than Damon. But what they really looked like were a bunch of grown-ass nerds trying to exclude a 13-year-old kid from joining their Dungeons & Dragons campaign.
-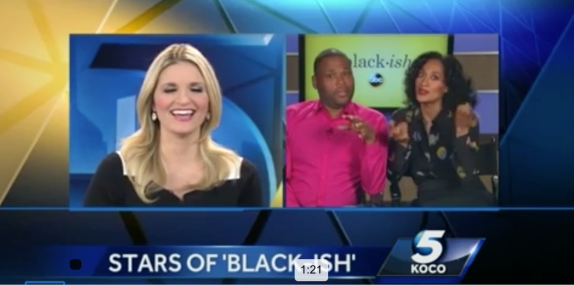 #21 Abigail Ogle gets "trolled" by Black-ish stars
In 2015, KOCO's Abigail Ogle interviewed Anthony Anderson and Tracee Ellis Ross, stars of the TV series Black-ish, and immediately got trolled by the duo. Maybe Anderson really did mishear Abigail when he thought she asked if he had a "back rash" on the show. Or maybe Abigail does a bang-up job researching her interviewees before asking the hard-hitting questions. Either way, you'll have to enjoy the video on KOCO's website link here.
-
-
#20 Mike Morgan makes strange "tornado safe" comments
KFOR ran a story about the Islamaphobia among Oklahoma politicians in 2014 and Mike Morgan followed it up with some awkward comments about comparing prayer by members of the Islamic Society of Greater Oklahoma City to taking tornado-safe precautions. It lead to this "I'm sorry if you're offended" apology:
I wonder what comes to mind when he thinks about how Christians pray…
-
#19 Linda Cavanaugh butchers a delicatessen
Either someone messed up on the teleprompter or Linda Cavanaugh ran out of f*cks to give long before her retirement. Either way, we probably need to back off of ole Linda Cavanaugh because she sounds like any other Oklahoman who tries to pronounce items on a restaurant's menu that aren't in the "American food" section.
-
#18 Amanda Taylor awkwardly compares flying the confederate flag to using racial slurs
Did you know the n-word was once a benign term? American history scholar Amanda Taylor sure thinks so. Watch the cringe worthy clip above, because nothing is more enlightening than two white women discussing what should be considered racist.
-
#17 Chellie Mills calls someone a dildo
Back in 2013, KFOR's own Chellie Mills botched the pronunciation of a guest's name live on a cooking segment, calling the woman a "dildo" and making a real "dick" of herself in the process.
-
#16 Kent Ogle makes jokes about truck stop prostitutes
During a severe weather report in 2014, Kent Ogle went above and beyond his civic and ethical duties as a state-renowned media personality by making sure everyone tuning in knew how to get a "cuddle partner" to share their milk and bread with. 
-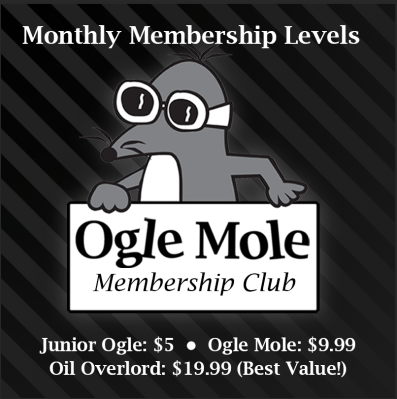 -
This happened on @kfor last night. Can anyone explain what is going on above @JoleenChaney's head? pic.twitter.com/xNaVy6fD8n

— The Lost Ogle (@TheLostOgle) April 4, 2018
#15 KFOR's questionable TV content
In 2018, a redditor pointed out that the wall of televisions behind the anchors at KFOR revealed some guy helicoptering in what appears to be a nude body suit complete with faux pubic hair. With quality entertainment like that to compete with on the TV, it's no wonder why nobody seems to watch the actual news anymore…including those who tune into the news, apparently.
-
#14 News 9 shares recipe for "Pumpkin Cheesecake Dick"
You can follow the recipe posted by News 9 here or you can pick up a bottle of pumpkin spice-flavored lubricant from your friendly neighborhood Patricia's. Because if you can't make your own, store bought is fine.
-
#13 David Payne fooled by a "smudge-nado"
I know that weathermen in this state are known for their twitter-based pissing contests when it comes to making weather predictions. But all the other meteorologists have to give it up for David Payne, because in 2015 he was THE ONLY meteorologist in the state to alert Oklahomans about the potential dangers of the smudge-nado.
-
#12 Jim Gardner follows the wrong car
Last year, News 9 was on the case when some chump allegedly stole a car with two small children inside. Unfortunately for their ratings, Bob Mills Sky News Ranger 9 Chopper Pilot Jim Gardner discovered during the broadcast that he was trailing the wrong car. Whether you want to assign Jim's asshat status for following the wrong car or ignoring officers' warnings to leave the car alone to best protect the suspected children inside, you can pick your poison.
-
@LucasRoss @emilyrsutton and @laceylett going viral over Lucas's #StPatricksDay wipeout! pic.twitter.com/BSo2wC95aF

— Hannah Patterson (@hannahp4tt) March 19, 2018
#11 Lucas Ross being a dweeb
God, Lucas Ross reminds me of that one kid everyone knew in middle school who seemed to have more Jim Carrey impressions than social skills. Remember in 2018 when he "accidentally" fell during an awkward St. Patrick's Day-inspired jig? Lucas Ross remembers. He had probably been rehearsing it for weeks!
-
-
#10 David Payne proclaims "that mouth is open for business"
You're got-damn right it is, David Payne.
-
#9 KFOR tells us to get our "willies" out
During a snow-pocalypse in 2016, KFOR urged its dear followers on twitter to be weather-aware and get their "willies" out. The social media team for KFOR then clarified that they meant, "wellies," as in boots, and not "willies" after all. But which set of directions do you think Oklahomans most likely followed? I'll give you a hint…
My willie is out. What do I do next? https://t.co/PJ53PGgqzB

— The Lost Ogle (@TheLostOgle) December 14, 2016
Yep.
-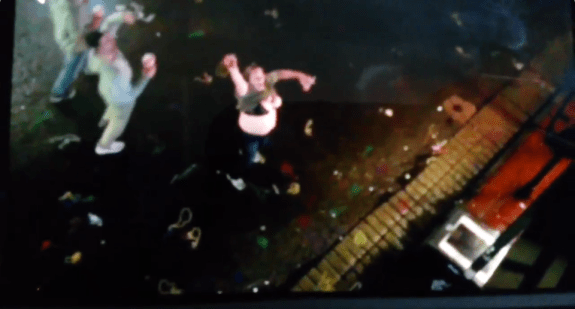 #8 Dean Blevins tweets a flasher
Only a couple of weeks after KFOR urged viewers to get their willies out, Dean Blevins tweeted a photo of someone's daughter getting something else out as she apparently flashed Bourbon Street. It lead to a two week suspension for Dean The Stream. Whether it's for taking photos, promoting stories, or appreciating naughty bits, the Oklahoma media circuit is sure great at providing exposure.
-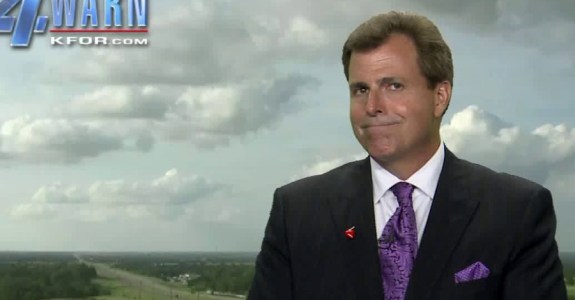 #7 Mike Morgan tells viewers to move out of the way to avoid a tornado
In 2013 Mike Morgan allegedly told his viewers to head south to avoid a tornado, which quickly and suddenly switched gears and headed straight toward those fleeing. That day, probably hundreds of Oklahomans (including me…) ignored 15+ years of tornado drill experience brought to us by the Oklahoma public school system and chose to drive during a tornado warning instead of take cover.
-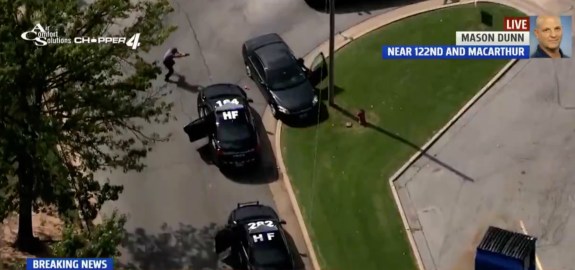 #6 KFOR and News 9 films a guy's death
Back in September, choppers from News 9 and KFOR covered a police pursuit-turned shooting death on live TV. I don't know what makes KFOR and News 9 more of assholes: that they filmed a car chase without delay that inadvertently televised a man's death or that they still have the footage up on their respective twitters for the world to see.
#5 Everything Meg Alexander
The 2010s seemed to be a wild ride for Meg Alexander. While at KFOR during the first half of the decade, she was known for her "college freshman after their first ever hit of ditch weed explaining intro to Philosophy" demeanor, horrible sneakiness skills, and being snubbed by Mary Fallin during the ice bucket challenge. After parting ways with KFOR after years of service, Meg found herself hosting Living Oklahoma!, a cable news program on KOKH Fox 25 that appeared to cater to fans of good, clean fun and day-drinking alike.
However, after a series of interviews appeared to show Meg acting like Meg Alexander, it appeared Meg was no longer part of the Living Oklahoma! team. Since her tweets are protected and Facebook page is rarely updated, it's hard to tell what Meg Alexander is up to nowadays. But KFOR still has her awkward, "about me" up on their website, so it's almost like she never left the broadcasting business at all.
-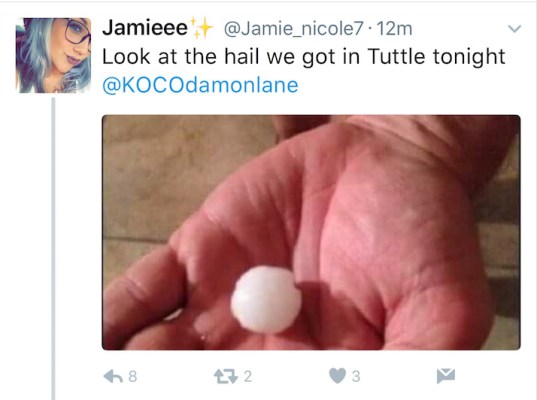 #4 Damon Lane tweeted a picture of some dude's dick
In 2017, Damon Lane accidentally tweeted a picture of hail that apparently included some dude's dick. In Damon Lane's defense, he at least evaluated the piece of hail well enough to conclude it wasn't a faked photo.
-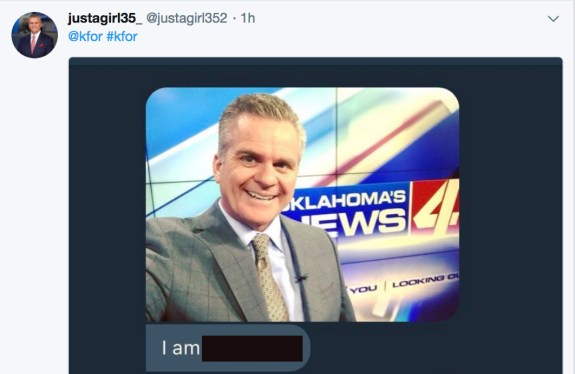 #3 Lance West's sexting scandal
In 2018 Lance "Danger" West (whose awkward "about me" is also still up on KFOR) resigned from his post after screenshots appeared online that showed Lance engaging in some graphic sexy time-inspired while on the KFOR set. After resigning, he was quickly hired by Pete Bryzick as a contributor for The Gazette, and then just as quickly – and despite assurances that they didn't care about his sexting scandal – let go as contributor for The Gazette. Now, true to his danger nickname, Lance works in communications for the Department of Corrections.
-
#2 Alex Housden compares Jason Hackett to a baby gorilla
Last year, KOCO's Alex Housden made a tearful apology to Jason Hackett after she compared Hackett to a baby gorilla on a previous newscast. We're not sure if the tears were part of a sincere apology or the simple realization that her career goals in local news media will now likely never be achieved (maybe both?), but judging by the racist comments made by pseudonyms on the internet, it seems like a lot more Oklahomans need to do some quiet reflection followed by apologizing as well.
-
#1 Emily Sutton said a bad word
In the biggest scandal to ever hit the Oklahoma media circuit, in 2014 Emily Sutton, the severe weather princess and physical manifestation of everything pure and kind in this world, made children and daffodils weep as she appeared to drop the "s" word live on air. Since then, Emily's tried to clean up her image by playing with koalas and baking cookies in her car. But ultimately, she knows we'll never view her in the same way again.
Stay in touch
Sign up for our free newsletter