Food
TLO Restaurant Review: Clark Crew BBQ
3:28 AM EST on February 18, 2020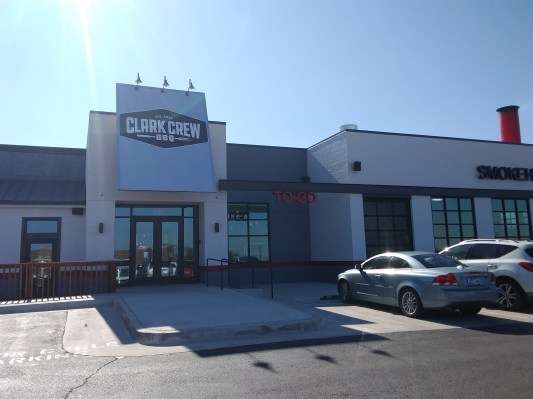 Northwest Expressway is a traffic-riddled stretch of road that mainly features restaurants that your less than likable parents would probably pick for dinner, with safe-as-milk options like the Olive Garden, Outback Steakhouse and On the Border. But, on the ancient ruins of a long-dead Macaroni Grill, sits the recently opened Clark Crew BBQ.
At first glance, it too looks like every other corporate eatery down the Expressway, but it's very much a local thing, based around owner Travis Clark's supposedly world-famous BBQ. According to the menu, he's won well over 700 awards including Oklahoma Team of the Year. But, I wonder…could he win this lovable lug's engorged heart?
TLO editor Patrick, bi-curious about the place himself, invited me to a Valentine's Day lunch at Clark's, knowing full well that, otherwise, I'll probably be sitting at home all by my lonesome, basting a low-fat turkey sandwich and glass of skim milk in my fragile tears. That's no way to live and an even worse way to love.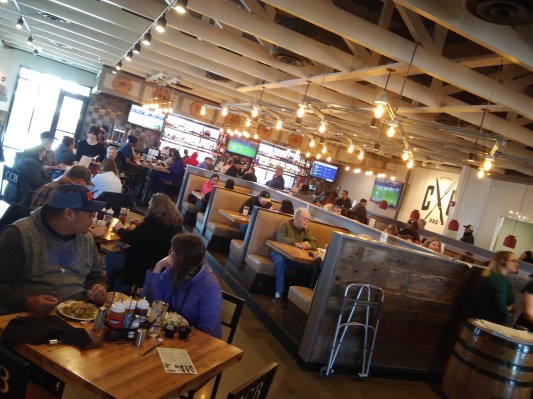 The parking lot extravagantly full, especially for 2pm on a Friday, when we walked in to the freshly reconstructed building we were immediately greeted by said awards on all sides, as well as a fifteen minute wait for a table. Many area couples of varied romantic abilities were wooing each other early this year, usually over brisket and beans.
Eventually we took a seat by the bar in high-back chairs that imprinted the CCB logo deep into our back-fat, as I looked at the menu, I was taken a bit aback by the somewhat higher-than-usual prices. However, Patrick told me this was his treat and to get whatever I wanted—this was already a great date and I didn't even have to put out.
The appetizer did present a small problem: though we're usually in agreement on most things, I very much wanted to sample the House Fried Crispy Pork Rinds—how often do you get something like that?—but he wanted the smoked-then-fried Chicken Wings ($7.00). In an act of thankfulness for his Valentine's generosity, I relented.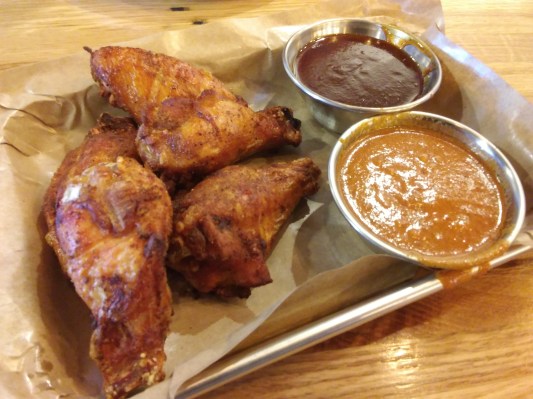 Served with two sauces—the championship-winning BBQ and a sweeter wing elixir—the five or six plump wings, served on a metal tray, were a definite gold medalist in the category of apps. With the wing-branded sauce being the perfect dip, the taut musculature of the chicken wings dutifully delivered a smoky—and then fried—taste that could've been the whole meal.
When it came to our main eats, Patrick went in for the basic 3 Meat Tray ($24.00), and their highly masculine Snake River Farms American Wagyu beef. I said damn it all to hell though, and ordered the 5XL ($20.00) sandwich, both my former shirt size and a sandwich that included just about every single meat on the menu, courting an immediate return to that comically large pullover.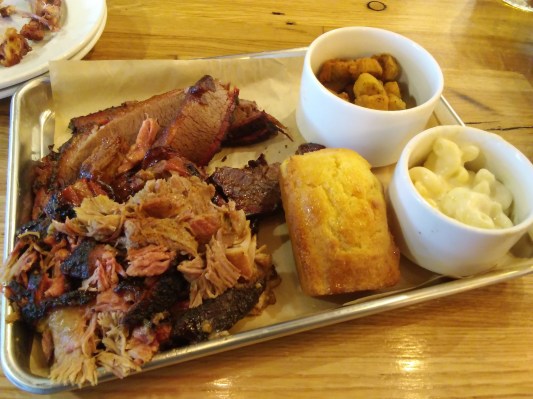 On his 3 Meat Tray, Patrick enjoyed the sliced brisket and a helping of naked burnt beef ends, as well as a daring heap of chopped pork. As great as the premium brisket and chopped pork truly was, it was the rich and domineering burnt beef ends that won the first place certificate of my girded loins, with the sweet cornbread and fried okra working the haunches.
And while that was all well and good, my 5XL was an extra-extra-extra-extra-extra powerful meat-made romance. Filled with over one pound of smoked bologna medallions, chopped pork, chopped brisket, jalapeno sausage and, impaled by toothpicks, topped with an embarrassingly obese set of ribs, this sandwich squeezed my ass and seductively cooed Johnny Gill's "Rub You the Right Way" into my left ear.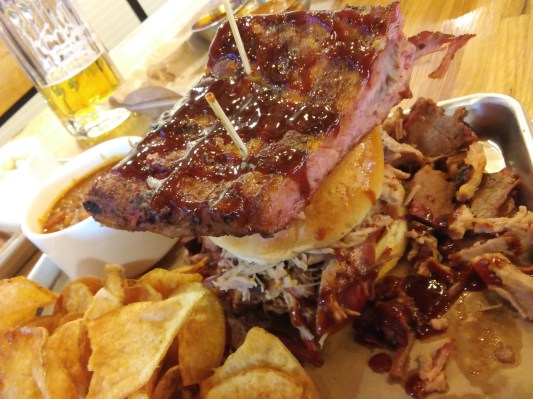 Lord knows I tried, but I was barely able to fit this sandwich in my mouth; I nibbled on a large portion of the overflowing mélange of meats and the championship BBQ beans ($3.00) before I started to feel like I was going to pass out from a meaty overload. I threw down my flag before I even really started, packing what I could into a takeout box.
Even then, I couldn't leave Clark's without trying a popular dessert. With just a small bit of room left to digest, I ordered the 180 World Championship Pecan Pie Trifle ($6.00), served in a small glass jar. It was definitely in a league of its own, as the homegrown pecans, sweet cream, and crumbly graham cracker crust started to loosen my aged teeth with a newfound sweetness.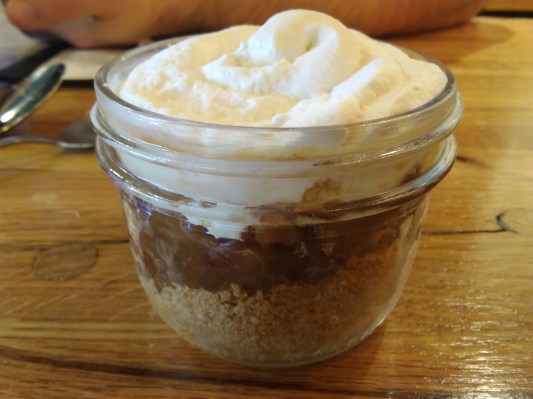 As I crawled into bed alone that satin and silky evening, I was supremely satisfied with what was the most meat-infused man-date I've had in months, the leftover award-winning BBQ sauce dripping onto my bedsheets as I tried one more time to wrap my lips around that intimidating 5XL. Cómpralo ya!
_
Follow Louis on Twitter at @LouisFowler and Instagram at @louisfowler78.
Stay in touch
Sign up for our free newsletter