events
TLO Restaurant Review: Poe Bouyz House
3:42 AM EST on February 13, 2020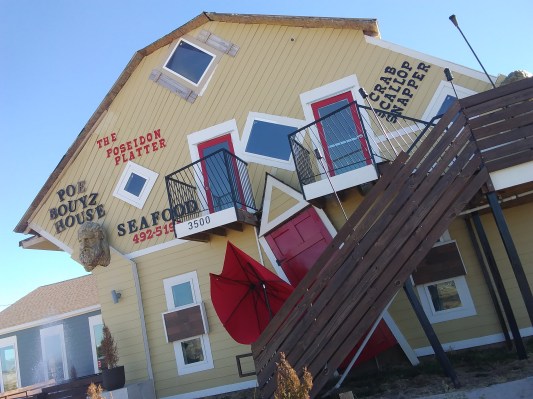 (Throughout the month of February, every Thursday TLO will celebrate and highlight various Black-owned eateries across the OKC Metro. – Louis)
There are very few Oklahoma Cityans that haven't driven by that funky-ass house on the I-35 Service Rd. and wondered what the heck is going on in there and, until I stopped in, I was one of them.
Maybe it's giving away a surprise that you should really discover on your own, but behind the skewed doors and twisted windows of Poe Bouyz House, 3500 N. I-35 Service Rd., is actually a seaworthy restaurant specializing in a waterlogged bounty that would leave the god Agwé adjusting his navel-issue belt a notch or two.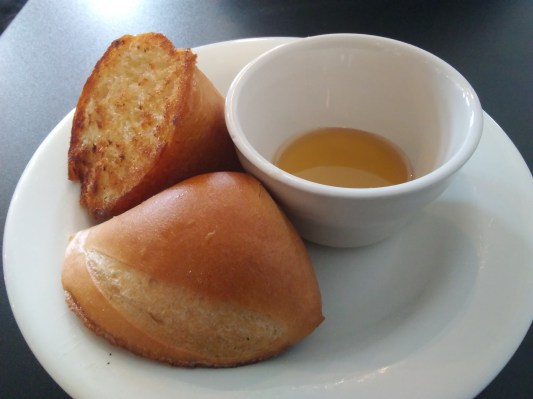 Needing a bit of hunger-based help for this outing, I asked my gal-pal Jodie to come ashore with me. The absolutely accommodating waitress seated us and immediately brought out a couple of large hunks of their homemade French bread with a bit of local honey to skinny-dip them in.
Now I very rarely talk about the free starters anymore—mostly because they are usually too mundane to mention—but this fresh-baked bread is a Jean Valjean-esque meal by itself. Steam rising as I tore into the crusty piece, the honey was a sweet compliment that left me wishing they had a few of the hearty loaves for sale.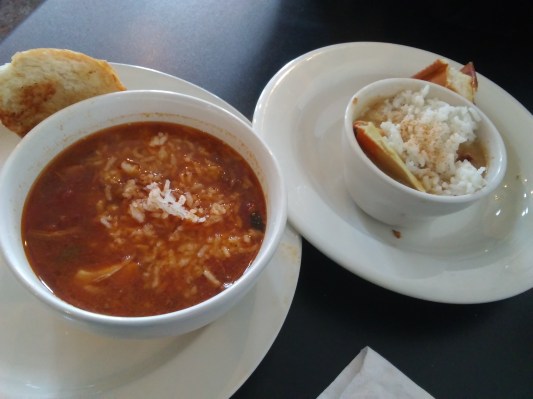 The appetizers were also quite the incentive to get your nautical needs to Poe Bouyz. We ordered cups of the Seafood Gumbo ($5.00) and the Chicken & Sausage Jambalaya ($5.00), both hearty helpings of the seafood stews that magically warmed our pickled innards with every charmed sip.
The chicken and Andouille sausage was everything that a good bowl of jambalaya should be, but the gumbo, a mixture of beneficially-spiced shrimp, chicken, crawfish, fish, blue crab and God knows what else served with rice—with a mighty claw sticking out of it—was practically art, the haunting image of an unholy sea cursed (blessed?) with an undeniable taste of its own opulence.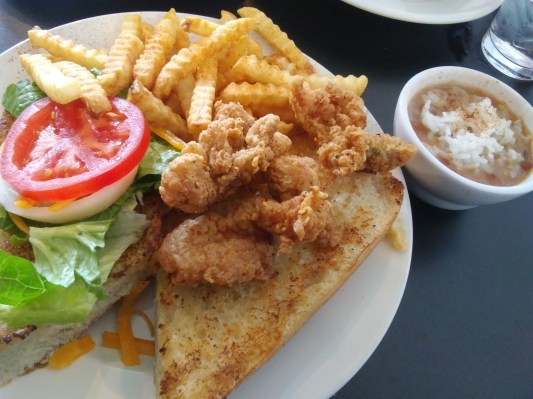 With very little room left in our stomachs, we forded this gulf of nourishment on to our entrees. Always looking for a new sapor on my wet tongue, I enjoyed the bayou-exotica of an Alligator Sandwich ($13.00). Served on the same French bread with the usual toppings—lettuce, tomatoes, onions and cheese—as well as a liberal dosage of hot sauce, the plentiful bits of fried alligator were an earthy treat with the flavorsome meat doing most of the heavy biting.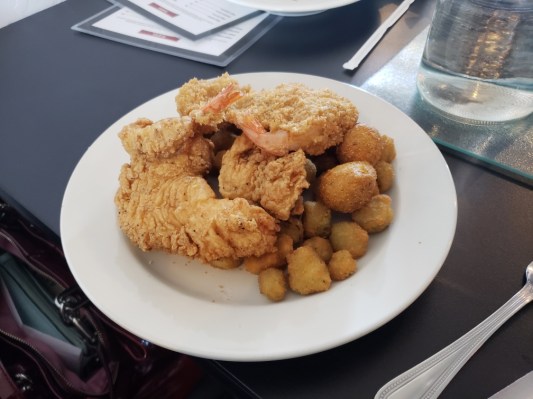 And even though I tried to talk her into getting a jump on the Frog Legs, Jodie ordered something that at any other place would be a bit banal, the Fried Shrimp Platter ($11.00). However, with Poe Bouyz specially-combined spices covering every inch of that perfectly fried outside, it was obvious these weren't some Long John Silver's meal deal; the jumbo shrimp sang a shanty with each sampling, and a rousing one at that.
Sure, being in Oklahoma, Poe Bouyz is as landlocked as they come—the makeshift fountain outside with hurdy-gurdy rubber hoses running everywhere was more than evident of that—but, if you ask me, skip the overpriced Lake Hefner-set pirate platters and head through that tilted warp of a useful door to clench your own alligator jaws around this obviously sui generis seafood. Cómpralo ya!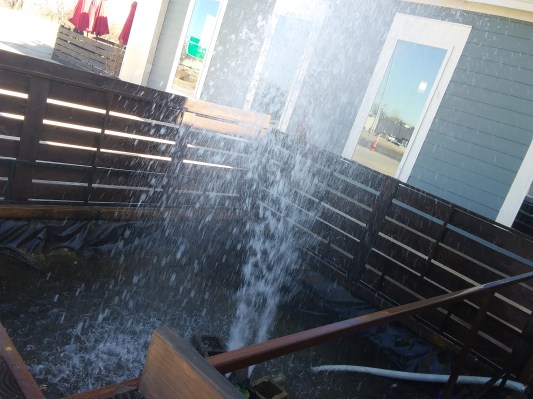 _
Follow Louis on Twitter at @LouisFowler and Instagram at @louisfowler78.
Stay in touch
Sign up for our free newsletter