Everything Else
Conway Twitty and OKC's Forgotten Twitty Burger
10:18 AM EST on February 3, 2020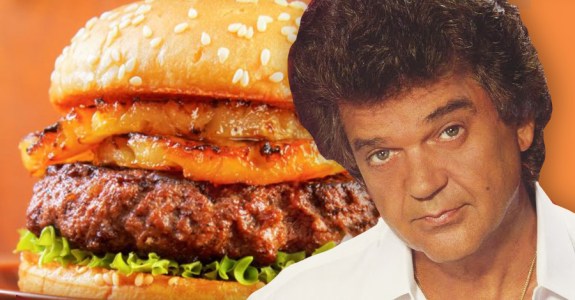 Long before Toby Keith or Blake Shelton ever darkened this state's dining doorways with overpriced fried bologna sandwiches and Slim Jim-heavy margaritas, throughout most of the sixties and seventies country crooner Conway Twitty made Oklahoma City his base of operations for the thoroughly unique Twitty Burger eatery.
Even though Twitty had chart success with classic tunes like "Lonely Blue Boy," "Hello, Darlin'" and "It's Only Make Believe," he eschewed Nashville's trappings, making a home on S. Villa in OKC in a modest three-bedroom house. With the fame and fortune of a country music career seemingly not enough for him, Twitty was always looking for something else to fulfill him.
He found it in 1968 in the form of a thick sirloin hamburger with a Hawaiian twist: a deep-fried pineapple ring coated in graham cracker crumbs, placed right on top of the meat.
Using cash he borrowed from pals like Merle Haggard and Sonny West, he opened the first—and only—Twitty Burger, 7200 S. Western. With a grand opening guest-list that reads like a who's who of classic country—Porter Wagoner, Dolly Parton and Don Gibson, to name a few—that showed up and performed for the crowd of burger eaters, the place was an immediate success;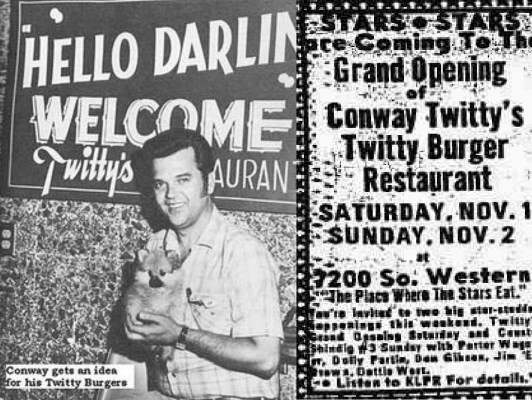 But, much like the music charts, Okie hunger is fickle mistress and, by 1971, Twitty Burger was sadly out of business. To add insult to injury, the restaurant got Twitty into all kinds of trouble with the taxman; luckily, the judge was a Twitty fan and ruled that his dubious deductions were on the up and up, letting him know in a song he wrote and performed in court.
(Long gone, the vaunted location is currently home to Southwest Monument, in case you ever need a tombstone.)
Eventually, Twitty left Oklahoma City and moved to the wide open spaces of Hendersonville, Tennessee, opening up Twitty City, a "country music entertainment complex." It remained a popular attraction well into the nineties, when he died of an abdominal aortic aneurysm after a show in Branson, Missouri at the age of 59.
Even though Twitty is just a memory now, the recipe for the Twitty Burger still lives on in the clogged hearts and heavy souls of his fans. Take a gander at these ingredients…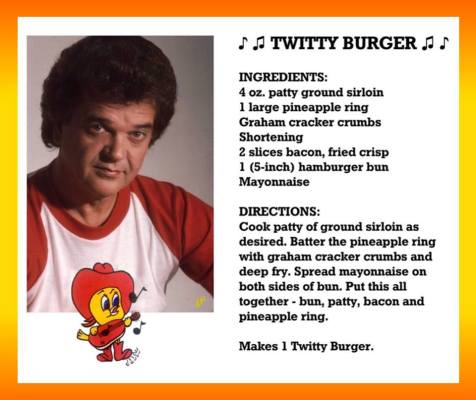 I made my own (somewhat) healthier variation of the Twitty Burger this past weekend, using lean ground beef, lean bacon and olive-oil mayo slathered on a whole wheat bun. I cooked the hamburger meat and graham cracker-covered pineapple rings in the oven as well, causing the kitchen to smell more like a cake than a burger—I like to think that it was Twitty's rockabilly spirit looking over my shoulder.
And while I'm sure that the  Twitty Burger caused more than one pair of tight fittin' jeans in the Metro, my version was a tasty treat that I didn't have to feel as guilty about. Still, the original Twitty Burger, a long lost local classic, truly is a piece of country music history that Oklahoma City should really experience all over again.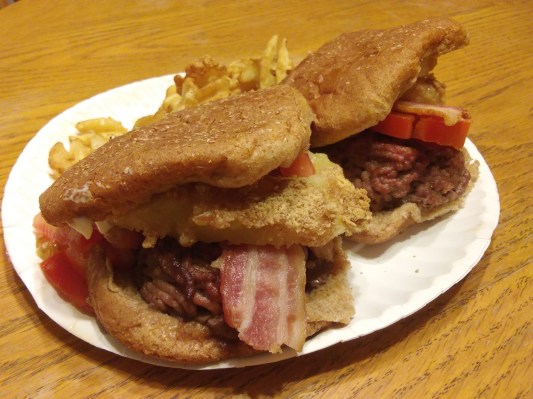 _
Follow Louis on Twitter at @LouisFowler and Instagram at @louisfowler78.
Stay in touch
Sign up for our free newsletter