OKC Media
Top 25 OKC TV News Blunders of the 2010s (Part 2)
2:58 PM EST on January 29, 2020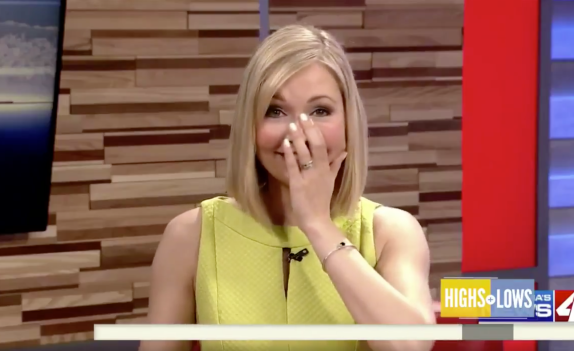 Welcome back to TLO's review of the top TV news blunders of the 2010s! In part two, we dive a little bit deeper into nutty and scandalous antics of our beloved local media personalities. Come for the accidental nudity. Stay for the schadenfreude.
15 - 6 are below. You can view 25 - 16 here:
This happened on @kfor last night. Can anyone explain what is going on above @JoleenChaney's head? pic.twitter.com/xNaVy6fD8n

— The Lost Ogle (@TheLostOgle) April 4, 2018
#15 KFOR's questionable TV content
In 2018, a redditor pointed out that the wall of televisions behind the anchors at KFOR revealed some guy helicoptering in what appears to be a nude body suit complete with faux pubic hair. With quality entertainment like that to compete with on the TV, it's no wonder why nobody seems to watch the actual news anymore…including those who tune into the news, apparently.
-
#14 News 9 shares recipe for "Pumpkin Cheesecake Dick"
You can follow the recipe posted by News 9 here or you can pick up a bottle of pumpkin spice-flavored lubricant from your friendly neighborhood Patricia's. Because if you can't make your own, store bought is fine.
-
#13 David Payne fooled by a "smudge-nado"
I know that weathermen in this state are known for their twitter-based pissing contests when it comes to making weather predictions. But all the other meteorologists have to give it up for David Payne, because in 2015 he was THE ONLY meteorologist in the state to alert Oklahomans about the potential dangers of the smudge-nado.
-
#12 Jim Gardner follows the wrong car
Last year, News 9 was on the case when some chump allegedly stole a car with two small children inside. Unfortunately for their ratings, Bob Mills Sky News Ranger 9 Chopper Pilot Jim Gardner discovered during the broadcast that he was trailing the wrong car. Whether you want to assign Jim's asshat status for following the wrong car or ignoring officers' warnings to leave the car alone to best protect the suspected children inside, you can pick your poison.
-
@LucasRoss @emilyrsutton and @laceylett going viral over Lucas's #StPatricksDay wipeout! pic.twitter.com/BSo2wC95aF

— Hannah Patterson (@hannahp4tt) March 19, 2018
#11 Lucas Ross being a dweeb
God, Lucas Ross reminds me of that one kid everyone knew in middle school who seemed to have more Jim Carrey impressions than social skills. Remember in 2018 when he "accidentally" fell during an awkward St. Patrick's Day-inspired jig? Lucas Ross remembers. He had probably been rehearsing it for weeks!
-
#10 David Payne proclaims "that mouth is open for business"
You're got-damn right it is, David Payne.
-
#9 KFOR tells us to get our "willies" out
During a snow-pocalypse in 2016, KFOR urged its dear followers on twitter to be weather-aware and get their "willies" out. The social media team for KFOR then clarified that they meant, "wellies," as in boots, and not "willies" after all. But which set of directions do you think Oklahomans most likely followed? I'll give you a hint…
My willie is out. What do I do next? https://t.co/PJ53PGgqzB

— The Lost Ogle (@TheLostOgle) December 14, 2016
Yep.
-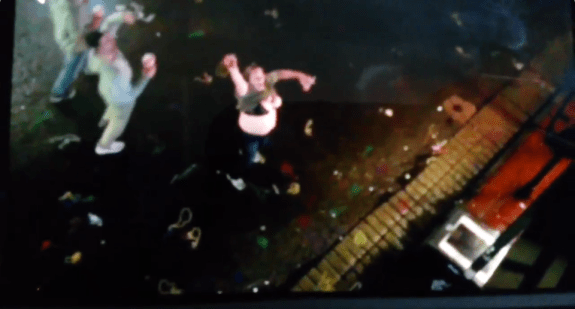 #8 Dean Blevins tweets a flasher
Only a couple of weeks after KFOR urged viewers to get their willies out, Dean Blevins tweeted a photo of someone's daughter getting something else out as she apparently flashed Bourbon Street. It lead to a two week suspension for Dean The Stream. Whether it's for taking photos, promoting stories, or appreciating naughty bits, the Oklahoma media circuit is sure great at providing exposure.
-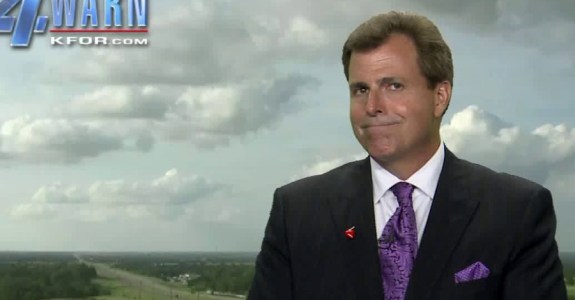 #7 Mike Morgan tells viewers to move out of the way to avoid a tornado
In 2013 Mike Morgan allegedly told his viewers to head south to avoid a tornado, which quickly and suddenly switched gears and headed straight toward those fleeing. That day, probably hundreds of Oklahomans (including me…) ignored 15+ years of tornado drill experience brought to us by the Oklahoma public school system and chose to drive during a tornado warning instead of take cover.
-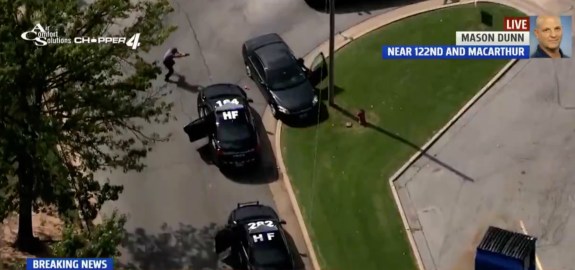 #6 KFOR and News 9 films a guy's death
Back in September, choppers from News 9 and KFOR covered a police pursuit-turned shooting death on live TV. I don't know what makes KFOR and News 9 more of assholes: that they filmed a car chase without delay that inadvertently televised a man's death or that they still have the footage up on their respective twitters for the world to see.
Just wait until you see the top 5. Follow Hayley on twitter @squirrellygeek
In my spare time, I officiate secular weddings, read about dead people, and search for the American Dream.
Stay in touch
Sign up for our free newsletter