OKC Media
Top 25 OKC TV News Blunders of the 2010s (Part I)
11:58 AM EST on January 27, 2020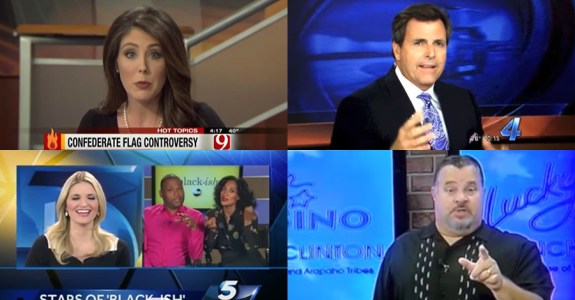 They say be careful what you put on the internet, because it will be around forever. Which is why I am glad that YouTube and social media really became a *thing* long after I left the awkward stages of middle school. Unfortunately for today's 8thr graders and news anchors across the metro, the internet really does catalogue things forever.
But fortunately for you, we've collected the best bloopers, blunders, gaffes in the local TV news media from the last 10 years.
You're welcome, Oklahoma. Now here's numbers 25-16….
#25 Regular Jim Traber warns Bob Stoops to lookout for Bob Stoops
In Regular Jim Traber's defense I don't know jack shit about sports, so half of whatever comes out of his mouth doesn't make sense to me to begin with. But in 2013, you can watch Jim become visibly disappointed in himself when he flubs up live on Fox 25 by warning Bob Stoops that he will soon be an underdog to the one and only…Bob Stoops.
-
#24 Paul Folger befriends cats
Before the world knew just how many Russian bots were taking over our grandmas' long-neglected Facebook profiles, Paul Folger admitted he was hashtag-woke to the fake account epidemic. Back in 2012, Paul admitted to interacting with a cat on Facebook. He didn't make an fool out of himself because he accepted the feline friend request. He made a fool of himself because he didn't shout out our mutual Facebook buddy Paseo Catt when he had the chance.
-
#23 Jessica Schambach calls a wedding dress, "cheap shit" on air
In her defense, it was a wedding dress made completely out of toilet paper, so she probably wasn't THAT wrong…
-
Hey Rick, @ounwcm, Saturday April 6th, 2019 in Oklahoma: No SVR Watch ever issued, not one single SVR Warning of ANY type, not one single SVR report of ANY type. SPC reports map TOTALLY BLANK. As native Oklahoman I ask, can you provide insight to this attachment? #okwx #tornado pic.twitter.com/GSJGmov49l

— Mike Morgan (@MikeMorganKFOR) April 7, 2019
#22 Damon Lane prematurely calls first tornado of the season
Last year, Damon Lane tried to claim the first 'nader of the season, but was soon cornered and called out by Mike Morgan and Gary England for being premature on the call. Mike and Gary looked like they were trying to use sophisticated weather lingo prove to Okies on Twitter that they -as native Oklahomans- knew more about severe weather season than Damon. But what they really looked like were a bunch of grown-ass nerds trying to exclude a 13-year-old kid from joining their Dungeons & Dragons campaign.
-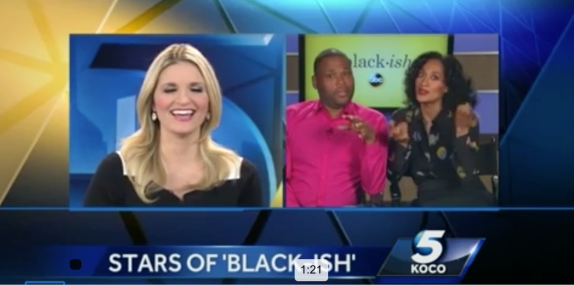 #21 Abigail Ogle gets "trolled" by Black-ish stars
In 2015, KOCO's Abigail Ogle interviewed Anthony Anderson and Tracee Ellis Ross, stars of the TV series Black-ish, and immediately got trolled by the duo. Maybe Anderson really did mishear Abigail when he thought she asked if he had a "back rash" on the show. Or maybe Abigail does a bang-up job researching her interviewees before asking the hard-hitting questions. Either way, you'll have to enjoy the video on KOCO's website link here.
-
#20 Mike Morgan makes strange "tornado safe" comments
KFOR ran a story about the Islamaphobia among Oklahoma politicians in 2014 and Mike Morgan followed it up with some awkward comments about comparing prayer by members of the Islamic Society of Greater Oklahoma City to taking tornado-safe precautions. It lead to this "I'm sorry if you're offended" apology:
I wonder what comes to mind when he thinks about how Christians pray…
-
#19 Linda Cavanaugh butchers a delicatessen
Either someone messed up on the teleprompter or Linda Cavanaugh ran out of f*cks to give long before her retirement. Either way, we probably need to back off of ole Linda Cavanaugh because she sounds like any other Oklahoman who tries to pronounce items on a restaurant's menu that aren't in the "American food" section.
-
#18 Amanda Taylor awkwardly compares flying the confederate flag to using racial slurs
Did you know the n-word was once a benign term? American history scholar Amanda Taylor sure thinks so. Watch the cringe worthy clip above, because nothing is more enlightening than two white women discussing what should be considered racist.
-
#17 Chellie Mills calls someone a dildo
Back in 2013, KFOR's own Chellie Mills botched the pronunciation of a guest's name live on a cooking segment, calling the woman a "dildo" and making a real "dick" of herself in the process.
-
#16 Kent Ogle makes jokes about truck stop prostitutes
During a severe weather report in 2014, Kent Ogle went above and beyond his civic and ethical duties as a state-renowned media personality by making sure everyone tuning in knew how to get a "cuddle partner" to share their milk and bread with. 
Stay tuned for the next 15! Then follow Hayley on Twitter @squirrellygeek
In my spare time, I officiate secular weddings, read about dead people, and search for the American Dream.
Stay in touch
Sign up for our free newsletter