events
Ghost-lahoma City! Touring haunted Bricktown with Jeff Provine
9:36 AM EDT on October 24, 2019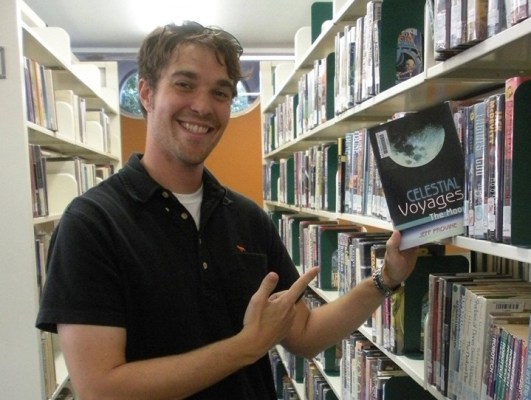 Oklahoma City, in case you didn't know, has got a whole Hell of a lot of ghosts.
Jeff Provine, a Professor of English at Oklahoma City Community College, moonlights as Oklahoma's premier spectral scribe, having written Campus Ghosts of Norman and Haunted Norman and co-written Haunted Guthrie and Haunted Oklahoma City with Tanya McCoy, as well as the horror anthology of illustrated urban legends titled 31 Ghost Stories with artist Ellis Goodson.
Provine also happens to be the mysterious mastermind behind both Oklahoma City Ghost Tours and Norman Ghost Tours, special programs where he leads groups of corpse-conscious individuals through some of the most haunted areas of town. I met up with him in Bricktown before a recording of The Lost Ogle Show for a private tour through the Okie afterlife.
"In 2009, I did a backpacking trip through England, where every town seems to have its own ghost tour," Provine related. "That fall, I wondered if we might have a few ghost stories here in Oklahoma and started digging. Turns out, we are jam-packed with ghost stories! So many of them are personal remembrances and oral histories that I've found my passion in getting them recorded so we all can experience a little of the spooky side."
As we walked past the Harkins Theatre and all the storefronts facing Reno, Provine told me that the surroundings were built upon the first cemetery in Oklahoma City; it was in the Starbucks where people have told him about a mischievous ghoul that loves to mess with people in their most intimate of moments. I could feel my nethers retract with a cold shiver.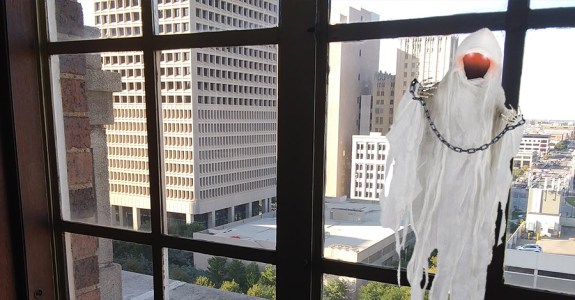 Provine believes that these tours are a "great way" to tell the stories in-person, using his love of both the historical and the hysterical to relate to patrons stories about Oklahoma's past, from the frighteningly funny to the straight-up scary as Hell.
"I've always been unnerved by the cases of students being attacked at the old building at 700 Elm Ave. in Norman, which was torn down in 2010," Provine said in a somewhat hushed tone. "While a boarding house, it was exorcised in 1973, and all through 2000 until its demolition, people reported strange feelings and disappearances. An article from The Oklahoman said a spirit claimed to a medium that it was a sorority girl who disappeared from the rolls—she had actually just gotten married and moved away—but the idea it could lie so with such detail is all the more unnerving."
As we strolled past the old factories and current breweries on S. Oklahoma Ave., Provine animatedly relayed the stories of perished pranksters that get their tombstones off by pulling jokes on the helpless workers, hiding items and causing undue stress for laughs from beyond the grave. As we pass the old stables, I ask him about animal apparitions; a smile cracks his face as he tells me about Mex.
"The story of Mex the dog is a personal favorite; he's the most adorable ghost ever," Provine started. "Mex, a little terrier, was the mascot for OU's football team from 1914 to 1928. When he passed away, the school shut down and 4,000 people attended his funeral procession down Lindsey Street, leading to his burial at the fifty-yard line of Owen Field. They say he still attends the games, licking players' fingers and leaning up against photographers, not to mention howling every time there's a kick."
Boooooo-mer Sooner?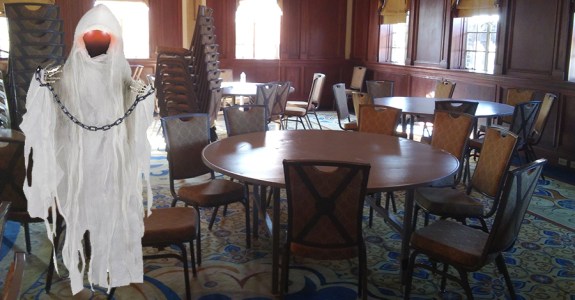 A few blocks down, we reached probably the most famous cold spot in Oklahoma City for sightings and such, the Skirvin Hilton Oklahoma City. While, during tours, Provine usually stays outside of these Bricktown establishments, being the espiritual rebelde that I am peer-pressured him to sneak into the famed hotel and go right to the top—or at least near the top—in a bid to find supernatural revenants.
"There is always a little fun in the macabre, getting a thrill from being spooked," Provine said in the elevator up. "The historical aspect is a blast as well, seeing how it ties with places and people we know. It's also comforting to think that these are evidence that we don't just switch off when we die; some part of us passes on…or sometimes sticks around."
Reaching the somewhat grand ballroom at the top of the Skirvin, Jeff told me about the big band music that's been overheard here, even if all we heard was the canned music being piped in. Still, though we saw no spirits, phantasms or orbs, I can't deny there wasn't a creepy feeling of dread that we felt as we tip-toed around; I wonder if the young maid Effie, that William Skirvin impregnated and is said to haunt these halls, was watching my every move?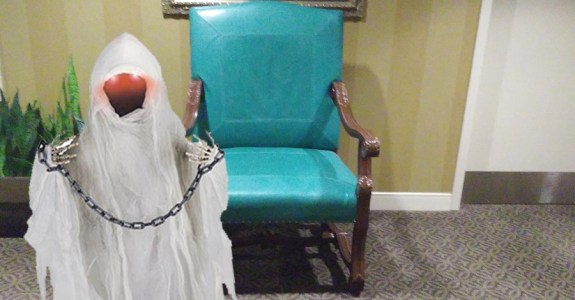 As we made our way down to the underground tunnels so Provine could point-out Skirvin's haunted chair where people have found glasses and bottles littered about at times, Provine told me that he's currently working on his latest book, a state-wide tome called Haunted Oklahoma, telling tales of the Spooklights to the Parallel Forest and every other spirited sighting far and wide.
And even though I wasn't slimed during that tour, I still want to believe; Provine, on the other hand, definitely does.
"I am a believer in ghosts," Provine proclaimed. "I'm a very skeptical, pretty much cynical, person, but I've talked to so many people who have experienced so much that there is definitely something going on. I feel that there is a wide range of things out there beyond our immediate senses and we only understand the tip of the iceberg."
_
For more information on Jeff's ghost tours and related books, go to JeffProvine.com.
Follow Louis on Twitter at @LouisFowler and Instagram at @louisfowler78.
Stay in touch
Sign up for our free newsletter