Food
Shotgun Sam's: My Introduction to the OKC Dining Scene
8:58 AM EDT on August 29, 2019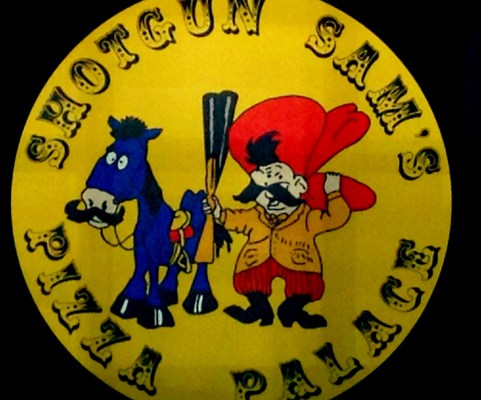 When it came to eating at restaurants, it was never about seeking out new and unique tastes whenever I was dining with my parents—it was always about how much food can they get and how much does it cost. It's a very Oklahoman Texan way to go about your eating habits, one filled with burger deals and buffet lines, a manner of consuming that I fully believe killed my father.
But, for a brief rotund second in early 1990, I thought that was all going to change when we ate at a real restaurant here in Oklahoma City—well, about as real as I could ever get my parents to go to—but still, with not a tray-warmer or greasy pair of tongs in sight, I counted it as somewhat of a decrepit win at my young age.
Our moving truck pulled into the Mayfair neighborhood around five or so in the evening. Too tired from the long drive from Blooming Grove, Texas, we each grabbed a bit of luggage and made a slight sleeping space in the pre-selected rooms of our new house on N.W. 47th. Moving into town with very little cash, we would be able to eat out that night, but it looked like biscuits and gravy and other assorted breakfast foods for the rest of the week which, to be honest, I had no problems with.
Piling in the car and driving down May Ave. for the first time, it very well could have been New York to me, my jaw momentarily agape at the sights and sounds of living in an actual city; from the Taco Tico up the block to the Lynn Hickey Dodge down the street, coming from a place where tractors and pickup trucks that gathered at the A-1 filling station on the edge of town was the biggest thing to do on a Saturday night, it was quite overwhelming to a naïve 12-year-old.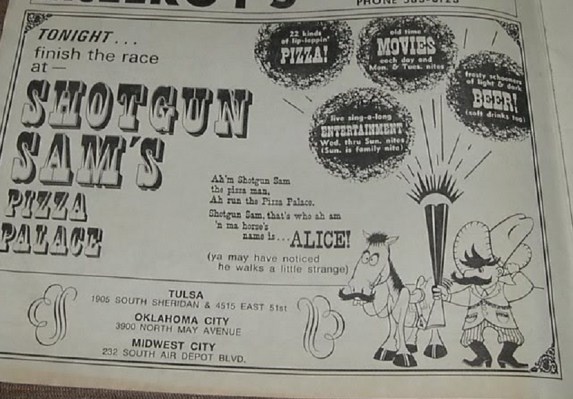 While my parents were obviously looking for cheap eats of some type, they turned left around 39th street and into the parking lot of a place called Shotgun Sam's, a western-themed eatery that I'm sure reminded my father of a K-Bob's or other similarly themed budget steakhouse with a salad bar—a place where he could chow down on some cheap meat while the rest of us would have some chicken tenders or something equally kid-friendly.
Imagine our surprise—and my father's anger—when it turned out to be an old west pizza joint; pizza was my father's most disliked meal and I'm sure that the fact a western theme had been bastardized in such a way like this surely steamed him even more. But, with three kids who had not only seen that it was pizza but also arcade games and other cheap frills, in a rare moment of kindness, he relented and we pulled up to a table.
Having never been to a pizza place before—the only pies our family ever had growing up were Totino's Party Pizzas, still the only pizza I truly like—my father ordered for us; sure, there were tempting selections with names like the Ace of Spades, the Colt .45 and the Irish Cowboy, but he just ordered one large pepperoni pizza, for about five or six bucks, with five water cups, please. Joke was on him though: that was the Shotgun's Favorite.
As my mom stuffed a handful of napkins (for toilet paper, natch) in her purse, our lone pizza arrived, pre-sliced and ready to eat; of course, as we each gingerly nibbled on our solitary slice of pepperoni, the pre-ordained buzzes and bleeps of the video games were like a digital siren's song, one that we could only look at and never truly play, which at the time was a bit of youthful torture, but, as an adult now, I too find them to be an irritating nuisance.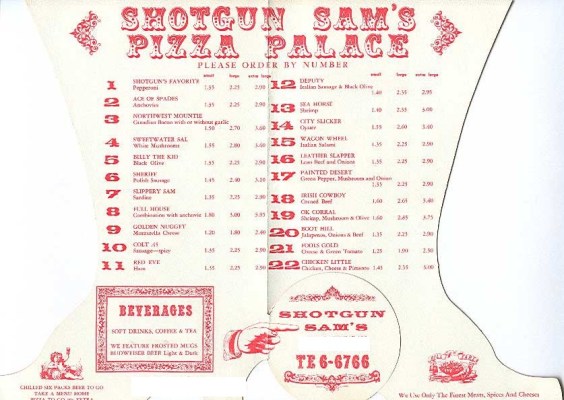 Shotgun Sam's, having been around since the late 60s in Oklahoma City and, more famously, in Tulsa, had obviously seen better days. An empty restaurant with a couple of employees sitting by the kitchen drinking Cokes, many of the fluorescent lights flickered like the set design of a David Lynch film. There would be no live music or other free entertainment for this penniless family from Texas to enjoy. In retrospect, it's no surprise that a couple of months later they closed and eventually reopened as an eatery called Soda Pop's that my younger sister would end up working at.
If I remember correctly, the pizza itself was alright, but, for me, the food really wasn't the point: no matter how broken down and busted out the trip up might have been—the tire blowout near the border was particularly scary—it was good not to be in a buffet for a special night out in the foreign land of OKC.
And even though it would be the last true "restaurant" that we'd eat at for a long time, it did give me some sort of hope that Oklahoma City was the urban renewal I had always craved in my short time on small-town Earth; a couple of weeks later, however, we started frequenting Pancho's Mexican Buffet on Northwest Expressway, guaranteeing I would not set foot in a non-buffet dive until I got a driver's license, four years and 150 pounds later.
_
Follow Louis on Twitter at @LouisFowler and Instagram at @louisfowler78.
Stay in touch
Sign up for our free newsletter