Everything Else
Inland Hurricane Morgan Ravages OKC Metro!
11:23 AM EDT on August 29, 2019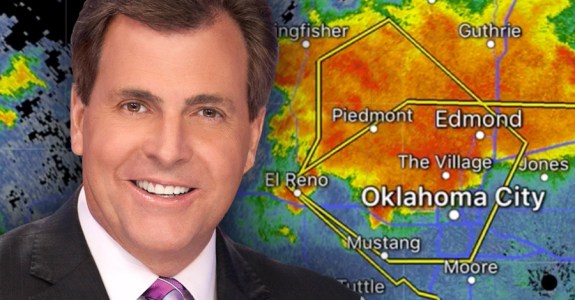 On Monday evening, after finishing up some work in our Bricktown Digital Media Studio, I waltzed over to Fuzzy's Tacos by Harkin's to get my usual to-go order – two brisket and one chicken taco, with enough packets of Fuzzy's signature Butt Burnin' Sauce to fill the Bricktown Canal.
For the most part, it was a beautiful Bricktown night. The weather wasn't too hot, the Dodgers were playing, and scores and scores of people were taking the "I'm too cheap to pay for parking" trek from Bass Pro Shops all way to Chesapeake Arena to (for some reason) watch Chris Brown. Hell, I even helped track down a volleyball for some people at the Bricktown Beach! Outside of doing handstands on the street car like Teen Wolf, it was local Big League City living at it's finest. I felt like Mr. Bricktown!
But then shit got weird.
As I walked towards the Fuzzy's to-go entrance to grab my tacos, I was greeted by hundreds of asshole birds hooting, hollering and cackling in the trees next to the patio area. It was such a weird deal that I felt the need to take a five second video of it:
Seriously, I half way wondered if a White Walker was going to walk out of Fussy's with one of Kraster's babies. How's that for an already-dated reference?
I grabbed my order and began the two-block walk back to the studio. That's when I noticed an insane, apocalyptic, cloud-draped sunset that looked something Emily Sutton would paint on wine and pallet night. I grabbed my phone and took a photo, because why not: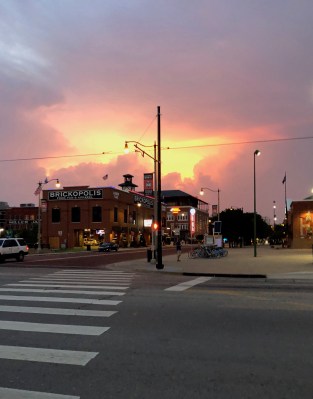 Okay, that's kind of shitty photo, but keep in my mind I was being heckled by a squadron of angry birds eyeing my bag of tacos.
Either way, little did I know that 45-minutes after crossing that street, those sunshine-baked clouds would morph into a rare and mysterious weather event that few people – outside of Mike Morgan and his imagination – even knew existed: the Inland Hurricane.
–
By now, you know the story.
Just before bedtime, a powerful thunderstorm belly flopped on the metro, walloping us with heavy rain and strong, sustained winds, leading to flash flooding, wind damage and massive power outages ranging from the far northwest corners of OKC to the cracks and crevices of Midwest City. The hysteria started, innocently enough, with a rare F-0 summertime tornado warning in Edmond:
I was in our studio cleaning up my taco mess, oblivious to the carnage that awaited, when the first tornado alerts started going off on my phone. Because we're in freaking August, I first assumed it was a flash flood warning or Silver Alert or some other iPhone emergency message that you usually ignore. When I saw the tornado on the phone, I was in disbelief. "Weather like this usually waits until the fair is in town," I thought. "Why is it here so early?!"
I then quickly made the appropriate "Are you watching the weather?" texts, pulled up the local news websites, and began to binge on a rare summertime episode of Severe Weather Theatre.
At this point, the news stations already had their cavalry of storm chasers tracking and following the storms and, for the most part, were in springtime form. I first started with News 9. They had their standard crew of married stormchasers – Val and Amy; Hank and Patty; Bobby and Tom – circling the tornado like a pack of wolves, while David Payne barked orders and Cassie Heiter controlled the radar.
After the tornado fell apart like crunchy chicken taco being broken in two, and the system reverted back into a powerful, albeit untypical, Oklahoma thunderstorm. I figured it would be nice to check in on Mike Morgan, and see what severe weather tie he was wearing and how many weathergasms he had.
Within minutes, I heard the weather term that is currently enjoying its 15 minutes of fame:
I've heard Mike Morgan use a lot of colorful terms over the years to describe Oklahoma weather. Who could forget the Mezzi In-Flow Cyclone of 2011 or the PDS 2 Maxi-Wedge Tornado Genesis of 2014 or the Great Noah's Arc-er Flood Extravaganza of 2016, but "Inland Hurricane" was a new one.
Love him or hate him, you have to give Mike credit for coming up with sensational, entertaining and attention-getting ways to get people to watch weather coverage. The man could sell hail to Eskimos. Thunderstorms are boring, but inland hurricanes? Who wouldn't watch that from the storm shelter?
As the storm was rolling through North OKC, rocking it like a hurricane, I watched a wall of clouds descend upon downtown from the big glass windows that line our 200-square-foot studio. That's when Mike said something to the effect of...
"If you're in a building in downtown OKC, get ready. It's about to hit. If you're by windows, get out of the way."
In any other state, if you heard a weatherman say that, you'd likely follow order and take weather safety precautions, but not in the land of red dirt. I did what any other Oklahoman would do. I grabbed my camera and, while hiding behind the comfort of safety of Cardboard Mick, started recording:
Not too long after the storm hit, the power in Bricktown went out. At that point, with my phone battery clinging to life, I followed the storm on social media. After 20 minutes or so, when the heavy part had passed through, I dashed to my car to charge my phone. I had survived my first ever inland hurricane! And since every good hurricane, whether it's in land or in the ocean, needs a name, I dubbed this one Inland Hurricane Morgan. We already have a t-shirt ready to go:
We'll be giving this shirts away at our trivia nights starting next week. Follow us on Twitter / Facebook for more details.
Anyway, I think we were reminded about a lot of things during Inland Hurricane Morgan.
The first, to quote Damon Lane, is that that Oklahoma weather is weird. We can go from a beautiful August evening to inland hurricane conditions in just minutes. What's mother nature going to throw at us next? Underground Typhoon? Wildfire Blizzard? Lava Hail? Nothing will surprise me.
The second is that we, as a society, are way too dependent upon power. I lost it for about 18 hours at my residence and nearly went mad. To make matters worse, the old lady that lives behind me has a generator that's loud and taunting. When World War III happens, I may have to invade her house.
The third, and most obvious, reminder is that Oklahoma drivers are still idiots:
Well, I guess that sums up my Inland Hurricane Morgan survival story. Please share your story, or at least your favorite Fuzzy's order, in the comments.
Stay in touch
Sign up for our free newsletter