Food
TLO Restaurant Review: George's Happy Hog Bar-B-Q
9:14 AM EDT on June 4, 2019
The last time I reviewed a barbeque joint—the Godforsaken Maples in the Plaza District—I received plenty of hate mail, a handful of death threats, and a whole lot of racist indignation from upstanding Oklahoma City folk that didn't appreciate me dripping sauce on their lily-white shoes.
So I guess I was admittedly a bit gun-shy about dining at another barbeque restaurant, but, regardless, I have to say that George's Happy Hog Bar-B-Q, 712 Culbertson Drive, reaffirms my charred passion with their damn good smoked meats and assorted sides; if you're at all serious about good barbeque—serious enough to threaten to kill me, at least—make a pit-stop here.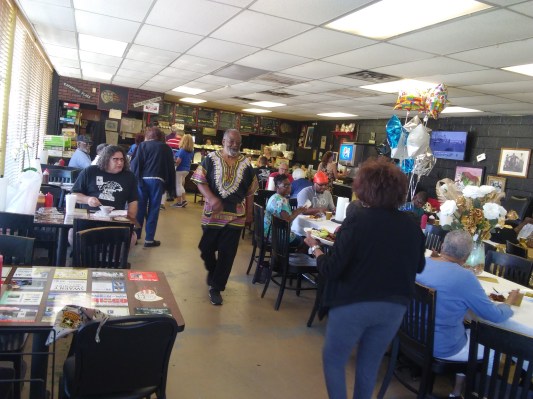 While situated in a bit of a hard-to-find area off Lincoln, the atmosphere was festive as a birthday party was going on when we walked in and it was hard not to want to be immediately involved in the festivities. My pal Jodie and I made our way to the counter to order as a man in the kitchen was cutting and slicing various meats at a breakneck pace to keep up with the orders.
As I ordered my meal—the Hog Wild Rib-End Dinner ($10.79) with two sides, as well as a slice of Sweet Potato Pie ($2.25)—it was hard not to become absolutely intoxicated with every inhale of the pecan-smoked meats that were being carried out from the back for delicious dismemberment on the cutting board. Tray of eats in hand, I headed to a nearby window seat.
The dining room is open and kind of small, so as the birthday party was directly next to us, it seemed only apropos to sing along and clap after each of the poetic toasts were given. I hinted to Jodie that I might like to have my own birthday party here in September, hoping that she picked up what I was dropping.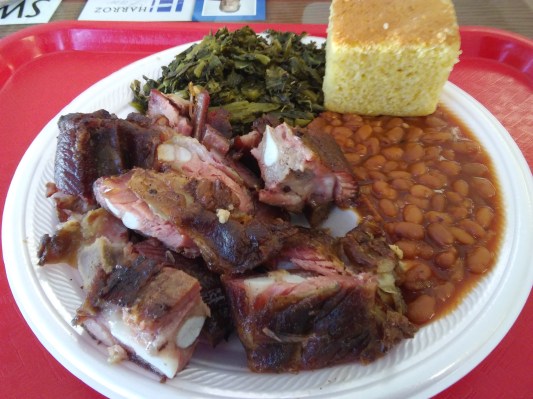 These rib-tips were the absolute bomb, man—no sauce is needed, with the darkly moist flavor seeping through every muscle and sinew, right down to the impressively chewable cartilage. Rib-ends, for me, at least, are a far more compact way to enjoy ribs and George's had plenty of meat on each tip, much more than you'd think, in every pecan-blessed chunk.
As for my two side delights, the "Marvelous Mixed Greens" were a tart specialty, even more so with a few drops of Trappey's peppers-in-vinegar concoction to add a little heat to the mix. Additionally, "George's Baked Beans" were a deliciously sweet take on the famed frijoles, as was the master-level cornbread that comes individually wrapped in cellophane, making it easier to buy a couple more pieces for the ride home.
Now I know for me it's a bit unusual to down an after-dinner dessert, but the one thing I truly can't pass up is Sweet Potato Pie; with a defiantly buttery crust and a good bit of spices that made this sweet potato ever sweeter, as I took a bite, I leaned back in my chair and exhaled my own sweet relief. I think I kinda want this for my birthday cake too, if you're listening.
Speaking of which, after everyone sang "Happy Birthday" to the guest of honor—an 80-year-old man who's lived in the neighborhood his entire life, give or take a war or two—the place started to close down, so I grabbed my leftovers and thought about coming back soon for lunch, mostly just to try their Big Brisket Sandwich. Cómpralo ya!
_
Follow Louis on Twitter at @LouisFowler and Instagram at @louisfowler78.
Stay in touch
Sign up for our free newsletter