ICYMI
10 Lasting Moments from May 2019 Weather Soakpocalypse…
4:49 PM EDT on June 3, 2019
After a couple of weeks of hideous and historic weather, and with even more rain on the horizon, I thought it would be a good idea to recap some of the lasting moments we've experienced from all the wall-to-wall weather coverage.
Keep in mind, these items are placed in no particular order, but be sure to complain in the comments anyway. I guess we'll get started with the most galvanizing slow speed chase in Oklahoma history...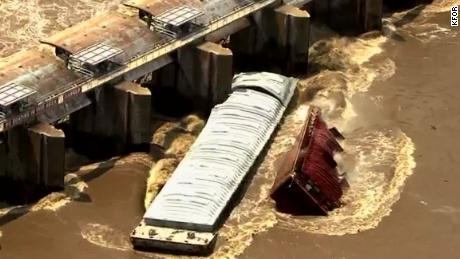 1. The Runaway Barges
In the late night hours of Wednesday, May 23rd, two gigantic, runaway barges full of fertilizer trudged their way down the Arkansas river towards a massive dam, closing highways and endangering the already-flooded town of Webbers Falls. The town responded with one of most casually cryptic Facebook posts you'll ever see: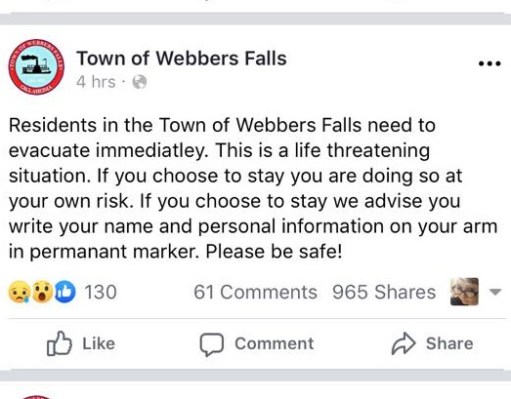 I like how they follow "Write your name and personal information on your arm in permanent marker" with "Please be safe!" Is that necessary? They should have written something more impactful like "I Hope You Can Swim!"
You know the rest of the story – after getting temporarily stuck on a rock jetty in the early morning hours, the pesky barges broke loose and barrelled towards the dam at tortoise-like speed. As the world watched, the barges struck into the dam, and then quickly capsized and sunk into the river to the joy of scrap metal collectors everywhere. Fortunately, the dam stood its ground and didn't require the assistance of Superman.
-
2. Upside Down Horns Man
Killing time with pork rinds. Disobeying traffic laws. Watchin' the naders from the bed of his truck. Signing off with a diss to Texas. Some people look to a higher power during severe weather. Oklahomans look to this man.
-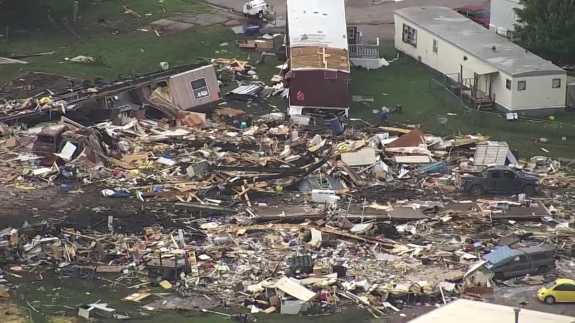 3. Daylight Coverage from the Spontaneous Quick-Strike El Reno Tornado
El Reno was shaken when an F3 tornado tore through the town, hitting a motel and mobile home park and taking two lives. Even though we like to joke about things like severe weather dongs in the forecast, we know how seriously the warnings need to be taken. So put your lawn chair in the cellar, and listen to Marla Morgan's husband when he says to take shelter.
-
4. River Otter Rescue
There are many stats and measurements you can use to describe the historic flooding in Northeastern Oklahoma, but the fact that River Otters are now needing rescue is perhaps the best way to describe how bad things have gotten up there...
Seriously, you expect cow rescues, but otters? That would be like pulling a dragon out of a wildfire. - Patrick
-
5. Binge Watching David Payne
I'm not sure what the local TV weather ratings were, but based on social media monitoring, David Payne appears to be the big winner. Like most pop culture moments in today's binging age, the memes and viral reactions were pretty solid.
Thanks to a suggestion by me, there's now even an Out-Of-Context David Payne Twitter that someone took way too far. I promise it's not us.
-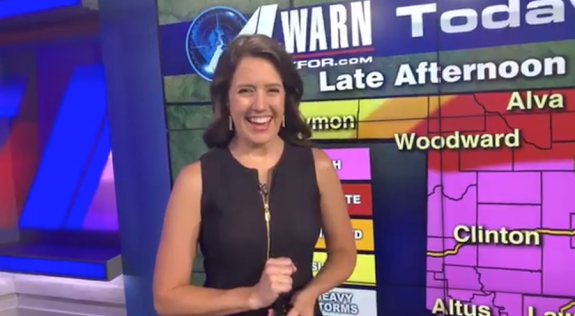 6. Emily Sutton Winning Free Mexican Food for Life.
Man, that seems like weeks ago, doesn't it? That's probably because it was.
-
7. Kevin Stitt's phone to call to President Trump
Like any good Governor, Kevin Stitt made sure he was highly visible during the disaster. With cameras rolling, he toured flood damage, met with first responders, and even cut a few minutes out of his day to speak on the phone with a orange troll.
-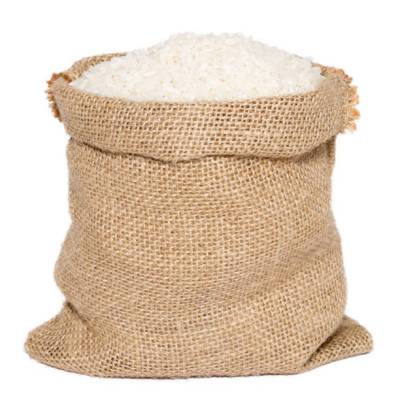 8. Jokes about "Putting Oklahoma in Rice."
Here's a sampling of tweets.
We could also go with something about "The Lake Came To Me For Memorial Day," but we don't have the space for all that.
-
9. The Rise of the USS Batfish
Remember what we said about river otters? The same goes for dead army boats that have risen from their grave.
-
10. Oklahoma Standard
We've had our issues with the term "Oklahoma Standard" and the political hypocrisy it can represent, but not this week. From raising over $50,000 for tornado victims in less than three days, to the Chik-fil-a workers literally pulling customers through the drive thru window to keep them safe from storms, Oklahomans have once again shown that we pull together and help our neighbors when disaster strikes.
-
Hayley and Brandon helped write and contribute to this report.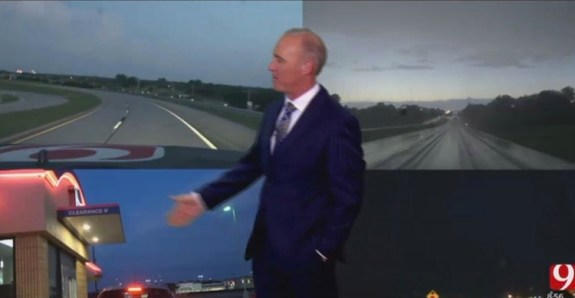 Stay in touch
Sign up for our free newsletter