ICYMI
The Oklahoman has retired NewsOK.com…
1:51 PM EDT on May 23, 2019
Another failed Oklahoman experiment is being put out to pasture.
Yesterday morning, while its few remaining print subscriptions were being delivered to grandparents and bagel shops all over the metro, The Oklahoman quietly re-branded NewsOK.com as the Oklahoman.com, placing its longtime digital news brand into a static, redirecting, vegetative state.
For the last time in TLO history... via NewsOK:
The Oklahoman is combining NewsOK.com and Oklahoman.com into one website: Oklahoman.com. The NewsOK.com experience will now be found at Oklahoman.com beginning May 21.

The old NewsOK.com URL will now point to Oklahoman.com. The former Oklahoman.com is going away. The full print replica, also know as the e-edition, will remain available as before.
Basically, they got rid of that weird Oklahoman.com website and changed the name of NewsOK.com to Oklahoman.com? Make sense?
Although we don't run self-congratulatory house ads that brag about our oh-so-bold criticism of the paper, we've always enjoyed poking fun at The Oklahoman and its failed projects. Does anyone else remember "WTF is Wimgo?" Week?
That being said, I'm going to miss NewsOK, at least in a nostalgic sense.
Launched in August of 2001, the website started as a joint venture between The Oklahoman and News 9. I guess the idea was The Oklahoman would handle the wordy journalism and newspaper-style stuff, and Channel 9 would handle the TV journalism and video stuff, all at one convenient, co-branded web location. Here's what the website looked like in its infancy: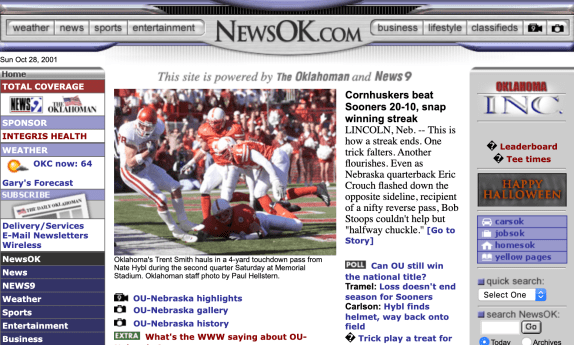 What's fared worse since 2001? The Oklahoman's local media empire or the Nebraska football program?
Kelly Dyer Fry – the Oklahoman's current publisher  – was the first General Manager of NewsOK. That's ironic in a Frankenstein's Monster sense. Here's an enthusiastic article she wrote about the site in 2002 when it celebrated its one year anniversary.
NewsOK.com launched almost a year ago. In fact, Aug. 19 will be our first birthday.

We work on NewsOK everyday. We understand it — we know it inside and out. Yet, oftentimes in conversation with friends, we will still hear, "I didn't know you guys did that."
That's funny. I bet Kelly still hears the same thing 17-years later, which probably explains why they're killing the NewsOK brand. Here's more:
NewsOK is a limited liability corporation jointly owned by KWTV NEWS9 and The Oklahoman. You can find news and information from both entities. Every morning, a team of editors gets online and sorts through the many news stories that go online from The Oklahoman. They also begin taping segments from the NEWS9 team and post video clips online. Stories are updated throughout the day. What you see at 8 a.m. may be totally different by day's end.

We have live weather radars and seven-day forecasts. We have extensive photo galleries from The Oklahoman photographers. We have stock quotes, sports scores and crosswords.

You will also find advertising online. The classified ads from The Oklahoman go online every day. Many have direct e-mail or Web site links that bring the ad to life. The ads are also searchable. Many print display ads are online, as well. They, too, are searchable.
Yep, they had stock quotes, sports scores and crosswords. Fancy, huh? And who doesn't like good, searchable print ad? Kelly Dyer Fry is an obvious visionary when it comes to digital media. It's a good thing the Oklahoman's out-of-state owners named her publisher!
In all fairness to Kelly, I don't think anyone could have foreseen the tidal wave of change that was about to viciously hit the newspaper industry. Way back then, smart phones didn't exist, Google had not yet cornered and saturated the banner ad market, and video streaming was a cumbersome, buggy mess. Also, things like social media and blogs didn't exist. Seriously, if you would have told me in an AOL IM in 2001 that a satirical pseudo-news blog that I will create in 2007 will not only outlast NewsOK.com in 2019, but rival it in popularity, I would have bought everyone a round of .70-cent draws at the Midwest City Henry Hudson's!
By 2008, Channel 9 finally saw where digital media was heading and realized they needed their own website. They abandoned NewsOK to launch News9.com. I still think they're still trying to make up for all the backlinks they missed in the early part of the 2000s.
NewsOK.com tried to adapt, and invested heavily in video and other products to build new revenue streams, and, well, we know how all that turned out.
Anyway, RIP NewsOK.com. It's going to be weird not having you around, but I'll still be sure to type your name in my address bar from time to time whenever I want to see a stock quote, sports score or play a crossword puzzle. Granted, it will be more out of instinct and habit than an real tribute, but always remember – it's the page view that counts.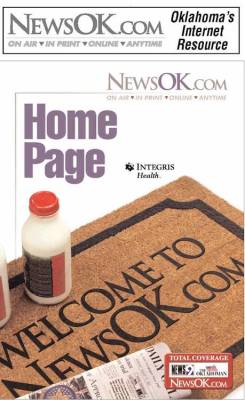 Stay in touch
Sign up for our free newsletter