Music
1964 in 1992: A Tribute to My First Concert, Live at the Myriad
7:42 AM EDT on April 25, 2019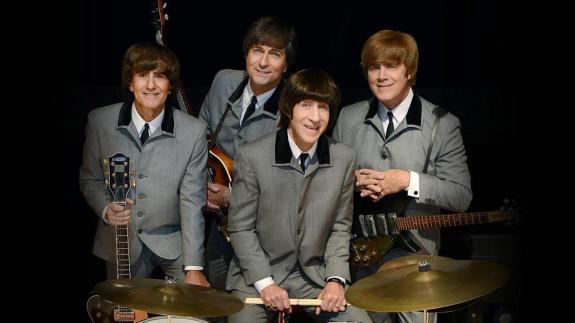 This weekend, I'm going to see Rain, a nationally touring Beatles tribute act that is making a stop at the Oklahoma City Civic Center Music Hall. While this may not be a big deal for you, due to numerous embarrassing medical surgeries, I haven't really been to a concert in Oklahoma City in well over a year now, so it's a meaningful step forward for me.
But, even more than that, this current tribute act takes me back to the first actual concert I ever attended,  sometime back in 1992—it was the pre-Pepper Beatles impersonators known as 1964; to this day, from the efforts to get the tickets right up to the actual show, it's still one of the best concerts I have ever attended.
While most of my peers were listening to either KJ103 or the KATT, I was a more-than-moderate fan of the classic rock station KRXO in the early 90s, most notably for the Shannon and the Eggman morning show. I typically blasted it throughout the house as I got ready for school, occasionally calling in as various characters that oftentimes would have me almost missing the school bus, much to my father's righteous anger.
Around that time, there was an ancient PC gaming store that was opening up on May Ave., in the small shopping center across from where Best Buy is now. According to various commercial spots throughout the morning, that afternoon not only would the Eggman be there, but he would be giving out free tickets to see 1964, the critically acclaimed Faux Four, at the then legendary concert hall, the Myriad Arena.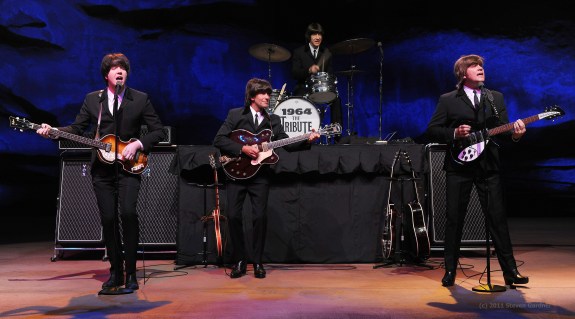 After a long day at Harding Middle School, my brother Will and I trudged up May Ave., bellies hungry and mouths dry, to the new computer shop, waiting around for a few minutes, looking at the various copies of Flying Toasters and Leisure Suit Larry that clogged up the shelves, mostly bored until the Eggman finally showed up.
Now I will admit that I was embarrassingly fanboyish around him, not only recounting their various jokes but additionally offering up my own resume should they need a junior joke writer—they didn't. Still, mostly because we were pretty much the only people there, the Eggman shared donated submarine sandwiches and name-brand sodas with us, as well as, of course, the vaunted free tickets to the show.
(I saw the Eggman at a film screening not too long ago and he didn't remember any of this.)
Tickets in hand, the next step was convincing my parents to let us go; my father and mother, both ex-law enforcement offers, would probably say no to the concert, mostly because not only were these shows full of stoners who force kids to ingest drugs against their will, but the bands—tribute or otherwise—were also part of the Satanic cabal, of which the Beatles were still the main headliners, some twenty years after they had broken up.
I forgot what soul-killing deals I made, but eventually they relented and dropped us off that Friday evening in the downtown area that was once the absolute social strata of local concert-going. The Myriad Arena was the apex of Oklahoma City music—and to be honest, still is for those of us that remember—with bands like Guns N' Roses, M.C. Hammer and other non-tribute shows filling the rafters on a continual basis.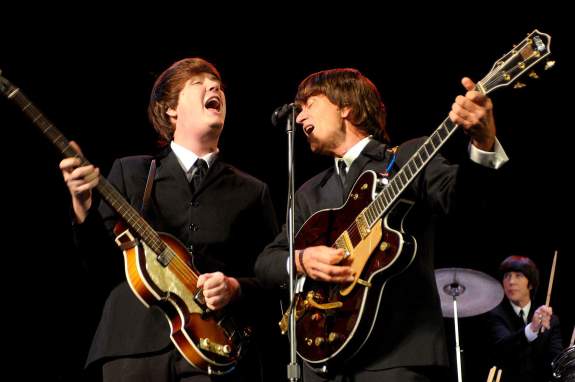 Being two wide-eyed youths wandering the halls looking for our seats, a kindly usher eventually led us to our surprisingly close chairs; for what seemed like two hours, my brother and I watched a brilliant reinterpretation of a '64-era Beatles show, with the Mock-Tops rocking through the early hits, offering photocopy renditions of everything from "Love Me Do" to "I Want to Hold Your Hand."
What I truly remember, however, was being far from the oppressive thumb of my parents, if only for a short time; it was the last time in my youth I felt free enough to totally twist and shout with the music for a solid evening of pure rock and roll, even if my brother and I were the youngest people in a room full of middle-aged burn-outs, which, as I bitterly realize, I am now.
So that brings us to Rain, the current Beatles tribute act playing this weekend, a group that goes one step further than 1964, playing tunes not only from the pre-Pepper foursome, but from when the Beatles stopped touring, featuring the later songs with a special emphasis on the Abbey Road album this tour, according to their online promos.
As the Rain falls, there I will be at the Civic Center, in the cheap seats, wearing a red neckerchief to cover my unsightly tracheotomy. A little older but none the wiser, I hope I'm able to recount that lost Beatlemaniac inside me, and for one more time, treat the Civic Center like it was Oklahoma's version of the Cavern Club, just like we did 25 or so years ago at the long-lost Myriad.
_
 Follow Louis on Twitter at @LouisFowler and Instagram at @louisfowler78.
Stay in touch
Sign up for our free newsletter