events
Sympathy for the Devout Reader: The 2019 Friends of the Library Booksale
8:48 AM EST on February 28, 2019
Having seen pictures online throughout the day of the various treasures that were being scored at the annual Friends of the Library Booksale, I decided to brave the fearsome Okie winds and head out to the Oklahoma Expo Building at the Fairgrounds to attend the famed Booksale, returning for the first time in twenty years this past Saturday afternoon.
Like a grownup version of the vaunted Scholastic Book Fair—except all the books are mostly used and, even better, extremely cheap—the Booksale is one of the more inventive ways the public library funds their programs, with nearly a million items—books, compact discs, DVDs, and so on—on sale, most likely all of them for under a dollar.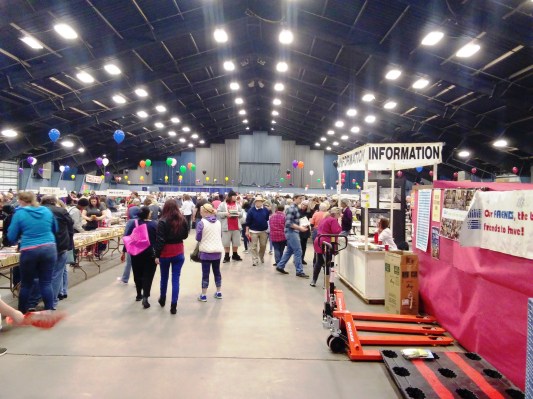 While many of the books are library discards, much of the material has been donated to various libraries around town and, what they can't use, goes on top of the sale pile. Back when I worked for the Metropolitan Library System, going through the donations was usually the happiest part of my job, from pulling the books and records that I wanted first dibs on to throwing out the used pornography no one wanted—and there was plenty of it—the course of pure adrenaline that rushed through your bloodstream must be what cocaine feels like.
I'm guessing, from what I read in books, of course.
Walking into the Expo Hall, I was immediately hit with a sentimental waft of old book scent, a gorgeously musty smell that I wish Chanel could capture and bottle so women could dab it behind their literate ears. Breathing in deeply, I wandered around aimlessly for a few minutes, wholly unsure where to even start digging. All around me, archetypal bibliophiles of all shapes and sizes were loading up their arms with as many tomes as they would or really, could, carry. The smarter ones brought reliable baskets and suitcases on wheels; I think I saw one dude with a pallet loader.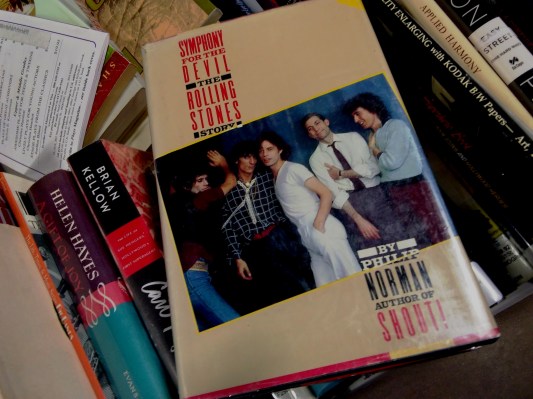 Deciding to start in the arts section, one thing you've got to know about the Booksale is that it's a Goddamn free-for-all, where you grab what you can, when you can, with no rhyme of reason to any of it. Turning over a misbegotten stack, the first thing I found was an old library copy of Symphony for the Devil: The Rolling Stones Story by Phillip Norman, which I had read back in my lonely middle school days, standing in the lunch line with no one to talk to.
After I found a copy of Hunter Davies' acclaimed Beatles biography, I called it a day on this section, with nothing in the 33 1/3 series, the pocket-sized books about famous record albums that a friend bragged about finding, in sight anywhere; seemingly, all that was left were plenty of failed one-act plays for drama students and coverless dregs about the life of Carol Channing and Dorothy Lamour.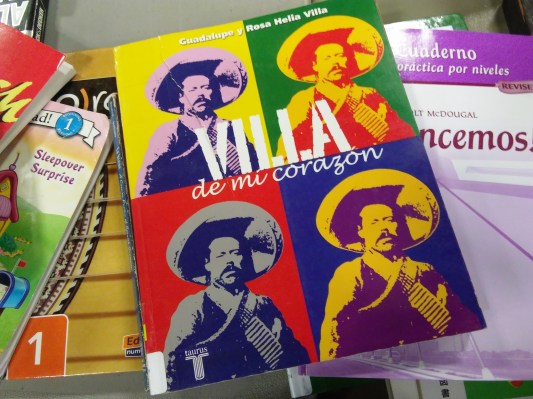 The arts section had been picked cleaner than a well-worn volume of Cliff's Notes, which was nearby but mostly untouched, the Internet being people's preferred source of cheating these days, I suppose.
Not being that big a fanatic of fiction, I walked right past that large swath of novels and such, from mysteries to science fiction, each with their own rabid fanbase, filling their Braum's paper-sacks until they were fraying and tearing down the side. Looking over the massive room though, I saw the Spanish section close by, gleefully grabbing a Spanish language textbook to continue on in my estudios en español, but I also was muy feliz to find an old trade paperback from the Capitol Hill library, Villa de mi Corazon, a history lesson and pop-cultural reminder about my hero and yours, Pancho Villa.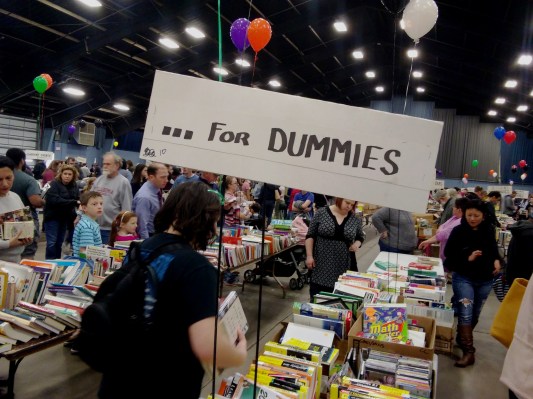 The …for Dummies books graciously had their own separate table, whimsically next to a table of "written by Oklahoma authors" books, nicely packaged in sellable cellophane, with titles about OU Football being the biggest best-seller. Sadly, many copies of a prestige coffee table book about Love's Convenience Stores were just sitting there, gathering silverfish. I should have got one, just for the chapter about the history of their clean restrooms.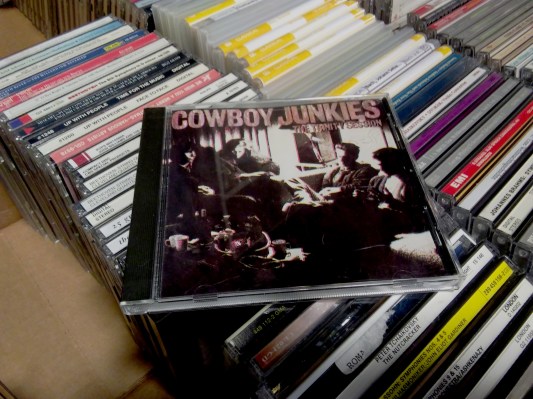 My final voyage was into the realm of the most crowded area of the event, and that's saying something—the filmed entertainment and recorded sound. While, admittedly, the movies were a mess that, after a quick glance, I really couldn't be bothered with, but as I was perusing the compacts discs, scanning past the numerous Rachmaninoff concertos and Manhattan Transfer doo-wops, that's where I found a copy of the Cowboy Junkies' The Trinity Session record, a deep favorite of mine that had long since been stolen by an ex-girlfriend of mine. I knew I'd find a treasure…I always find at least one treasure.
The line to checkout was nightmarishly long and rigid—wrapping around the place twice or so—and while a part of me wanted to say to Hell with it and just leave, I figured I really got nothing to do and nowhere to do it at, so what's a fifteen minute or so wait, you know? At least I just had a few things—some people were comically overloaded, dragging boxes and bags with them as the line moved, their backs giving out with surprising regularity.
As I stood there waiting, I turned to my left and saw an obviously planted copy of Secrets for Surviving the Coming Terrorist Germ Warfare Attacks Against U.S. Population Centers; I nearly left the line to retrieve it, figuring it might actually have some important enough information…but, then again, if I'm gonna have to die, I'd much rather it be in an upcoming germ warfare attack than have to go all the way back to the end of this line.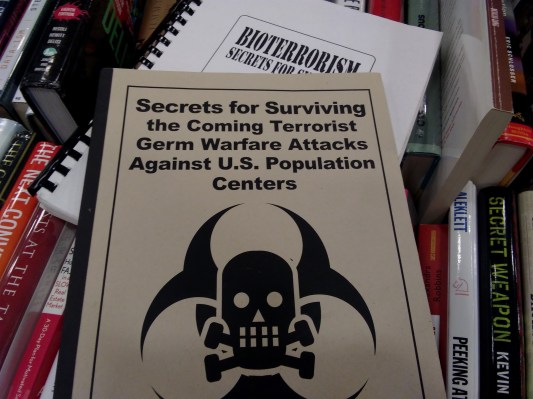 _
Follow Louis on Twitter at @LouisFowler and Instagram at @louisfowler78.
Stay in touch
Sign up for our free newsletter