Food
TLO Restaurant Review: Falcone's Pizzeria
5:14 AM EDT on October 16, 2018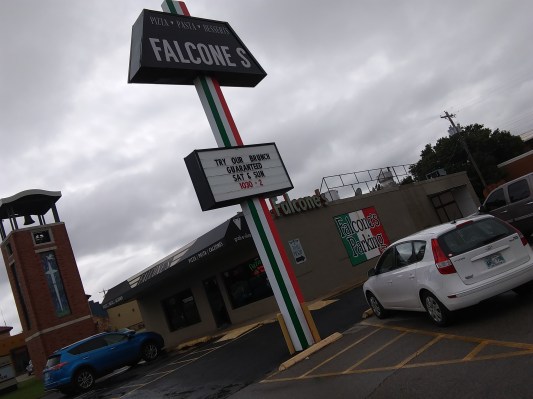 Whenever people ask me what is my most disliked food, if I'm being honest, I gotta say pizza. The flat sickness of cheap buffets and overpriced bistros has worn me down and out in my forty years on this rock; it's all the same to me, just give me a half-baked Totino's Party Pizza topped with wet cigarette butts and I'll be mostly fine.
And then, like a real wiseguy, I went to Falcone's Pizzeria.
I'm sure you've heard of Falcone's, right? Located at 6705 N. May Ave., it has become a cult eatery among pizza fans in Oklahoma City for their no-nonsense approach to Jersey-style pizza making, cutting the crap and getting right to the good stuff: plenty of mozzarella, meat and sauce. And don't even think about asking for pineapple.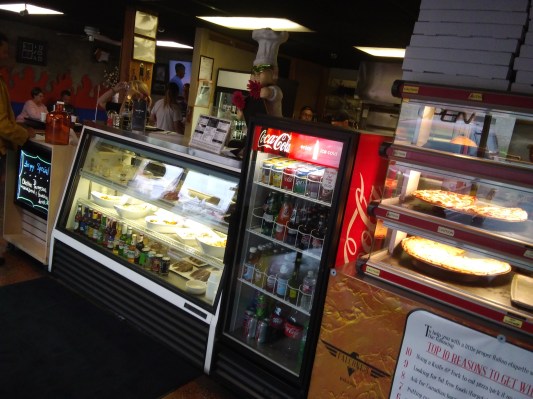 Pizza aside though, if there's one thing that most everyone recommends from Falcone's, the one thing that intrigued me the most, it's their pure-blood Italian meatballs. Made fresh every morning, that blessed ball of hot meat is drenched in red sauce, lovingly placed in a bowl with a healthy topping of fresh mozzarella for all, supposedly, to enjoy. Would I enjoy it too?
On my inaugural trip there a couple of weeks ago, that very Meatball ($3.99) was the first thing I ordered.  Just like I imagined, it was definitely a large helping of densely packed and well-cooked ground meat,  delivered right out the oven to my table. My fork gently sliced into the firmish sphere, giving me a nice piece of that spiced meat covered in the aforementioned house-made sauce and supremely fresh mozzarella. One bite and I could see why Falcone's meatballs are tops in this game.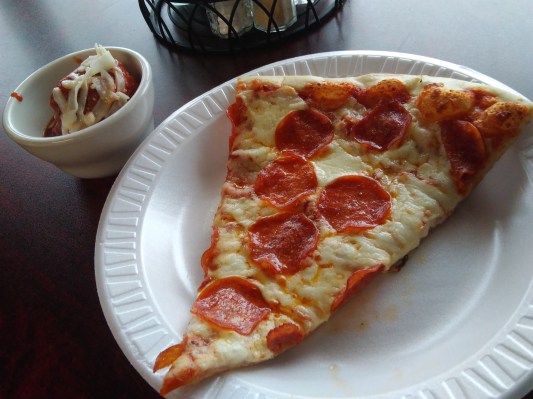 I also ordered a slice of their anything-but-basic Pepperoni Pizza ($3.99); it was a nice fat Jersey slice too, dripping pornographically with cheese and burning with searing pools of grease. Sliding it wantonly into my mouth, aerobically folded as it blended into my facial hair, I might have made a bigger mess than it needed to be, but Hell, it was worth it. That was a good slice of 'za, holmes.
That day, even though I left there satisfied, still, there was a nagging feeling following me around like a jabroni…what am I missing?
Appropriately eating away at me, this past weekend I decided to make the trek back to Falcone's to double-check. Looking over the laminated menu to see just what else represents this dark horse joint, I settled on the Rice Ball and, sorry, but a Meatball Parm sandwich, just to make sure. Someone had to do it, right?
As the girl brought my eats out, I was a bit agog because that Rice Ball was twice as big as the Meatball, looking impossible to finish as I sat there, that Meatball Parm dead-eyeing me as well. I used my rigid steel fork to cut into the Rice Ball ($2.99)—covered in that same genteel mozzarella and distinctive sauce—breaking through the fried outer shell and into a mixture of a lot of rice and a little ham, for taste I guess.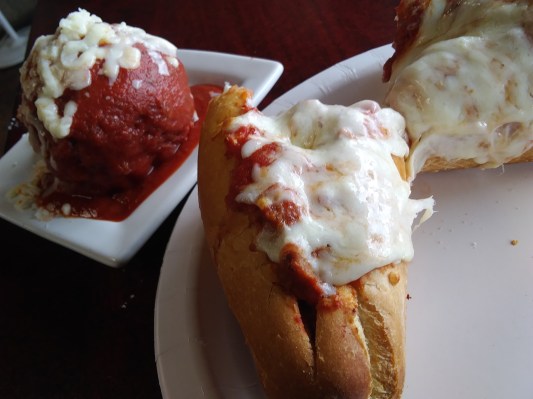 A vegetarian deception, I have no idea how these guys made this, or even why they made it, but I'll be happy to order that Rice Ball again when I go back. Can I say it's even better than the meatball? Because I think it might be.
Speaking of which, the Meatball Parm ($9.49) was a gorgeous Jersey-sized hunk of true Italian artistry. If you could find the bread over the ever-loving cheese that just entombed the whole thing in a gooey cocoon, then more power to you, son. The patented meatballs—somewhat smaller this time—wholly supported that fresh-baked loaf and its allotments of sauce perfectly. This is truly what a Meatball sandwich should be. Subway? Fuggitaboutit.
Sure, they had desserts there, like a slice of "Falcone's original" Neapolitan cake and some truly tempting cannoli, but who can honestly partake in those sweets after such a solid main course? If you can do it, however, God love you…leave a couple of bucks, take the cannoli. Cómpralo ya!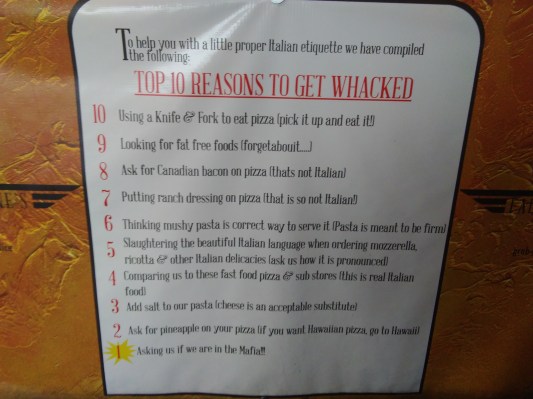 _
Follow Louis on Twitter at @LouisFowler and Instagram at @louisfowler78. 
Stay in touch
Sign up for our free newsletter