Everything Else
Mary Fallin endorsed Bull Stitt…
9:05 AM EDT on October 12, 2018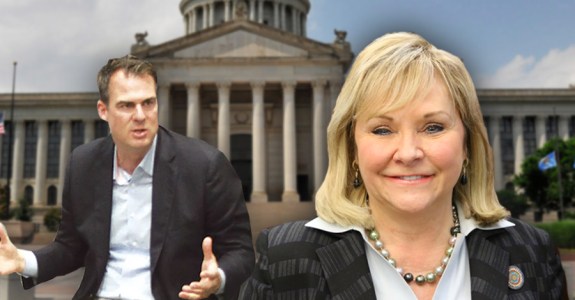 If you were to ask the Stitt campaign to name the worst possible thing that could happen to them in October, the first answer would be Kevin's eyebrows falling off. The second would be Mary Fallin endorsing him for governor.
Well, it looks like one those things just happened. Via the Enid News & Eagle:
Oklahoma Gov. Mary Fallin, now just months from the end of her final term, is endorsing Republican candidate Kevin Stitt for governor, the term-limited incumbent confirmed Monday during a visit to the Enid News & Eagle.

Up until now, Fallin has not publicly stated her choice to fill the governorship after she steps down.
Check out this quote. It will be coming to a negative campaign ad near you very, very soon.
"I, of course being Republican, support Kevin Stitt as the candidate because I think he will keep up a lot of the things we've done to make Oklahoma more business-friendly," said Fallin, adding that Stitt's experience as a businessman makes him uniquely qualified for the job. "His business background will certainly be a big benefit. He'll be very good for the businesses in Oklahoma."
Ouch. You know Kevin had to be mad about that. Outside of Kevin Durant and Ralph Shortey, the last person you'd want to endorse you in Oklahoma is Mary Fallin. I bet Kevin foreclosed on dozens of mortgage loans in Tecumseh out of spite! Here's how his campaign responded to The Oklahoman:
"We did not seek (Fallin's endorsement), and Kevin Stitt has run on a campaign message that he will do things a lot differently," said Donelle Harder, spokeswoman for the Stitt campaign. "He is focused on changing the structure of state government and cleaning up the mess we are currently in at the Capitol."
That's nice and everything, but I'm pretty sure people can endorse you for office without your approval. In fact, why are we treating this as a surprise. Mary is a party line voter. She doesn't have to announce it. We know who she is endorsing.
In what appears to be a classic case of Republican damage control, The Oklahoman article about the endorsement also mentioned that Mick Cornett swallowed his pride and endorsed the guy he dubbed Bull Stitt.
Here's what old Mayor Mick has to say:
I believe Kevin Stitt is the right candidate to move Oklahoma forward, to raise the standards on education and health, and to demand better outcomes from our state government.
Anyway, you can read more about the announcement over at the Enid News & Eagle. I would especially recommend you go watch the video. Mary Fallin has already gone full George W. Bush on us. She looks like she just rolled out of bed following a wild night of popping Ambien and watching Fox News. She'll be painting portraits in her garden in no time.
Stay in touch
Sign up for our free newsletter